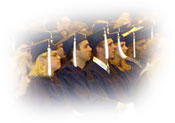 Learn how high school juniors and seniors can earn college credit at Penn State Scranton that will transfer into a degree program after graduation.
           Visit our course schedule to learn about our Dual Enrollment Courses.
Penn State Scranton offers dual enrollment to high school juniors and seniors who would like to attend Penn State Scranton college courses. Qualified students earn college credits and experience the workload of a college class through this program.
Credits earned can be applied to a Penn State degree and are part of one transcript recognized at all Penn State campuses. Dual enrollment credits may also be transferred to another college or university.
Students who have completed their junior year or are currently in their senior year of high school are eligible for dual enrollment. Exceptions for high school juniors and underclass students are considered on a case-by-case basis.
Dual enrollment students may take up to 8 credits per semester. Most students take one or two courses per 16-week semester in addition to, or in place of, high school coursework.
Dual enrollment courses are taught by faculty approved to teach high school students. You can find out about the approved dual enrollment courses by contacting us at (570) 963-2500 . Additional guidelines for dual enrollment students are available on the Penn State Scranton Division of Undergraduate Studies (DUS) website.