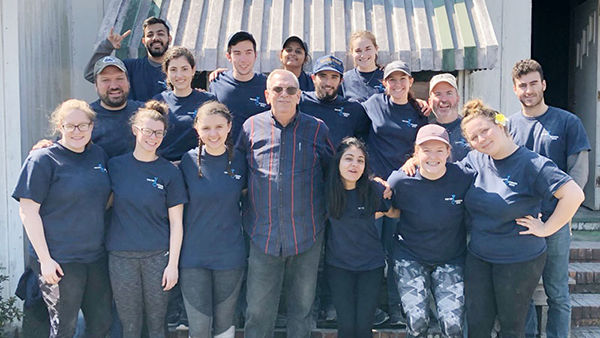 DUNMORE, Pa. — Say the words "spring break" and most people envision droves of young college students spending sunny days in warm locales, basking in the sun and hanging out at trendy establishments. But for one group of Penn State Scranton students, spring break was a different experience altogether.
For its second alternative spring break volunteer service trip, the campus partnered with Community Collaborations International and sent 14 undergraduates, along with Assistant Director of Student Services and Engagement Matt Nied and Director of Business Services Gene Grogan, to Wilmington, North Carolina, to help families whose homes and lives were devastated by Hurricane Florence last September.
Hurricane Florence wreaked havoc in North Carolina, causing widespread, record-setting flooding along a long stretch of the North Carolina coast, dropping more than 23 inches of rain on Wilmington, along with heavy winds that downed trees and power lines across the city, and taking the lives of 44 people across the state.
The City of Wilmington is facing an estimated $31 million in damages, according to a WECT-TV news report last month.
Marissa Boyd, Tabitha Boyd, Elizabeth Brandt, Jinal Dave, Jessica Duff, Steph Earle, Bryan Melliand Francis, Thomas Michael Gonzales, Rajvi H. Kaneriya, Harshial Patel, Rebecca Remsky, Emily Scarfo, Lauren Sciabbansi and Jack Nicholas Tora made up the Penn State Scranton student team that worked on projects such as the gutting and reconstruction of damaged homes, along with mold remediation.
Despite the long days of back-breaking work in hot temperatures and less than ideal conditions, the students who participated came back feeling good about being able to help out families whose lives and homes were devastated by Florence.
"I think this trip was a great opportunity for students to go and help those less fortunate after the natural disaster they experienced," said Tora. "It makes us realize how grateful we should be to live in an area that doesn't get affected by storms like that."
"I had a great time and I've never seen students work so hard, especially over spring break," Grogan said.
"As a senior, this was a great way to close out my time here as a Penn State Scranton student," stated Brandt . "People don't realize all the amazing things we do as a small campus. I feel so lucky to have been a part of this incredible experience."
For Earle, she felt the trip was the perfect way to spend spring break.
"There is no other way I'd rather spend my spring break," said Earle. "I think having the opportunity to help people was an amazing way to finish out my senior year. This trip is exactly what it means to be a Penn Stater."
Remsky, one of the group leaders, gushed about the group as a whole.
"As a leader of the trip, I couldn't ask for a better group of people to go down with. I'm so blessed we were able to help others in need and be part of such an amazing experience," said Remsky.