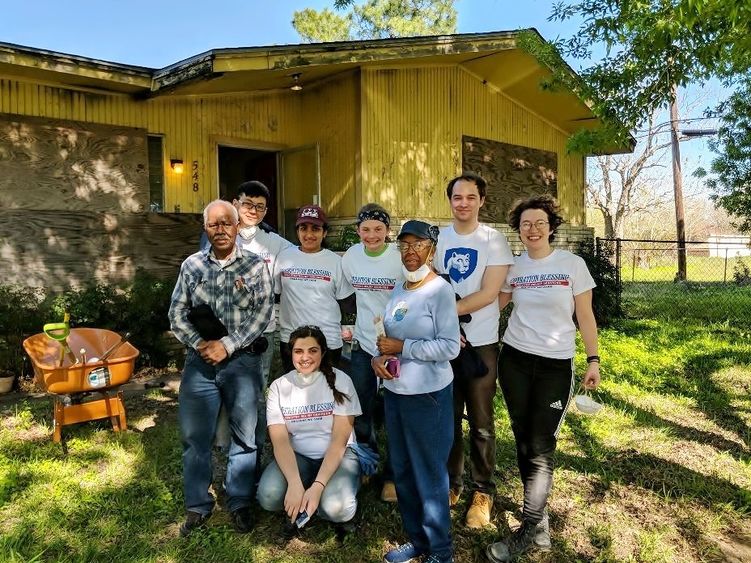 ERIE, Pa. — When Max Magera, a mechanical engineering major from Penn State Behrend, stepped into the kitchen of Miss Chandra Jones' home in Port Arthur, Texas, he had a sinking feeling.
The floor was spongy, which meant the wood beneath the linoleum had decayed while sitting in two feet of water after Hurricane Harvey hit the Houston area in August 2017.
Magera was in southeastern Texas with more than 100 students from six Penn State campuses on an alternative spring break (ASB) service trip, helping residents recover from the catastrophic flooding caused by the hurricane.
Magera, who had some experience with home construction and a week of working in waterlogged houses under his belt, knew the floor would have to be removed. But first the cabinets, wallboard and appliances would have to come out. When that was done, a new plywood floor would need to be laid.
"I knew immediately that it was probably more work than our team of seven could accomplish in one day, but we had to try," he said.
Using pry bars, hammers and sheer force, Magera's team stripped the kitchen all the way to the subfloor before encountering a late-afternoon plumbing problem that required professional attention — and likely several more days of work at Jones' home.
"We wanted to leave her with a functional kitchen and we weren't able to do that," Magera said. "It was frustrating, but at least we got all the demo work finished."
It's a lesson that students participating in this year's ASB trip learned repeatedly in Texas: There was often more work than could be done, but any assistance, however incremental, was progress.
"I learned that even the smallest things we do for others can make a huge difference," said Priya Patel, a nursing major from Penn State Behrend. "Putting a smile on the homeowners' faces was the greatest feeling that you can imagine."
After seven months, still plenty to do
There are homes in Texas that have not been touched since the hurricane roared in seven months ago.
Katelan Martinez, an English major from Penn State Harrisburg, and her group partnered with students from Penn State Greater Allegheny to bag and remove debris from one such home.
"The homeowner's name was Jackie Scott, and she was overwhelmed with emotion when we all showed up to help," Martinez said. "She said, 'You guys have given me hope again.' It was a very powerful moment because I'd have never thought I could do that for someone."
Ronni Corbett, a biobehavioral health major from Penn State Greater Allegheny, also helped at Scott's house.
"Over two days, we moved about 50 bags worth of trash to the curb," Corbett said. "It may not have been a big deal, but she really needed the help and I feel we really made a difference."
Penn State Harrisburg academic adviser Jessica Mosley led the students to Scott's house. Mosley is from Beaumont, Texas, and has family, including her parents, who still live in the area. This year's ABS trip really hit home for her.
"My brother and uncle lost everything to the hurricane," Mosley said, "so this trip was really emotional for me. I'm so glad that so many Penn State students could come down here and help."
Thomas Gonzalez, a science major from Penn State Worthington Scranton, also has Lone Star State roots.
"I'm from Dallas, so I was happy to hear we were coming down here to help out for spring break this year," Gonzalez said.
The 2018 trip is the first ASB experience students from the Worthington Scranton campus have participated in for several years. They say it was a positive experience.
"We definitely learned a lot about teamwork," said J.J. Zielinski, a wildlife and fishery science major from Worthington Scranton whose team demolished a deck that had been warped by water.
Learning while serving
For Eunji Park, an international affairs major from University Park, this year's ASB trip was not only a chance to help others, but to explore a potential career path.
"I would like to work for a disaster relief agency in the future," Park said, "so this was a great chance to find out if it's a career I really want to pursue."
It is, by the way.
"I enjoyed getting to know the homeowners," Park said. "I think it's easy to repair a house, but not as easy to put a home back together."
Students were encouraged to chat with homeowners at the job sites. For many residents, talking proved to be cathartic.
"I think the number one thing I learned is patience and understanding," Corbett said. "We live in our own little worlds all the time and we need to stop sometimes and learn what other people are going through."
Contact
Heather Cass
Publications and design coordinator
Penn State Erie, The Behrend College