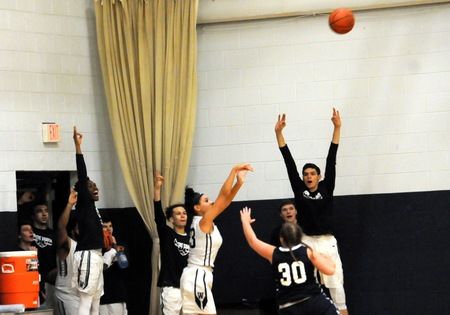 The Penn State Scranton Lady Lions basketball team sealed their first win of the season today against PSUAC competitor, Penn State York, 65-64, in overtime on their home court.
In the second quarter, Penn State York set the bar as they climbed to a 13 point lead, the largest of the game between both teams. Scranton quickly answered back from the arc, shortening the lead and heading into the locker room trailing by 5 points, with a half-time score of 17-12.
Scranton outscored York in the next two quarters, going shot for shot in the waning minutes of the contest. Trailing by just a field goal, with less than a minute remaining, it was freshman forward Tabitha Boyd's clutch free throws that would bring the game to a 56-56 tie and send it into overtime.
The last five minutes in overtime went shot for shot until sophomore Jenna Pacella's two break away layups and an assist to Tabitha Boyd under the board that ultimately sealed the victory for Scranton. Freshman Sarah Kaneski scored 17 points, sophomore starter Jenna Pacella posted 12 and freshman forward Tabitha Boyd added 10 points and 9 rebounds in the win. York's Sky Warner (12) had the game high 18 points in tonights contest.
The PSU Scranton Lady Lions will see Penn State Brandywine at home this Friday, December 7, with tip-off at 6 pm.