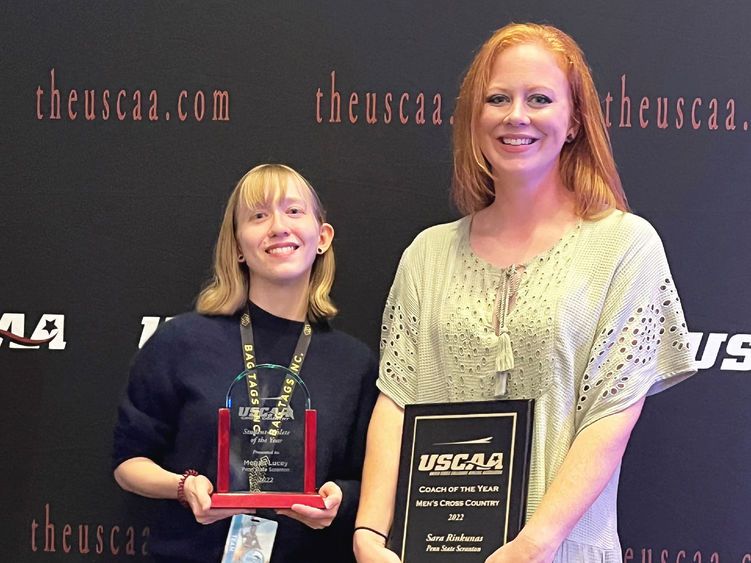 DUNMORE, Pa. – Two Penn State Scranton women took home top honors at this year's United States Collegiate Athletic Association (USCAA) Cross Country National Championship in Virginia Beach, Virginia.
Student Megan Lucey was named Female Student Athlete of the Year and Men's Cross Country Team Head Coach Sara Rinkunas was named Men's Coach of the Year.
Megan Lucey – Female Athlete of the Year
Lucey, a senior nursing student and four-year graduating captain for Penn State Scranton's Women's Cross Country team, has not only medaled at many invitationals throughout her career, finishing in the Top 10 of Pennsylvania State University Athletic Conference (PSUAC) runners for numerous seasons, but is also a stand out student on campus, who is involved in everything from academic clubs and activities to making a difference in the health care field.
Lucey admits that she was never an athlete until joining the Women's Cross Country team at Penn State Scranton in 2019 because she enjoys being outdoors and in nature, as well as being physically active. "It is my favorite sport and I enjoy that it motivates me to try to do better with each race and beat my previous time," she said.
"I decided to give it a try after meeting with Coach Sara (Rinkunas) and talking to her about the sport," Lucey said. "I let her know I wasn't much of a runner, as I'd only run on a treadmill occasionally before joining the team, but she was very welcoming and said I could give it a try."
Lucey has been on the team ever since, improving her skills as a runner, so much so that it lead her to earning a national award.
"This award isn't something I was planning to achieve, honestly, although I am very grateful to have earned it," she said, adding that she was "very surprised" when she heard her name announced.
When Lucey first started running, one of her only goals was to be able to finish a 6k race without needing to stop and walk.
"I did achieve that goal and improved so much to have even earned a few medals from being a top finisher," Lucey said. "To me, this award shows how far I have come as a student athlete and really shows that you can get better at something if you keep practicing consistently."
Having an abundance of coursework to complete as a nursing student, Lucey makes sure to balance her academic and extracurricular activities by planning her schedule out in advance. "It helps so that I can get my academic work done efficiently and also have time for extracurriculars," she said.
Lucey said she credits the support and encouragement she received from her teammates and Rinkunas that have gotten her to where she is today.
"I am forever grateful that my coach believed in me and helped me improve a little bit every day at practice. She helped me grow from someone who could not run a 6k without walking to being a national student athlete of the year!" she exclaimed. "Without Coach Sara and my team, I wouldn't be a runner at all."
"The dedication that Megan has to the sport, her peers and her academics in nursing is outstanding and makes her a great candidate for this award," Rinkunas said.
In fact, Lucey travels over an hour to practice every morning to work on her running before nursing clinicals.
Aside from recently achieving the USCAA Female Athlete of the Year, her commitment and enthusiasm for the cross country team and her teammates has earned her other awards including a two-time PSUAC John Fritz Sportsmanship Award, three-time USCAA National All-Academic, and four-time PSUAC Academic All-Conference recipient.
Post-graduation, Lucey plans to continue running but not competitively.
Sara Rinkunas – Men's Coach of the Year
Rinkunas, who serves as head coach for both the women and men's cross-country teams, took over the program in 2019, with goals of increasing numbers on campus, while also raising awareness and interest throughout the PSUAC and USCAA conferences.
"I was able to serve on both PSUAC and USCAA Cross Country and Track and Field committees, which put me in a good spot for being able to advocate for runners and learn about other teams in the conferences and build relationships with other coaches and learn and share ideas," Rinkunas said.
One of the biggest hurdles she faced as a coach was not being able to have her teams participate in events year-round. However, the addition of the Track and Field Club, which competed at the National USCAA in Spring 2022, made that possible and increased the team's visibility as runners.
"That opportunity and year-round conditioning and activity through that programming, mixed with recruiting locally, has helped our men's team achieve the numbers and put in the work to improve," Rinkunas said. 
Rinkunas mentioned that coming out of the spring season, she knew the men had their sights set high and were amped up about making an impact for 2022.
"So, me, my assistant coach and former Penn State Scranton athlete and biology major Robert Murphy put all our birds in one basket and concentrated on making them a cohesive and successful squad who pushed each other day in and day out and did what we set out to do — earn the PSUAC title and place in the top five at the national championships," said Rinkunas.
The team's motto is to go out every day, not to be better than everyone else, but to be better than who they were the day before, she said.
"That has helped us hone in on the present moment, what we can do in the 'here and now' and develop as competitors," Rinkunas said. "We met each of our individual and team goals week after week together with this mindset."
Her next goal is to bring the women's team back into the game, build their numbers and develop their focus as individuals and a squad, in order to have two successful cross country programs in the fall — complimented by track and field in the spring.
"I was not expecting to get an award for this. However, I am honored, and I did put in a lot of work this year into not only trying to make our men's program better, but increasing interest, numbers and visibility for the entire conference cross country and track and field programs," Rinkunas said.
Rinkunas has been a competitive runner since high school in both cross country and track and field, and continues to compete in local road races, many times with Penn State Scranton's team joining her. In fact, some of her team will be running with her in the Scranton Half-Marathon in April 2023. 
"I think still being a runner and engaging in practices and conditioning with them for race training puts me at an advantage to better understanding what they can handle and are going through both physically and mentally, and my team motivates and helps me be a better person and runner every day. We coach each other over any hurdle," Rinkunas said.
"It is clear that over time Sara has built a tremendous team culture and that she has a very strong relationships with her athletes," said campus Director of Athletics Paul Moyer. "This has had a great impact on the evolution of our team. The environment she has created is clearly evident to top prospects which will no doubt continue to help us maintain success over time," he said.
While this is the first National Coach of the Year Award that the campus has record of, Moyer believes, in addition to Rinkunas, "we have a number of very committed coaches who are capable of this same type of recognition."
Interested in getting involved in Penn State Scranton's athletic programs? Click here for more information.