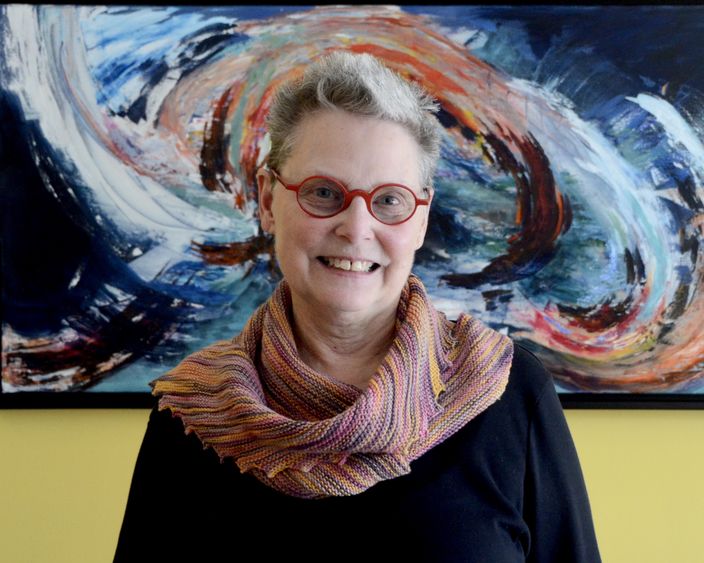 UNIVERSITY PARK, Pa. — Mary Ellen Litzinger, Craig Weidemann, and Penn State World Campus alumni Beth Berna and Michael Bach were honored at the 2018 Penn State Outreach and Online Education Appreciation Dinner, Oct. 11, at the Nittany Lion Inn.
Litzinger received the Fischer Award of Distinction for her work with Penn State Outreach and Online Education. She began volunteering at Shaver's Creek Environmental Center in 2006 and more recently chaired the fundraising committee for "Building the Future of Environmental Education: A $1 Million Capital Campaign." She and her husband are both Penn State alumni and have a long history of philanthropy at the University including establishing the $1.2 million Mary Ellen and Thomas A. Litzinger Endowment at Shaver's Creek Environmental Center and contributing to the development of the Litzinger Discovery Room and the Litzinger Herpetology Center in the newly renovated building.
Litzinger is past chair of the WPSU Board of Representatives.
"What attracts me to Outreach and Online Education (OOE) is its ability to connect Penn State's programs and research to learners anywhere in the world. OOE's mission to empower and inspire global learners aligns closely with one of my core values: to use my energy and resources to impact as many lives as possible," Litzinger said. "Through my work with public broadcasting and the Shaver's Creek Environmental Center, I am honored to contribute to a worldwide learning community whose members can proudly say 'Penn State lives everywhere.'"
Weidemann will be recognized with the Dubin Pioneer Award for his 13 years of service and dedication to Penn State Outreach and Online Education. Under Weidemann's leadership as vice president of outreach and vice provost of online education, Penn State World Campus saw unprecedented growth. He led a team who secured more than $81 million in philanthropy to support student scholarships and programs across Penn State OOE. Along with World Campus, Penn State OOE supports WPSU, Penn State Small Business Development Center (SBDC), Pennsylvania Technical Assistance Program (PennTAP), Shaver's Creek Environmental Center, Nittany AI Alliance, Penn State Urban Centers in Pittsburgh and Philadelphia, Conferences and Institutes, Justice and Safety Institute, Continuing Education and Osher Lifelong Learning Institute (OLLI) at Penn State.
"I am honored and humbled to receive this award. I was very fortunate to have had the incredible opportunity to lead the premier outreach and online education organization in higher education," Weidemann said. "Along with my OOE colleagues, we provided outstanding Penn State programs that transformed lives and communities. Much of our success was deeply enhanced by the generosity of our donors and committed volunteers."
Penn State OOE will also recognize two Penn State World Campus alumni.
Bach will be awarded the Outstanding Penn State World Campus Alumnus Award. He earned his associate degree in nursing from Penn State Scranton and his bachelor of science in nursing degree from Penn State World Campus. He went on to earn his doctorate from Binghamton University.
Bach is a Tunno Family Scholarship recipient.
"After earning my ASD, I began working in the intensive care unit and didn't have time to go to traditional classes to complete my BSN," Bach said. "I already knew Penn State offered a top ranked education, so the decision to put my trust in the online program was easy."
While enrolled in classes online, Bach developed a bone infection and was hospitalized.
"My advisers helped me see that, although I was laid up from work, I could still meet my class objectives. In reality, I only missed a week and a half of classes and my instructors understood and worked with me to meet my goals. I never missed an assignment and graduated on time."
Bach said that through this experience he found a love for teaching and sharing his excitement for nursing. He educates other nurses in New York, Florida and Pennsylvania. He also completed a postdoctoral fellowship, which took him to the Centers for Disease Control and Prevention in Atlanta and the National Institute for Occupational Safety and Health in Pittsburgh.
Berna is senior manager for North American Warehousing at Hasbro in Providence, Rhode Island. She earned her graduate certificate and master of professional studies in supply chain management through Penn State World Campus, which she says opened many doors of opportunity to not only finish her degree, but to advance in her career. She will receive the Outstanding World Campus Alumna Award for her work as a mentor and for being the first World Campus alumna to serve on the Penn State Alumni Council.
"I spent 25 years trying to complete my degree after having to drop out due to finances. Penn State World Campus programs provided me with the flexibility to get my master's while managing work travel and personal time," Berna said. "While it was intense and included weekly team case work, having the technology and support to do this remotely was key to balancing work school and personal commitments. Through my work and council opportunities, I've been placed in situations to network, encourage others to complete their education and even continue toward a master's degree."
To learn more, visit Penn State Outreach and Online Education.