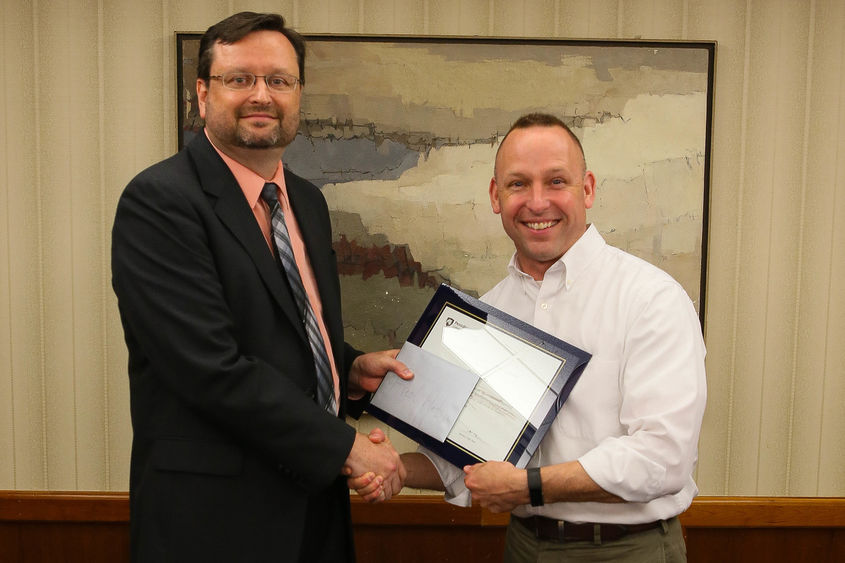 On May 17, the College of Information Sciences and Technology (IST) celebrated the achievements of faculty and staff over the past year with a presentation of annual awards. Held at the Nittany Lion Inn, 10 staff and faculty members were recognized, along with seven retirees and 17 length-of-service awards.
Fred Aebli, instructor in IST and IST internship coordinator at Penn State Worthington Scranton, received the College of IST Excellence in Teaching Award.
The College of IST Excellence in Teaching Award recognizes nonfull-time University Park faculty contributing to the college's teaching mission through residential or on-line instruction. The faculty member should consistently provide an exceptional learning environment for students through their innovative teaching practices, excellence in creative engagement, and dedication to student learners.
This is Aebli's second university award, having received the College of Information Sciences and Technology's (IST) Statewide Faculty Member of the Year for 2015-16, which is given to a faculty member who has consistently supported IST programs at his or her campus, has been a champion for the college, and has made a difference in the community.
He was also a presenter at the 2015 annual Online Learning Consortium International Conference in Orlando, Florida, where he gave a presentation on using Gamification Techniques in a Crime and Terrorism Course.
Aebli, a University and Worthington Scranton alumnus, is also a U.S. Marine Corps veteran, who attained the rank of major. He received his master's degree from Webster University in St. Louis, Missouri, and prior to joining Worthington Scranton, he worked for Bell Atlantic (now Verizon), and Scientech Inc.
He resides with his wife and their three children in Moscow.