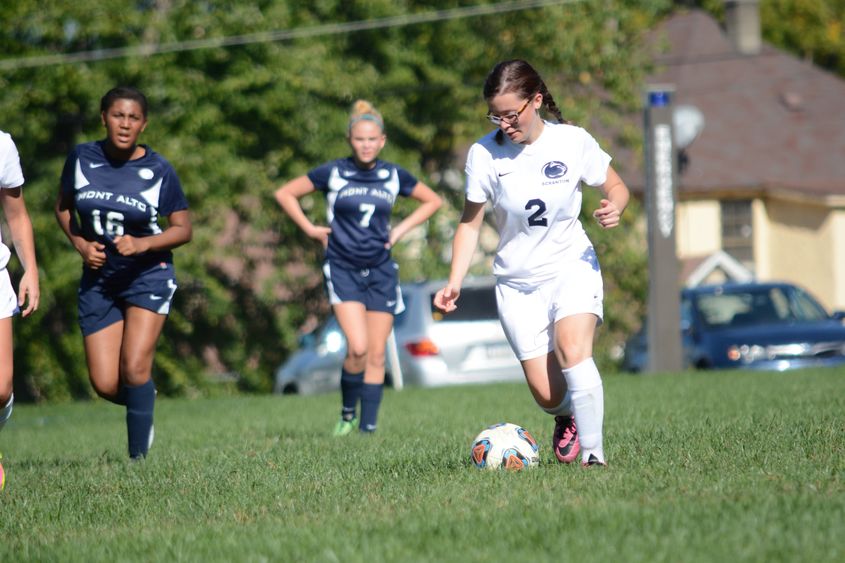 DUNMORE, Pa. — For the first time in its history, Penn State Worthington Scranton has a women's soccer team, with this fall marking the team's inaugural season. The campus now boasts both a women's and men's soccer team, along with a new field complex that was completed in 2015.
A roster of 13 players led by Head Coach Marissa Duffy recently wrapped up a 12-game season. Although the team did not have a winning match in its first season, the team's coach and players are hopeful and looking forward to next season.
The emergence of a women's soccer team is welcome at Worthington Scranton, as it highlights the rise in female athletics at the campus, as well as the growing number of women's athletics teams nationally at the collegiate level.
Duffy agreed, noting Penn State's win against Duke for the 2015 women's soccer national championship resulted in the University's Commonwealth Campuses adding more teams to the Penn State University Athletic Conference.
Before taking the position as head coach of women's soccer at Worthington Scranton, Duffy was the assistant coach of the women's basketball team at Penn State Wilkes-Barre. First and foremost, though, she was an athlete, playing soccer, basketball and softball throughout her high school and college careers.
"I wanted to continue to be involved with sports after my time on the field was up," she said.
Maren Lindemuth, a freshman member of the Worthington Scranton team, agreed with that assessment. A recent graduate of Dunmore High School, Lindemuth has been playing soccer since the age of 3. At the start of this season, she played primarily on defense, but later moved to goalie.
"I do feel like women's athletics are on the rise," Lindemuth said. "I believe that people have come to the realization on just how important it is for women to get involved."
With the first season behind them, the focus now is on building the program.
"The plan for next season is to just get better," Lindemuth said. "We are looking and hoping for a return of some players from this year, as well as the joining of some high school graduates."
"We have a lot of learning to do in the offseason, and [I] hope our captains can step up to help the team progress," Duffy added.
Given the trend of more and more women participating in collegiate sports, Duffy's chances of bringing new players into the fold next season look good.
"As of now, I have six to seven local recruits coming in as freshmen to help us in 2017," she said. "I've been nonstop recruiting in the Lackawanna League to make sure we are competitive next season and shock a few teams with our turnaround."
All that being said, Duffy comes off sounding like a proud parent when she talks about her current players. She believes these trailblazers have the potential to do great things on the field.
"I have a lot of great players on my team right now," she said. "In the four short years I've been coaching, this team is my favorite."