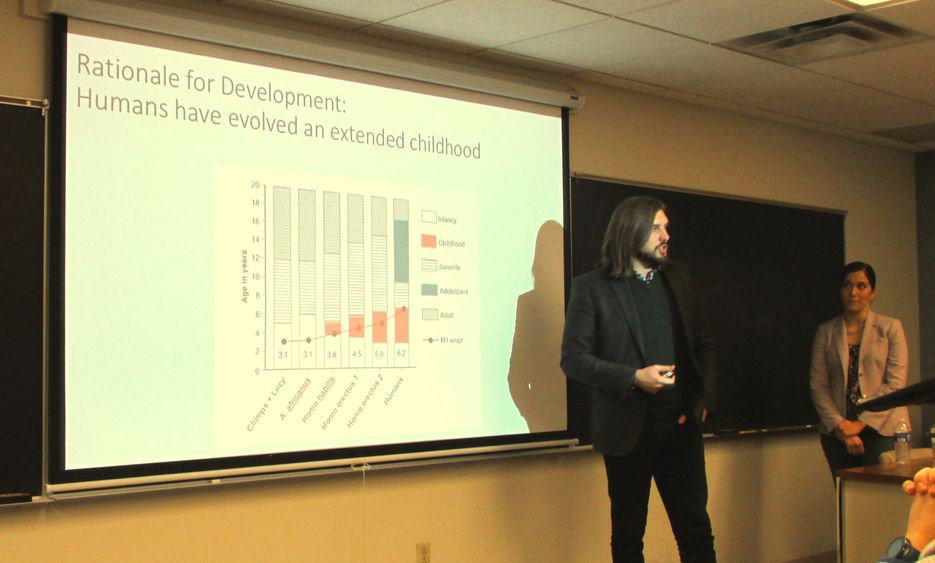 DUNMORE, Pa. -- Penn State Worthington Scranton (PSWS) psychology professors Karin Machluf and P. Douglas Sellers II were recently invited by the Association for Psychological Science Student Caucus at the University of Scranton (APSSC) to be guest lecturers.
Their presentation, "Beyond Sex: Expanding the Scope of Evolutionary Psychology to Development and Cognition" focused on their areas of expertise and research.
Machluf, assistant professor of psychology at PSWS, discussed the evolution of cuteness and adults' preference for cuteness as a survival tactic for infants and a motivation for parenting in adults.
Sellers, assistant professor of psychology at PSWS, spoke about his research on memory, and evidence now being discovered showing that evolution by natural selection has shaped fundamental memory processes.
Machluf and Sellers, evolutionary psychologists, have a professional relationship and an overlap in academic focus with Barry Kuhle, associate professor of psychology at the University of Scranton, who is also an evolutionary psychologist.
"We are striving to build a mutually beneficial relationship with the University of Scranton's Department of Psychology," Machluf said. "Given that the psychology program at PSWS is new, it would be a great learning opportunity for us and our students to collaborate on research or hold consistent research presentations between the universities."
"Karin and I represent a new generation of scientists who are expanding the scope of evolutionary psychology to include other sub-disciplines," Sellers explained. "This is important because it links psychological science to the 'traditional' hard sciences like biology, chemistry and genetics. The purpose of our talk (at the University of Scranton) is to introduce those concepts to area students and faculty in the hopes of fostering intellectual discussion and collaboration."
Penn State Worthington Scranton now offers both a bachelor of arts and a bachelor of science in psychology, two of 12 baccalaureate degrees offered at the campus.
The B.A. degree incorporates a broad exposure to the many facets of the field of psychology and includes an additional 12 credits of a foreign language and additional arts, sciences, and social and behavioral sciences courses.
The B.S. degree provides the same exposure to the field of psychology and adds options in science or business to prepare students for more specific career directions.
For more information on the psychology program at PSWS visit http://worthingtonscranton.psu.edu/psychology.
The Association for Psychological Science (APS) is a national organization and is the largest association of experimental psychologists in the United States, with student chapters around the country.
At the University of Scranton, the psychology department, along with APSSC, host periodic talks from experimental psychology researchers.