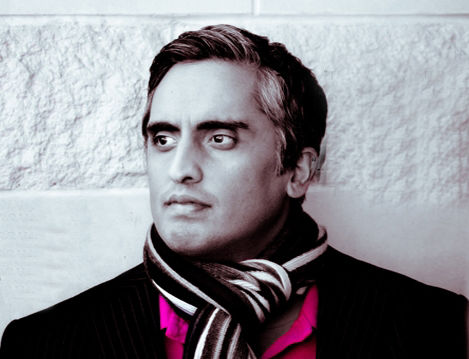 Penn State Worthington Scranton is hosting an important discussion on Islamaphobia, lead by international human rights lawyer Arsalan Iftikhar on Thursday, Nov. 3.
Iftikhar is also a global media commentator and author of the book SCAPEGOATS: How Islamophobia Helps Our Enemies & Threatens Our Freedoms, which President Jimmy Carter called "an important book that shows Islamophobia must be addressed urgently."
He has served as senior editor for The Islamic Monthly and for nearly a decade was a regular on-air weekly commentator for National Public Radio (NPR), and was named one of the top 12 Muslim Twitter accounts in the world by The Huffington Post in May 2011.

Arsalan has served as an adjunct professor of religious studies at DePaul University and is a member of the Asian American Journalists Association (AAJA) and Reporters Without Borders (Reporters San Frontieres, www.rsf.org).

He was awarded the 2013 Distinguished Young Alumni Award from Washington University School of Law in St. Louis. Throughout his career, Arsalan's interviews have appeared in virtually every major media outlet in the world including: CNN, BBC World News, Al-Jazeera English, The TODAY Show, National Public Radio (NPR), FOX News Channel, MSNBC, Associated Press, C-SPAN, Voice of America (VOA), Agence France-Presse (AFP), USA TODAY, NBC Nightly News, The Washington Post, CBS News, Los Angeles Times, The New York Times, Rolling Stone, TIME, Newsweek, The Economist, ABC News "NIGHTLINE" & "Meet The Press" on NBC News (and many more worldwide).
Arsalan's published columns and written articles have appeared in major publications around the world including: CNN.com, USA TODAY, TIME.com, The Atlantic, Esquire Magazine (Middle East edition), Houston Chronicle, Detroit Free Press, The Providence Journal, San Diego Union-Tribune, Charlotte Observer, St. Louis Post-Dispatch, Kansas City Star, Miami Herald, The Jakarta Post and many more.
Throughout his career, Arsalan has given dozens of keynote speeches and guest lectures at prestigious institutions & global venues around the world including: Harvard University, Stanford University, Georgetown University, Johns Hopkins University, University of Pennsylvania, Northwestern University, The University of Chicago, Brown University, University of Michigan School of Law, The George Washington University Elliott School of International Affairs, Cornell University, Washington University School of Law, The Organization for Security and Co-operation in Europe (OSCE), The Newseum, Rockefeller Foundation, The British Museum in London, the U.S. State Department International Speakers Program and The Aspen Ideas Festival.
His presentation will take place from 6 to 7:30 p.m. in the Study Learning Center's Sherbine Lounge. It is free and open to the public.
For more information on Arsalan Iftikhar, visit www.themuslimguy.com.