Honorees receive highest Alumni Association award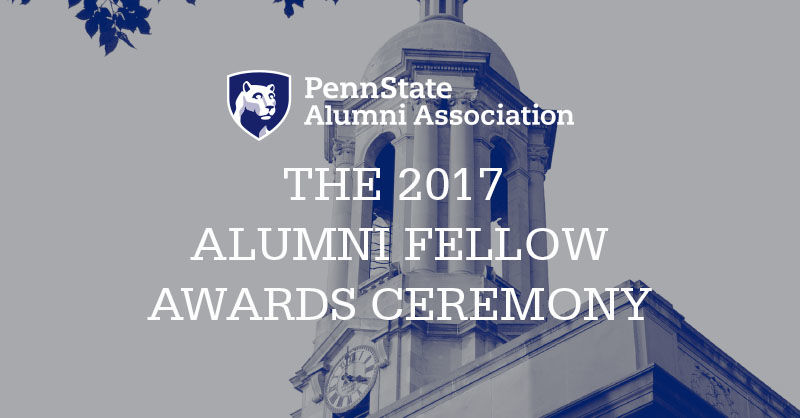 UNIVERSITY PARK, Pa. — The Penn State Alumni Association will recognize 14 graduates on Oct. 4 with the lifelong title of Alumni Fellow, the highest award given by the Alumni Association.
The Alumni Fellow program is administered by the Penn State Alumni Association in cooperation with the University's academic colleges, campuses and the Office of the President. Alumni are nominated by a college or campus as leaders in their professional fields and accept an invitation from the president of the University to return to campus to share their expertise with students, faculty and administrators.
Each Alumni Fellow will receive a commemorative award, designed and hand cast by 1972 Penn State graduate Jeanne Stevens-Sollman, an acclaimed sculptor and medalist, and a 2007 Alumni Fellow.
Complete Alumni Fellow bios and acceptance speeches will be posted on the Alumni Association's website following the ceremony. For more information on the Alumni Fellow program, including criteria and past recipients, visit the Alumni Association's website.
Robert P. Bennett, a 1994 graduate of the College of Medicine, is vice president of research and development of the Clinical Sequencing Division, Life Science Solutions at Thermo Fisher Scientific, innovating in the design and development of technologies for genomics research and precision medicine. Bennett leads a team of more than 120 scientists around the world, and his leadership has led to novel products and platforms for rapid — and affordable — genomics testing and DNA sequencing. His teams' work in developing the Ion Personal Genome Machine, which uses semiconductor technology to detect changes in DNA, was recognized in 2011 as the CONNECT Most Innovative New Product Award for Life Sciences.
Steven J. Betza, a 1982 graduate of the College of Engineering, is corporate director of the Future Enterprise Initiative at Lockheed Martin. He leads a futurist team to identify emerging business and technology trends and high-impact capabilities in engineering, production, supply chain operations and logistics for a corporation with more than 50,000 scientists and engineers and $47 billion in annual sales. At Lockheed Martin, he has served as corporate director for advanced manufacturing, engineering director, program director, and chief information officer. Betza serves on the board of directors of the National Science Olympiad and the board of trustees for Guthrie Healthcare System in Sayre, Pennsylvania.
Edward C. Dowling Jr., a 1982, 1987 and 1998 graduate of the College of Earth and Mineral Sciences, is corporate director at Teck Resources Limited; chairman of the board of directors at Polyus Gold; chairman of the board of directors, former president and chief executive officer for Alacer Gold; and director at Detour Gold. Dowling has 30 years of mining experience and leadership roles in numerous national and international companies, and is recognized in the industry for his ability to assemble and motivate teams of people to tackle and deliver challenging projects for creation of long-term value. He has held CEO-level leadership positions for Alacer Gold, De Beers SA, and Meridian Gold Inc.
Abdul Farid, a 1990 graduate of the Smeal College of Business, is the group president and chief executive officer for Maybank Group, a Malaysian universal bank, with key operating "home markets" of Malaysia, Singapore and Indonesia. He has more than 20 years of experience in investment banking, corporate finance and capital markets. Farid began his career with Aseambankers Malaysia Berhad in 1992, and then moved to Schroder until 1995. He joined Malaysian International Merchant Bankers Berhad in 1996, J.P. Morgan in 1997, and then served as investment director for Khazanah Nasional Berhad from 2005 to 2008. Since re-joining Maybank in 2009, Farid has held the position of head of international business and subsequently deputy president and head of global banking.
Louis J. Grabowsky, a 1973 graduate of the Smeal College of Business, is the founder and managing partner of Juniper Capital Management, a firm that makes control equity investments in high growth potential but under-resourced entrepreneurial companies in the U.S. Grabowsky began his career with Andersen LLP, where he spent 27 years in various capacities, including leading the firm's consumer products/retail industry practice, the Dallas office audit and business advisory division, the North American business process outsourcing practice, and, ultimately, the Great Lakes market circle of the firm. Within his Andersen tenure, Grabowsky left the firm for a short time to serve as the executive vice president and chief financial officer of Zale Corporation.
Jackie Graham, a 1978 graduate of the College of Nursing, is the founder of Corazon Inc., a nationally recognized health care consulting firm in Pittsburgh known for cutting-edge expertise in business planning, market analysis and best practice in patient care. A change agent in health care, she has contributed innovative solutions to cardiovascular, neuroscience and orthopedic programs. In 1995, Graham established her consulting firm. More than 20 years and 500-plus clients later, Corazon continues to thrive and was recognized as one of the Best Places to Work in Healthcare for 2017. Graham's successes have been celebrated with other awards, including the 2003 Ernst & Young Entrepreneur of the Year for Western Pennsylvania.
Dale T. Hoffman, a 1972 graduate of the College of Engineering, retired in 2008 as technical director of the Aegis Technical Representative Command in Moorestown, New Jersey. He led a team of 34 civilians, 134 support contractors, 40 U.S. Navy sailors, foreign military liaison officers from Japan, Spain, Norway, Korea, and was responsible for technical oversight of nearly $7.4 billion in Naval Sea Systems Command contracts. The Aegis Program is the Navy's premier surface-integrated combat and weapon system. Hoffman's Aegis career spanned 31 years from 1977 to 2008 with the delivery of 82 ship systems. He was responsible for managing design, development, production, testing, logistics and delivery of the Aegis System to the fleet.
Brian M. Kupchella, a 1990 graduate of Penn State Erie, The Behrend College, is president, chief executive officer and chairman of Truck-Lite Co. LLC, a market leader in truck and trailer safety lighting that has introduced over 250 innovations to the world. Kupchella has been president and chief executive officer of Truck-Lite since January 2016. Previously, he was named president and chief operating officer in January 2000. Kupchella began his career with Truck-Lite in 1990, holding a variety of engineering positions including manager of product engineering. In June of 1998, he was named vice president of business development with responsibilities for effective market and product analysis, and coordination and direction of all internal resources to support new business opportunities.
Richard B. Lippin, a 1968 graduate of the College of the Liberal Arts, is founder, chairman and chief executive of The Lippin Group, an entertainment/media public relations and marketing firm with offices in Los Angeles, New York and London. Since founding the firm in 1986, Lippin has broadened its portfolio to include all areas of television, music, film, video, licensing and merchandising, and digital media. The Lippin Group advises some of the most prestigious entertainment/media companies, associations and executives in the United States and around the world. Lippin's career started on Wall Street in investment and regulatory areas before he entered the field of investor relations.
Darwina L. Neal, a 1965 graduate of the College of Arts and Architecture, is a longtime National Park Service (NPS) administrator who retired as chief of Cultural Resource Preservation Services for the National Capital Region (NCR) in 2009. The first woman elected president of the American Society of Landscape Architects, she has been a leader within the NPS and the landscape architecture profession overall, serving as an advocate for women and applying her expertise to projects throughout the Washington metropolitan area. Neal began her career with the NPS in 1965 as a staff landscape architect, working on Lady Bird Johnson's Beautification Program. She served as chief of NCR Design Services from 1989 to 1996, and then was appointed chief of Cultural Resource Preservation Services.
Anne Kauffman Nolon, a 1972 graduate of the College of Health and Human Development, is president and chief executive officer of Hudson River HealthCare (HRHCare) in Tarrytown, New York. She oversees an organization that has 1,800 employees serving 176,000 patients in over 800,000 visits annually. HRHCare's network of community health centers is the largest federally qualified health center in New York. Nolon has been CEO since 1977, several years after the organization's formation. Under her leadership, HRHCare has become one of the nation's largest community health providers, and one that is deeply committed to compassionate and comprehensive primary and specialty health care for all.
Hugh C. Roth, a 1987 graduate of the College of Health and Human Development, is senior vice president — chief customer and business development officer at PepsiCo Global Foodservice. He is responsible for the strategic business development of PepsiCo's largest current and prospective national food service chain customers, representing more than $3 billion in annual sales for PepsiCo's Foodservice division. Roth leads a cross-functional sales organization that develops strategic business-to-business partnerships. His unit also partners with universities to recruit top academic and industry talent to the food service and manufacturers industry. He is the executive sponsor of PepsiCo's talent recruitment efforts at Penn State, and the company has hired more than 200 interns and full-time employees from Penn State over the past three years.
Allan W. Silberman, a 1968 graduate of the Eberly College of Science, is the Robert J. and Suzanne Gottlieb Endowed Chair in Surgical Oncology and professor of surgery at the Cedars-Sinai Medical Center in Los Angeles, California. Following graduation from Penn State in 1968, he attended Boston University and received a Ph.D. in biochemistry in 1973 and his M.D. in 1975. Silberman then did his residency in general surgery at the Tufts-New England Medical Center in Boston, followed by a fellowship in surgical oncology at UCLA. Silberman has been an attending surgeon at Cedars-Sinai for 32 years and is the clinical chief of the Division of Surgical Oncology and co-director of the Surgical Oncology Fellowship Program.
Vincent Sorgi, a 1993 graduate of the Smeal College of Business, serves as PPL Corporation's senior vice president and chief financial officer. He oversees PPL's investor relations, treasury, financial planning and analysis, tax, risk management, controllership, and strategic development functions. Before assuming his current position, Sorgi served as vice president and controller. Sorgi started his career at PPL in 2006 as financial director of the PPL Generation subsidiary. He has more than 20 years of experience in accounting, controllership, business planning, economic analysis, and mergers and acquisitions. He is a member of the American Institute of Certified Public Accountants and is chairman of the board of the DaVinci Science Center in Allentown, Pennsylvania.