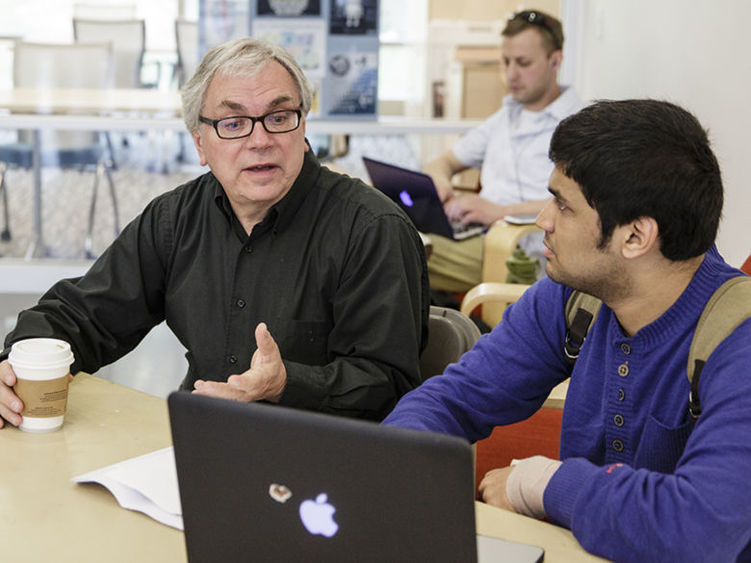 UNIVERSITY PARK, Pa. — What if a student could reach out to a group of professors across Penn State, no matter the campus, and consult with them on courses, research or their career?  
Penn State Commonwealth Campuses offer more than a dozen shared programs. Among them are biobehavioral health, business, corporate communication, computer science, criminal justice, cybersecurity analytics and operations, engineering, health policy and administration, information technology, project and supply chain management, and rehabilitation and human services, as well as the Latina/o studies minor.  
There also are upper-level and special-topics courses that are frequently shared between independent English programs at Penn State campuses that grant English baccalaureate degrees.
Shared programs enable students to enroll in courses offered across Commonwealth Campuses. These programs are supported by a dedicated group of faculty who work together in communities with other faculty, librarians, advisers, campus registrars and student affairs to support students and their experiences in and out of the classroom. 
Faculty communities across Penn State's Commonwealth Campuses share a commitment to providing quality experiences for their students. Whether designing or sharing courses, engaging in faculty development, or creating innovative programs, faculty help to ensure that the courses and programs offered through this initiative are of the highest quality.  
Brian Gardner, lecturer in information sciences and technology at Penn State Schuylkill, was asked to help develop the cybersecurity degree at various Penn State Commonwealth Campuses three years ago. At the time, there was only one IST professor at each campus who could deliver the program.  
The idea behind course sharing was to coordinate efforts between seven campuses in the University College and offer courses in the cybersecurity program. Some classes would be offered in person, while others would be offered virtually on Zoom.  
Up until last fall, Gardner was the only IST instructor on his campus. But with the shared program, more instructors across the campuses have built a network, and the program has felt like a community that has allowed the enrollment to grow significantly. 
Gardner is just one of the professors around the campuses that has been involved in course sharing to aid students in reaching their goals of a degree, regardless of campus. 
"It's been outstanding for every campus that has participated in it," said Gardner, program coordinator for cybersecurity analytics and operations. "We meet with all the campuses, but we catch up with everyone that did. We can react to situations where students we did not know about needing a certain class to graduate. It all works out. We have rarely had a situation where we have not been able to make it happen." 
Kelley Wagers is an associate professor of English at Penn State Scranton. She's exuded excitement about the ability for campuses to build more cohesion at the student level for the English degree. Abington, Altoona, Brandywine, Erie, Scranton and York are organizing a way for a group of independent bachelor of arts programs to occasionally share upper-level courses to enhance the range of advanced course offerings, participating in an optional course-sharing agreement.
The first shared courses for English at the six campuses were offered in fall 2021, with four to five upper-level courses. Wagers' students at Penn State Scranton have been able to take more advanced courses at other Commonwealth Campuses where the faculty at their home campus might not have the same expertise. That includes advanced poetry writing and world literature — including a Chicano literature course at Penn State York. It also allows students to engage with faculty experts who are "teaching them something that they're knowledgeable and excited about," said Wagers. 
For her, it is about the opportunities for students to widen their network and their academic careers. 
"They meet students from other campuses and engage with them," Wagers said. "We have a strong crew of students — they know each other, they have taken classes together, and they tend to be involved in campus activities. They do readings, they are a vibrant group, but then they can expand their social horizons and intellectual communities by going and meeting folks who might not be that far away." 
For more information on the shared majors at Penn State's Commonwealth Campuses and where they are offered, visit sharedprograms.psu.edu.