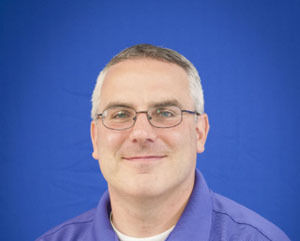 DUNMORE, Pa. — Penn State Scranton Chancellor Marwan Wafa has announced that Rob Notari, system administrator in Information Technology Support, has been named the campus' Employee of the Month for April.
"Rob is a knowledgeable and customer-service-oriented IT professional," wrote Associate Dean of University Libraries and Penn State Scranton Head Librarian Jennie Knies. "We have an unusual situation with the library because most of our computers and equipment are purchased and managed by the University Libraries' IT department. However, because they are at University Park, we depend heavily on Rob to assist us with setup, troubleshooting and guidance. This requires not only talking with us, but also often talking directly with staff from the Libraries' IT department. Rob is always willing to hop on the phone or help us articulate what is needed in order to ensure that equipment is operating properly."
She also noted Notari's asisstance to the library staff in moving the library to its temporary location while the campus' existing library building undergoes a $13 million renovation.
"During the planning for the Library's move to Dawson 10 this year, Rob was invaluable in helping us evaluate our computing needs in our temporary space, and for working with (IT Director) Marilee Mulvey and (IT Support Specialist) Jeremy Palko to ensure that our connections were in place. Some of our specialized equipment include a "gate counter" in the ceiling of the library that helped us to evaluate when our busiest times were and how many people entered and exited the building each day. When this was originally installed in 2021, Rob helped us communicate with the vendor about installation and internet connections, and he also removed and stored the device to prepare for our building closure," Knies explained. "Without our computers, phones, and IT connections, there is no way we could do our work. We are fortunate to have Rob at Penn State Scranton and we especially appreciate his assistance in the library."
The Employee of the Month recognition was initiated in 2016 by Wafa as a way of distinguishing staff members who "go above and beyond the call of duty" in serving Penn State Scranton.
Campus staff, faculty and students are encouraged to nominate staff members that deserve to be recognized for "going above and beyond." The link for nominations can be found here.