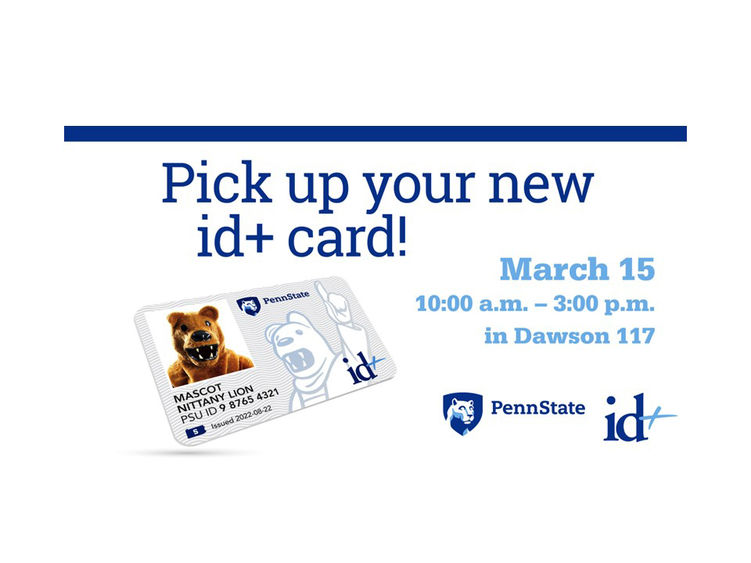 DUNMORE, Pa. — Current Penn State id+ cardholders at Penn State Scranton will receive a new id+ card during a re-carding event on Wednesday, March 15. The event is part of a University-wide process to distribute the updated, mobile-forward campus card.
From 10 a.m. to 3 p.m. on March 15, students, faculty, staff and card-holding affiliates can pick up their new id+ card at the Dawson Building, Room 117.
Anyone who received a new id+ card after May 10, 2022, will not need to take part in a re-carding event.
To ensure cardholder safety, cardholders must present their current version of the id+ card, along with a government-issued ID in order to obtain a new id+ card.
Obtaining a new id+ card during the re-carding process will be free for cardholders; however, current cards not presented during the re-carding event will be assessed a lost card fee. The card will be deactivated and a new card with a new identification number will be issued. The cardholder will be charged the current card replacement fee.
Older versions of the id+ card still in use on Aug. 1, 2023, will automatically be deactivated and the cardholder will be required to get a new card. A fee may be assessed for obtaining a new card at that time.
Cardholders who did not upload a new photo during the November 2022 photo upload period will have their current ID photo printed on their new card.
The University-wide re-carding process kicked off in fall 2022 at five campuses — Dickinson Law, DuBois, Penn State Great Valley School of Graduate Professional Studies, Shenango and Wilkes-Barre.
Along with Penn State Scranton, other campuses being re-carded in spring 2023 include — Abington, Altoona, Beaver, Behrend, Berks, Brandywine, Fayette, Greater Allegheny, Harrisburg, Hazleton, Lehigh Valley, Mont Alto, New Kensington, Schuylkill, University Park and York.
Each campus will host its own unique re-carding event. Cardholders from other campuses will not be able to partake in the re-carding event at Penn State Scranton.
Recent trends illustrate how campus life is changing for students at higher education institutions, particularly on the digital front. In most cases, universities are leveraging modern contactless technology to create a secure and seamless digital campus experience that aligns with current payment preferences.
A mobile forward experience will allow students to engage with the University using tap to pay technology. Implementation of the contactless technology aligns with Penn State's goal of being student-centric, while adding a layer of convenience and additional security. Project fulfillment is expected to run through 2025.
The University-wide re-carding process marks the first time since 2004 that new id+ cards have been issued. Details of subsequent re-carding events will be announced as times and locations are finalized. For more information about the new Penn State id+ card and its features, visit idcard.psu.edu.