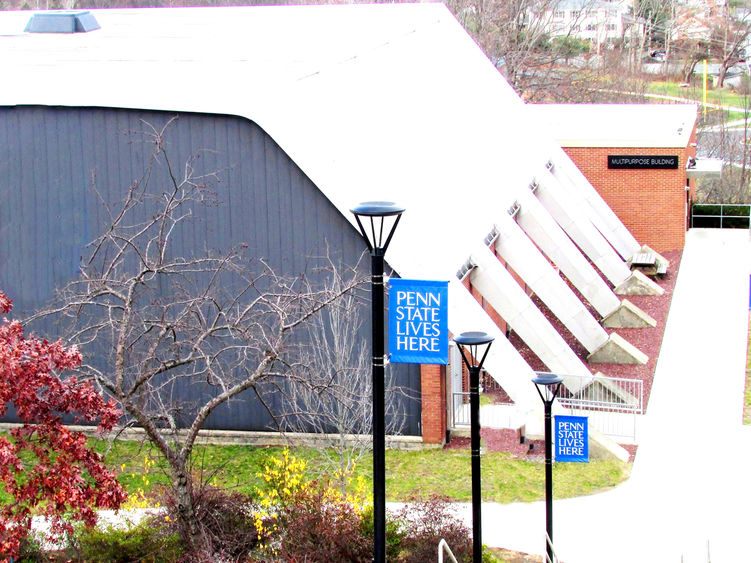 DUNMORE, Pa. — Penn State Scranton Chancellor Marwan Wafa has announced the following students have been named to the University's dean's list for the Fall 2022 semester. To be eligible, undergraduate students must achieve a one-semester grade point average (GPA) of 3.5 or higher.
Those students named to the dean's list are:
Aless Jella Agojo, Dunmore; Stephanie Algar, Clarks Green; Angelena Allen, Dallas; Teresa Allen, Madison Township; AJ Ambrosecchia, Madison Township; River Backman, Scranton; Evan Bannon, Scranton; Luke Bannon, Scranton; Keegan Barbetti, Old Forge; Robert Basalyga, Archbald; Marquis Baskerville, Lake Ariel; Stephen Bednarek, Dallas; Tanner Begin, Scott Township; Catherine Bennett, Lake Como; Zachary Benson, Eynon; Angelica Berardi, Archbald; James Bernosky, West Pittston; Branden Berry, Greenfield Township; Swapnil Bhatt, Scranton; Michael Bodnar, Carbondale; Michael Border, South Abington Township; Kyle Bosley, Spring Brook Township; Alexandra Bouselli, Moosic; Michael Braun, Susquehanna; Jacob Brundage, Jefferson Township; Thomas Bruveris, Milford; Kristina Bruzzano, Mechanicsburg; Victor Bulaya, Dunmore; Kaylynn Buonpastore, Kingston; and Christopher Burnis, Forest City.
Regan Cameron, Kingsley; Dylan Carrighan, Eynon; Keeley Carroll, Mayfield; Ryan Carrotto, Jessup; Charles Castellino, Pittston; Maroon Chalhoub, Milford; Ankitha Chebiyam, India; Cameron Christy, Scranton; Alexandria Clarke, Gouldsboro; Morgan Coccodrilli, Lake Ariel; Jordan Coles, Forest City; Samantha Collins, Waymart; Katrina Alexine Concepcion, Wilkes-Barre; Morgana  Costanzo, Preston Park; Kuma Cox, Scranton; Jerome Cruciani, Lake Ariel; Liv Damski, Archbald; Erica Davis, Archbald; Briana Dawkins, Tobyhanna; Amanda Delhagen, Dunmore; Rhiannon Depew, Carbondale; Aidan Derrick, Jefferson Township; Sneh Desai, Scranton; Alan Deutsch, Factoryville; Alexandria DeWolfe, Susquehanna; Michael  DeWolfe, Susquehanna; Matthew Diehl, Mayfield; Justin Dit, East Stroudsburg; Matthew Domanish, Elmhurst Township; Patrick Donvito, Dunmore; Justin Dorneman, Scranton; Joseph Dougherty, Clarks Green; Nicholas Drago, Milford; Christian Dructor, Throop; and Spencer Duffield, Archbald.
John Evans, Blakely; Evan Familetti , Scranton; Natalee Fawcett, Prompton; Natalie Faybisovich, Dickson City; Jaclyn Fusik, Dalton; Abigail Gaebel, Scranton; Matthew Galka, Tobyhanna; Mahek Gandhi, Scranton; Kierstyn Ganz, Throop; Luke Gardiner, South Abington Township; Cayden Garrick, Greenfield Township; Dylan Gaska, Conklin; Megan Gatto, West Abington Township; Grant Geldhof, Archbald; Frank Genell, Moosic; Sierra Gibbs, Scranton; Nicholas Gilberti, Saddle Brook; Gretchen Gilia, Carbondale; Brianna Graff, Plains; Daniel Grant, Waymart; Zackery Gray, Scranton; Madelyn Grilz, Plains; Jhopselin Guaman, Wilkes-Barre; Nelcys Guzman, Flushing; Connor Haggerty, Inkerman; Emily Hallman, Wind Gap; Jazmine Hamilton, Moosic; Philip Haser, Dunmore; Ammaarah Hassan, Saylorsburg; Ashlyn Healey, Eynon; Alexander Hineline, Lake Ariel; Adam Horan, Pittston; Matthew Howard, Mayfield; Dale Ignatovich, Forty Fort; Marissa Ivanko, Lackawaxen; Joseph Jackson, Kingsley; Sean Jacobs, Lackawaxen; Carissa James, Archbald; Carley Jankauskas, Jessup; Jeffrey Jarbola, Scranton; Abryel Johnson, Lake Ariel; Kendra Jordan, Thornhurst; and Braedon Joyce, Pittston.
Albana Kabashi, Peckville; Delaney Kaeb, North Abington Township; Fletcher Kanas, Long Pond; Maria Keifer, Lake Ariel; Trever Keller, Clarks Summit; Alyssa Kelly, Kingsley; Evan Kerrigan, Old Forge; Holden Kersey, Fate, Texas; Emily Kizer, Scranton; Daniel Kleeman, Taylor; Gordon Kopa, Scranton; Ryan Kretschmer, Honesdale; Casey Krushnowski, Old Forge; Dakota Kujawski, Scranton; Abigail LaBadie, Thornhurst; Alex Langel, Archbald; Fernando Larrea, Dingmans Ferry; Solei Lasanta, East Stroudsburg; Darla Lattimer, Carbondale; William Leety, Scranton; George Legg, Honesdale; Grant Lewis, Clifford Township; Thomas Lewis, Dunmore; Bryn Lindsay, Dalton; Austin Lipinski, Scranton; Maxmillian Loiacono, South Abington Township; Mark Longo,Throop; Blaine Lopez, Kingsley; Lily Lorenz, Starrucca; Nicholas Lowe, Clarks Summit; Megan Lucey, Milford; Kylie Lynch, Avoca; Marissa Lynch, Forest City; Lucas Macdonough, Greentown; Peter Macdonough, Greentown; Cameron Mackerley, Dingmans Ferry, Mahathir Mahbub, Dhaka; Olivia Maikranz, Taylor; Ayman Mansuri, Dunmore; Alison Marshman, Susquehanna; Ethan Marti, Pocono Lake; Andrew Martin, Jefferson Township; Falen Mason, Scranton; Rachel May, Scranton; Jalynn McFadden, Blakely; Connor McAndrew, Archbald; Charles McAvoy, Bear Creek Township; Miranda McLafferty, Madison Township; Sara McNichols, Scranton; Litzy Mendez, Tobyhanna; Shayne Michot, Kingsley; Alyssa Miller, Greentown; Kristie Miller, Moosic; Skylar Minichello, Jessup; Khush Mistry, South Abington Township; Neel Modi, Dunmore; Amanda Moody, Scranton; Molly Morgan, Spring Brook Township; Elizabeth Morris, Milford; Rowan Mulligan, Edwardsville; Logan Munley, Jessup; Gavin Murphy, Lake Ariel; Nicole Nafus, Benton; Mason Natalini, Gouldsboro; Rylie Nealon, Roaring Brook Township; Thomas Neifert, Pocono Pines; Timothy Nelson, Moscow; Ryan Notari, Thompson; and Nicholas Novobilski, Throop.
Qussai Odeh, Blakeslee; Sam Odeh, Blakeslee; Aaron Olecki, Dunmore; Grant Olsen, Hawley; Halle O'Neil, Ransom Township; Olivia Osborne, Old Forge; Andrew Oudshoorn, Lake Ariel; April Paciotti, Jefferson Township; Alex Pagotto, Roaring Brook Township; Lisa Parmar, Avoca; Darshan Patel, Scranton; Deep Patel, Scranton; Dev Patel, Mountain Top; Harpal Patel, Scranton; Janvi Patel, Dunmore; Kris Patel, Scranton; Kush Patel, Dunmore; Nidhi Patel, Scranton; Om Patel, Moosic; Riya Patel, Scranton; Rushi Patel, Scranton; Trusha Patel, Mountain Top; Vivek Patel, Nadiad; Aniyahs Peck, Tobyhanna; Cade Penepacker, Yeagertown; Devin Peterson, Dunmore; Melina Petrini, Covington Township; Noah Petrucci, Pittston; Emily Pinto, Dunmore; William Portanova, Dunmore; Nathaniel Powell, Jefferson Township; Antonio Pugliese, Scranton; Avianna Pugliese, Carbondale; Kamili Rachell-Williams, East Stroudsburg; Angelo Franco Ramos, Moosic; Jessica Reed, Factoryville; Samantha Rescigno, Blakely; Ashley Reyes, Scranton; Matthew Reyes, Scranton; Rafael Rios, Scranton; Francesca Rizzo, Moscow; Brianna Rowles, Larksville; Donald Ruiz, Scranton; Chloee Rumford, Carbondale; Luke Rusin, Moscow; Zachary Rusnak, Roaring Brook Township; Patricia Ryan, Scranton; Ryan Sabatella, Dickson City; Carlos Salazar Paz, Oxnard, California; Kaylee Salony, South Abington Township; Taylor Saltkill-Mcrew, Bakersfield, California; Evan Samuelsen, State College; Gwendolyn Saski, Milford; Alana Scanlon, Scranton; Airiana Scarfo, Covington Township, Anthony Scartelli, Scranton; Jacquelyn Scherer, Wilkes-Barre; Gabriella Schmidt, Old Forge; Abigail Schrader, Moscow; Jesse Schwab, Honesdale; Michael Scutt, Jefferson Township; and Makayla Seeram, Blakeslee;
Bryan Shabroski, Archbald; Kalyssa Shedd, Archbald; Nick Sherman, Prompton; Brandon Shotto, Dunmore; Aaditya Shukla, Boonton, New Jersey; Brandon Sicovitch, Spring Brook Township; Paul Siemieniewicz, Blakely; Eric Simonson, Sunol, California; Adrian Sokolowski, Dickson City; Felicia Sompel-Welk, Forty Fort; Sadie Stevens, South Abington Township; David Stoshick, Pittston Township; Yoshikatsu Sumitomo, Dingmans Ferry; Samantha Swanson, Susquehanna; Abby Swartz, Dupont; Marceia  Tanzini, Susquehanna; Jozalynn Thrower-Marin, Tobyhanna; Aidan Tomczyk, Scranton; Rebecca Tomczyk, Lake Ariel; Rebecca Tone, Falls; Jonathan Toro, Milford; Ashley Torres, Lords Valley; Gabrielle Torres, Greentown; Madalyn Toth, Dalton; Matthew Traverse, Peckville; Madison Tricarico, South Abington Township; Alexandria Trinovitch, Spring Brook Township; Elizabeth Trojan, Stillwater; Frank Turnbaugh, Blakely; Aidan U'Glay, Milford; Grace Ursich, Union Dale; Gabriela Ventura, Teaneck, New Jersey; Francesca Villano, Peckville; Ryan Vinton, Waymart; Zamarra Vrabel, Peckville; Joseph Walser, Dallas; Garrett   Walsh, Scranton; Michael Waltman, Scranton; Richard Warnken, Scranton; Isabella Waters, Dunmore; Madison Weinczyk, Lake Ariel; Jonathan Wescott, Dickson City; Khalil White, Kingston; Abigail Whitney, Newtown; Emma Wiggins, Madison Township; Andrea Williams, Clarks Summit; Brayden Wilson, Clarks Summit; Jemya Wilson, Tobyhanna; Emma Winters, Scranton; Robin Wrobleski, Exeter; Jared Yates, Moosic; Kevin Yaurincela, Scranton; Samuel Yudhistira, Scranton; Abigail Yurkanin, Archbald; Gabriel Yurkanin, Archbald; Katie Zabrowski, Jermyn; Nicole Zasada, Moscow; Zian Zhen, Ridgewood, New York; and Ryan Zona, Collierville, Tennessee.