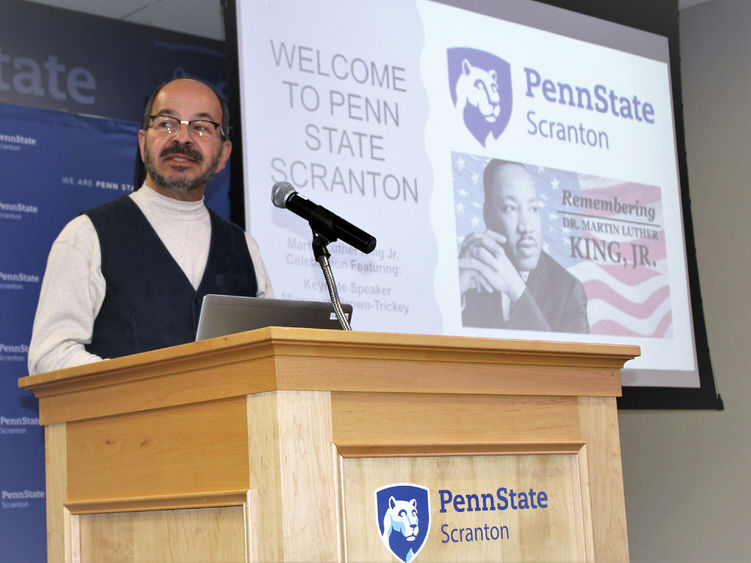 DUNMORE, Pa. — Each year, Penn State Scranton recognizes commitment to diversity in both the local community and on campus with the awarding of its Excellence in Diversity Awards, held during its annual Martin Luther King Day celebration. Meant to recognize individuals who demonstrate a genuine commitment to diversity and inclusiveness, there is an award given to someone from the community and another to someone from Penn State Scranton.
This year, Congressional Gold Medal recipient Minniejean Brown Trickey was the keynote speaker for the celebration. Brown Trickey was a member of the historic Little Rock Nine, a group of nine high school students in Little Rock, Arkansas, who became the first Black students to attend Little Rock Central High School in 1957 after the U.S. Supreme Court's ruling requiring public schools to be desegregated.
This year's Excellence in Diversity Award recipients were announced at the beginning of the event. Recipients were: Dharti Ray, assistant director of student services and engagement at Penn State Scranton; and Keshia Vilchert, director of student equity, inclusion and programming in the Office of Institutional Equity and Inclusion at Marywood University.
Throughout her career, Ray has worked closely with Penn State Scranton's international students. She is also heavily involved in cultural programming within the community at large, having coordinated several diversity events and trainings with local institutions, working closely with the Greater Scranton MLK Commission and organizing and facilitating Diversity Circles at Penn State Scranton, which included working with over 70 local community members.
In presenting her award, Penn State Scranton Chancellor Marwan Wafa said, "Dharti's kindness and professionalism is not only felt with our students, faculty and staff, but throughout the surrounding community. We are so proud to have Dharti as part of our Penn State Scranton family."
Vilchert brought the Truth, Racial Healing and Transformation Center to Marywood University, which helps individuals, communities, institutions and professional sectors heal from past and present-day harms of racism and active change in our communities. In her role, she strives to create a safe and comforting space for everyone on campus, helping to provide them with fair treatment and the resources they need to succeed.
"My favorite part of my role is working with the students," she said. "I enjoy being able to watch them grow and develop. Seeing them actualize their goals and ambitions is inspiring and one of the most rewarding aspects of my job."
Brown Trickey recounts her experiences as one of the Little Rock Nine 
Prior to her experience at Little Rock Central High School, Brown Trickey said she had been well-protected by her family and her community from the racial angst that had been taking place during that time in history. She had been attending Horace Mann, an all-Black school in Little Rock, when one day, an announcement came over her school's intercom system asking for interested students to sign up.
"When it came time that I could go to Central, I said, 'I'm going!" she told the crowd, explaining that the school was 10 blocks from her house and within walking distance.
After signing up, she was told that she would only be able to go to school there, she would not be allowed to participate in any extra-curricular activities. Because of that, most of the 70 students who had initially expressed interest in going to Central, opted out. But not Brown Trickey.
"I was 15. I thought racism was a thing for old people," said Brown Trickey. "I decided I was going."
However, what she hadn't known was that the names of the nine students who did follow through on going to Central were put in the newspaper, along with their addresses. Her family, and the others, received hate mail and threats. Still, she kept her resolve.
However, on Sept. 3, 1957, on what was to be her first day at Central, she and the other eight students from Horace Mann were greeted at the entrance to the school by a hostile mob, along with members of the Arkansas National Guard, who had been summoned there by the governor to prevent the students from entering.
"I made the decision — I'm not going to be chased away, I'm going to keep coming."

—Minniejean Brown Trickey , member of the Little Rock Nine
Eventually, the "Little Rock Nine," as they came to be known, were able to begin attending Central High School later that month – on Sept. 25, after an order by President Dwight Eisenhower ordered members of the Army's 101st Airborne Division to Little Rock to assist the students in entering the school.
But things did not get easier for the group. She and the other eight members of the Little Rock Nine were also harassed by their classmates, and Brown Trickey ended up being expelled for rebelling against the daily torment.
Quoting Algerian journalist and author Tahar Djaout, Trickey talked to the crowd about the importance of speaking out against, and standing up to, injustice. "Silence is death. If you remain silent, you die. If you speak, you die. So speak and die," she said.
When asked by a person in the audience how she keeps a positive attitude after what had happened to her, Brown Trickey said, "I wasn't mad, I was sad. But I learned compassion from that experience. It made me a compassionate person."