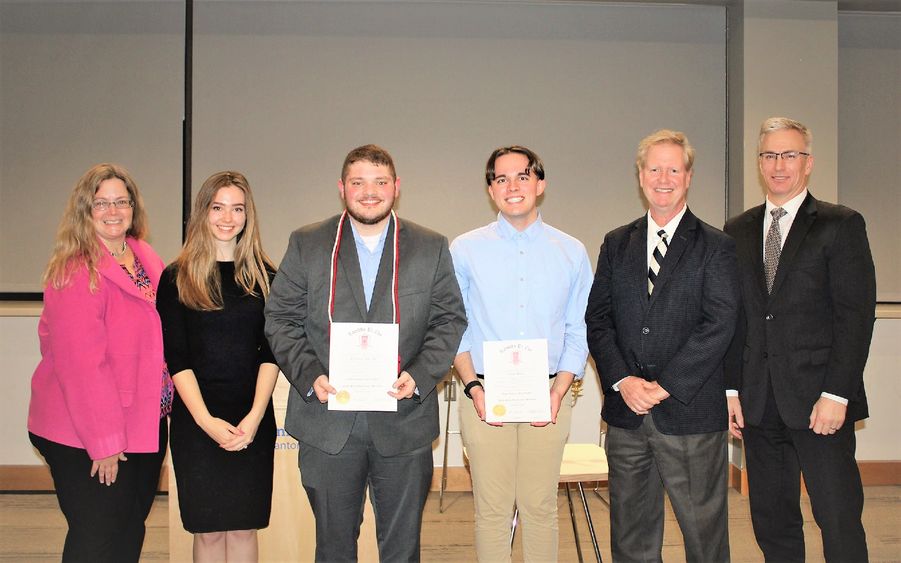 DUNMORE, Pa. — Earlier this semester, the campus' Lambda Pi Eta Alpha Epsilon Chapter, the official honor society of the National Communication Association, inducted its newest Penn State Scranton members in a formal ceremony.
The new inductees are corporate communication majors Nicholas Sherman and Tanner Begin, vice president of the campus' Corporate Communication Club, who received their Lambda Pi Eta pins and membership certificates. After their induction, soon-to-be graduates Sherman and Kristina Bruzzano also received their honor cords, which can be worn during spring 2023 commencement.
To be eligible for membership, students must have a declared interest in the communications field, while also having completed 60 hours of undergraduate credit courses, with 12 of those hours being in communication courses, while being enrolled full time and in good academic standing. In addition, students must have a cumulative GPA of 3.0 or higher, maintain a 3.25 GPA in their communication courses, and be in the top 35% of their graduating class.
Lambda Pi Eta President Molly Morgan and Begin presented opening remarks for the formal ceremony, alongside Kim Flanders, doctorate, assistant teaching professor and program coordinator of corporate communication, Durell Johnson, doctorate, chief academic officer, and associate professor of health and human development, and James Hart, assistant teaching professor of communication arts and sciences.
The evening concluded with a final toast to the inductees and honor cord recipients, followed by an informal reception with family members, classmates, faculty, staff and alumni.
Lambda Pi Eta was founded by communication students within the University of Arkansas and was later endorsed by the faculty and founder Stephen A. Smith. It was named as the official national honor society for undergraduates by The Speech Communication Association in 1994.