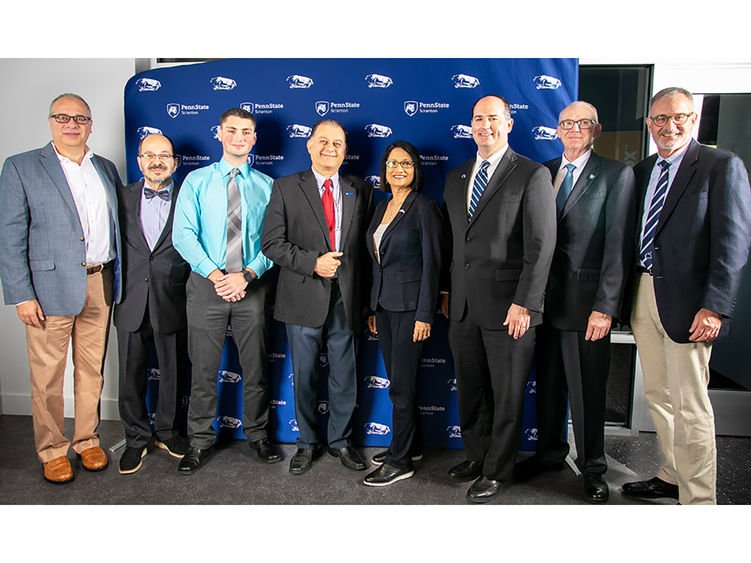 DUNMORE, Pa. — Penn State Scranton dedicated its new Engineering Building on Thursday, Oct. 6, with a ribbon-cutting ceremony that featured Penn State President Neeli Bendapudi as a keynote speaker and approximately 100 guests, including University and community leaders, donors, faculty, staff and students.
The event took place inside the lobby of the new Engineering Building and included remarks by Bendapudi, Penn State Scranton Chancellor Marwan Wafa, Acting Dean of the College of Engineering Anthony Atchley, Penn State Scranton Engineering Program Coordinator Majid Chatsaz, and campus senior engineering student Nicholas Drago.
"I am thrilled to be here for this momentous occasion," Bendapudi told the crowd. "The Commonwealth Campuses are at the core of fulfilling our University's land-grant mission, which includes three main tenets — providing access and affordability to higher education; contributing to the economic development of the commonwealth; and conducting research that has a practical impact.
"Right here, you have world-class facilities, and I am delighted that students can stay right here and get their bachelor's degree in mechanical engineering," she said. "I am so thrilled that I will get to sign the first graduating class's diplomas," referring to the fact that Penn State Scranton's first mechanical engineering graduates will be part of the class of 2023.
"Today's event is not just about this building," Atchley said. "It's about what's going to happen here … the collaboration, the access to state-of-the-art facilities. Students will take what they learn here out into the community through their internships, where they go to work, and beyond."
"It is a privilege to be here today," Chatsaz said, expressing his thanks to everyone involved with bringing the mechanical engineering program to Penn State Scranton. "It was always my dream to bring the Penn State engineering degree to our local students."
Senior engineering student Nicholas Drago thought he would have to complete his degree elsewhere but can now remain at Penn State Scranton to get his bachelor's degree in mechanical engineering. "It is thanks to Dr. Wafa, an engineer who combined his love of engineering and teaching, for bringing this engineering degree to Penn State Scranton."
"Today represents not just a new campus facility and degree program — it represents community," Wafa said. "Penn State Scranton is committed to this community, its leaders, its businesses and industry, and, most importantly, its people.
"Today is the culmination of an effort that started over four years ago when we met with business and industry leaders who expressed their frustrations about not being able to find enough engineers in our area. Well, we are now on our way to solving that problem. And, our engineering students will be able to complete their degree in a new building that not only provides them with state-of-the-art amenities, but is also a wonderful landmark for the community."
The campus' path to launching the mechanical engineering program began after it hosted a regional engineering focus group meeting consisting of representatives from more than 15 regional companies and government agencies — among them Gentex, Lockheed Martin, PPL, Tobyhanna Army Depot and UGI — who indicated a strong need for mechanical engineers locally.
In addition, the Pennsylvania Center for Workforce Information and Analysis lists mechanical engineering among its high-priority occupations. Penn State has seen steady enrollment increases for its baccalaureate engineering programs in recent years.
The mechanical engineering degree is now one of 14 bachelor degree programs offered at Penn State Scranton and gives students who wish to pursue a career in engineering the option of earning their four-year degree locally at a new modern facility with state-of-the-art features, as opposed to having to complete their studies at another Penn State campus.
With the program's implementation, the campus now expands opportunities for current students while attracting a new population of location-bound students who aspire to have careers in mechanical engineering. Penn State Scranton is now one of only five campuses in the Penn State system to offer this degree.
Formerly known as the W.W. Grainger industrial supply facility, Penn State Scranton purchased the building in 2018 to convert it into the home base for its mechanical engineering degree program, which was being developed at that time.
The $9 million renovation that was undertaken included gutting the entire inside of the building and adding classrooms, high-tech engineering labs, a fabrication/maker space, faculty offices and study pods for individual and group study, as well as new spaces for the campus' Police and Public Safety headquarters and Center for Business Development and Community Outreach.
The new facility is now equipped with new utilities; numerous natural light-enhancing windows; a new walkway between the Engineering and Dawson buildings to provide optimal access for students, faculty and employees from other parts of campus; and a new campus sign was installed at the site, fronting the O'Neill Highway.
The building features energy-efficient systems such as natural gas for the building automation system, occupancy sensors to adjust temperature outputs, and LED lighting with motion sensors.
The state-of-the-art facility's engineering labs allow faculty and students to work together on real-life projects, and include a fabrication or 'maker' space where students work with local companies, helping them develop possible new products.