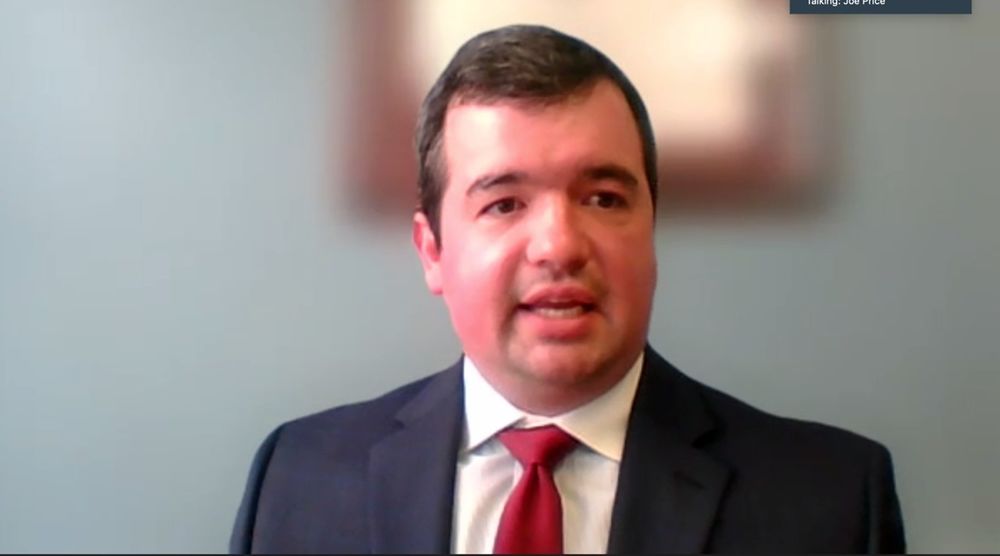 This semester, Associate Professor of English Kelley Wagers organized a guest speaker series for English majors so they could learn about the careers and fields they could pursue with their degrees.
For each Zoom session, local professionals in the English/humanities/writing-related fields talked about their own career path, offering ideas about how to decide on a career, discussing options for post-graduation training and described the ways they use writing and communication skills in their everyday work.
Speakers included campus and local librarians for a session on careers in library and information science; a digital coordinator for a local media company for the session on professional and business careers; a college professor, for a graduate school in English and teaching careers session, and local attorney Joseph G. Price, Esq., for the session titled "Law School and Legal Careers."
Price is co-founder and managing partner at Corbett Price Law and an assistant solicitor for the city of Scranton. He has been honored on the list of Pennsylvania Super Lawyers as a Rising Star in Civil Litigation for the past three years and received his juris doctor (magna cum laude) from Western Michigan University's Cooley School of Law.
Price's law experience dates back to when he was a child, as he was born into a legal family. Price mentioned that he often used to be rebellious, as he originally tried everything not to become a lawyer. However, his education and process of learning about himself, later altered his mindset.
Price noted that he was not exceeding the standards of a typical lawyer throughout his high school career at Scranton Preparatory School, and even joked that he excelled mostly on the football field more often than he did in the classroom.
Throughout his undergraduate experience, Price mentioned that although he was not the best student, he was still in the process of trying to "figure himself out."
It was not until August 2010, during his time at Western Michigan University's Cooley School of Law, was he able to experience life in the real world – his strengths, weaknesses and dealing with people.
Price noted that it doesn't matter what your undergraduate degree is, whether it is bio-medical engineering or criminal justice, there is no prerequisite to get into law school, besides the Law School Admission Test (LSAT) – an exam that is made up of reading comprehension, reasoning, and writing, in which students are tested in the skills necessary for success in the first year of law school. Price recommends taking a course or buying books to help better prepare for the exam.
The Bar Exam is another milestone for one pursuing a license to practice law, which is typically completed after the first year of law school. Price recommends BABRI, which is currently the largest U.S. bar preparation and legal exam company in the world that offers both online and/or in-person preparation.
Price mentioned that law schools mainly focus on three credentials: one's undergraduate GPA, the LSAT exam, as well as one's story. For Joe Price, he wanted to help people and knew he could talk and write, which is one of the primary reasons he wanted to attend law school.
Although being "sticker shock" may play a part of being accepted into law school, "it pays off," said Price. Price's advice to any student that is interested in attending law school is to try to not get a job within one's first year if they're able to get by financially, focus on schooling, and also talk to older students and professors to get tips and advice from them. "Each professors class is unique so advice always helps," said Price.
Although law school is important, it's also stressful and deals with a lot of writing. Price joked and said that although the television show, "Law and Order," is made to look fun for it viewers, law behind-the-scenes that is not televised consist of tedious work. Price emphasized that you only have one chance in law school, which relies on the final exam. Price explained that there is no sense of how well you're doing in a class, as you only have one exam at the end of the semester that determines how you did within that specified course.
After Price graduated magna cum laude from Western Michigan University's Cooley School of Law with a degree in juris doctor, he began to explore the wide varieties of internships, which he found to be the most beneficial throughout his whole law experience.
Price noted that law school is always evolving, so if someone thinks of an issue, they will need a lawyer for it. Price noted that it is especially important to remember to remove yourself from the person you are representing, and apply yourself to the law, as everyone deserves a defense and a lawyer.