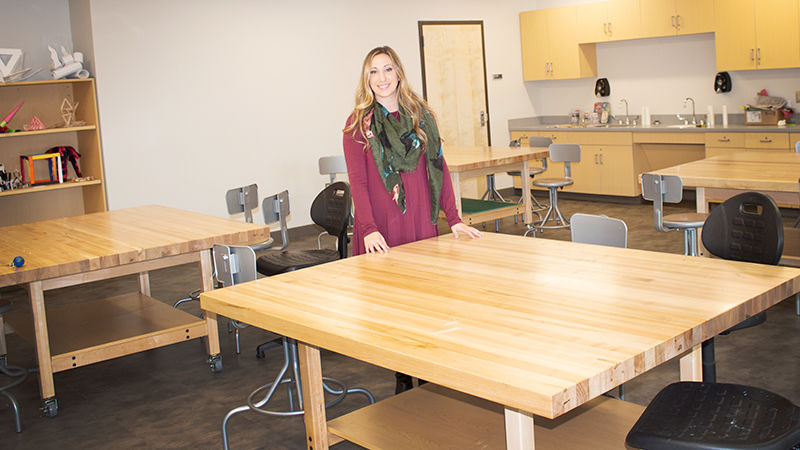 DUNMORE, Pa. — Corianne Thompson is a big believer in spatial design, both from an aesthetic and a psychological standpoint.
"A great space can change the way you're feeling," she said. "It connects people."
Just one look at Penn State Scranton's new art studio is enough to verify that claim.
The studio, one of the hallmarks of the Dawson Building's recent first floor renovation project, is already turning heads and proving to be a highly functional classroom environment for Thompson, now in her second year as the campus' first full-time lecturer in art.
The studio has everything Thompson needs as she continues to grow the campus' art curriculum — large windows that give off plenty of natural light; sturdy, wheeled communal tables that can be moved to accommodate easel space; abundant shelf space; four pottery wheels; and a professional-grade kiln.
The Fall 2019 Student Art Exhibition
The art studio will have a coming out party of sorts on Tuesday, Nov. 19, when it plays host to the Fall 2019 Student Art Exhibition.
Taking place from 12:15 to 1:15 p.m., the exhibit will showcase student artwork from a variety of mediums. Besides the art studio, works will also be displayed throughout Dawson's first-floor hallway. Light refreshments will be served.
On a recent morning in the studio, Thompson praised Chancellor Marwan Wafa, and Chief Academic Officer Durell Johnson for making such a significant investment in the art program.
"Having this space is really wonderful, and I'm so thankful we have it. The students are really noticing, too, that this is a real art studio. And that's important, because when you're trying to offer a broad range of visual arts courses, it has to be a space that can be reconfigured depending on the need."

— Corianne Thompson, the first full-time lecturer in art at Penn State Scranton
Pretty much everything about the space serves a function, Thompson said.
The tables foster a close sense of collaboration among the students. The windows provide abundant light needed to work with various materials. Even the sinks are a major upgrade, Thompson said, because now students don't have to scamper to the bathroom in order to clean up.
And, given it's her medium of choice, Thompson can't wait to show students how to throw and fire clay on the pottery wheels and in the kiln when the campus begins offering its first-ever ceramics course this spring.
The studio also fits Thompson's preferred teaching style. Instead of lecturing, she'd much rather walk from table to table and interact directly with students as they move through their respective projects.
"I want the students to really feel what it's like to think creatively. It's that hands-on experience, to be able to say to the student, 'This line isn't quite right, maybe turn it that way,'" she said. "Working together, they eventually begin to grow into their own little table families, and it's so exciting to see those relationships build over the semester. We focus on the work in order to improve, and our critique sessions are part of that learning process."
Thompson's experience
Prior to coming to Penn State Scranton, Thompson worked at Penn State Lehigh Valley as an adjunct ceramics instructor and a faculty affairs coordinator. Before that, she taught art in the Baltimore City public schools.
Having worked with such a broad range of students has been great, she said, given "the many different types of learners here at this campus." For her, it's extremely important to nurture the unique individual talents of her students, who take the courses to fulfill their general education requirements. (Art isn't offered as a major at the campus.)
While some students come in with a genuine interest in art, others are more reluctant and take some encouraging. Thompson loves to watch their progression, and the increased confidence that comes with it.
"Every time we have a critique day, I'm so proud of them. I get really excited for them," she said. "It's just amazing to see some of the beautiful, creative artwork being made. Getting to see their perspectives show up in their work is always exciting. I see many of my students completely surprise themselves with the art they're able to create."
Her artwork
Thompson's talent for art materialized at a young age, although it took some time for her to find her true passion.
A dedicated painter for years, she eventually discovered a talent for ceramics while pursuing her bachelor's and master's degrees at the Maryland Institute College of Art.
"I just kept throwing and throwing clay, and finally, one day, I got it. And then I fell in love with it. From there, all of these ideas just kept coming."

— Corianne Thompson
Eventually, Thompson settled her thematic focus on ceramic vessels and bowls that resemble the alien-like sea creatures she found in her dad's marine biology books. They include echinoderms, a category of sea creature that includes sea urchins, starfish and sand dollars.
Thompson's small, delicate creations, many of which are adorned with spikes, allow her to explore emotional themes like vulnerability, relationships and self-protection.  Last spring, she gave a presentation on her work for the campus' Lunch and Learn lecture series.
"Sometimes, I can't articulate in words what I want to say, so the artworks do it for me," she said. "It's very meaningful to me."
With any luck, Thompson's students will find that same deep meaning and purpose through their own artistic pursuits.
"Hopefully, when they leave here, from time to time they'll want to pick up a paintbrush or a pencil and create art because it makes them feel good," she said. "The great thing about art is that it's something you don't need a special invitation to do."