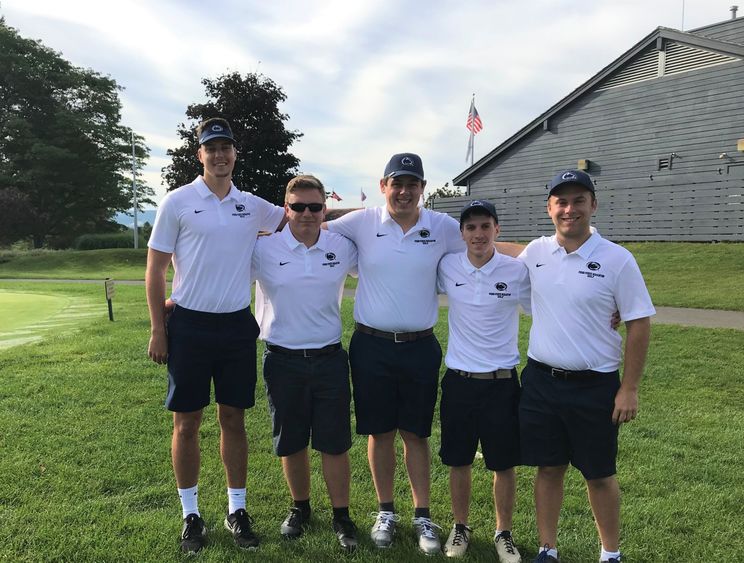 DUNMORE, Pa. — For the first time in 43 years, Penn State Scranton has a golf team.
The campus' varsity golf program is competing again for the first time since 1976. Led by head coach Jonathan Kulas, the team boasts 11 members, many of whom are experienced golfers who played competitively in high school. Though open to men and women golfers, the roster is currently all male.
The team, which practices at Scranton Municipal Golf Course, has eight tournaments on its schedule this fall, with three at University Park and the other five campus invitationals. The team is already showing promising signs, with fourth- and fifth-place finishes at its first two Penn State University Athletic Conference (PSUAC) golf tournaments.
At the Sept. 14 Penn State Fayette Invitational, two Scranton golfers, freshman Tommy Gaudette and senior Casey Holman, finished in the top 10, with rounds of 79 and 89, respectively. Holman, meanwhile, recently earned Penn State Scranton Player of the Week honors for shooting a team low 80 at the Sept. 11 Penn State Schuylkill Classic.
Though this year is a learning experience for all involved, Kulas said he's impressed with the team's early performance.
"I'm very happy with how the season has gone — it's been a lot of fun coaching this team," he said. "We have a great group of guys that want to compete and want to improve their games. I knew we were going to be able to compete and surprise a lot of schools being a first-year program."
According to Penn State Scranton Athletic Director Jeff Mallas, interest in resurrecting the golf team had been steadily building in recent years.
"I was coaching the golf classes here on campus, and a lot of the kids would ask me about bringing the golf team back," Mallas said. "Parents would also ask about it at open houses. So, eventually, I thought, 'Let's do it.'"
Once committed to the idea of reviving the program, Mallas wanted to make sure he found a coach with the right credentials. Kulas' coaching background and status as a golf professional completely fit the bill, as the team's early performance is demonstrating, Mallas said.
"I'm really happy with how it's going so far, both with Jonathan's coaching and the team's performance," he said. "I have no complaints so far. And I know it's only going to get better."
Holman said he's thrilled with the opportunity to play his favorite sport at the collegiate level.
"My experience thus far has been amazing. Being able to go and compete on high-level courses across the state has been something that I don't think I'll ever forget," Holman said. "My teammates are a great bunch of guys, and I consider all of them good friends at this point. And Coach Kulas is one of the smartest, best and most relatable coaches that I have ever had. He seems to know everything there is to know about the game. He's a fun, easygoing guy that really knows how to get the guys going before a big match."
A Dickson City native, Kulas comes to the team with a decade's worth of coaching experience under his belt. He has served as the assistant men's and women's golf coach at Misericordia University, as well as the assistant and head men's basketball coach at Johnson College and the assistant men's and women's basketball coach at Marywood University.
Kulas has been in love with golf since he played his first round at the age of 12. During his years at Marywood, he was among a group of students who successfully lobbied the administration to establish a club golf team. Since then, it's become a varsity-level program that has gone to the NCAA Division III national championships twice.
After receiving his degree in business administration from Marywood, Kulas pursued a career as a golf pro. Currently, he's the head pro at Great Bear Golf Club in East Stroudsburg.
"For me, there is nothing better than seeing the enjoyment when you're giving a lesson and see your student start improving and enjoying the game more," said Kulas, who has a master's degree in sport management and leadership from Keystone College.
Taking the job at Penn State Scranton was an easy decision, he said, given he's a longtime Penn State fan and because of the excitement that came with the opportunity to re-start the program.
"It's been great. Everyone I've met at Penn State Scranton has been excited about the program starting up again," he said.
Moving forward, Kulas has a number of long-term goals for the program, including hosting an invitational tournament next year and eventually competing for PSUAC and USCAA championships.
Of course, his goals also reach beyond the golf course.
"Getting our students to graduate with a degree from Penn State in four years is always my No. 1 goal," Kulas said. "The thing I enjoy most about coaching is developing relationships with the students and their families that last even after college."
"I'm excited about this opportunity, and the energy of this team is amazing," he added. "This year is about growth and figuring out how to make this better for our students in the years to come."