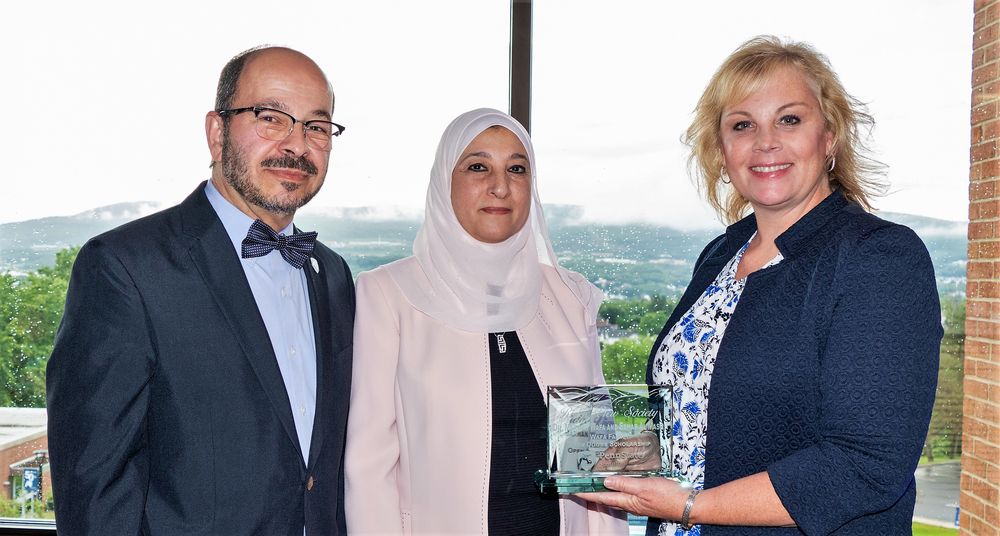 DUNMORE, Pa. — Penn State Scranton recently toasted its extensive and generous network of donors at its annual Ridge View Society Dinner.
Each year, the Ridge View Society Dinner recognizes donors who have committed more than $10,000 to Penn State Scranton.
The evening featured remarks by Marwan A. Wafa, chancellor; Christine R. Ostroski, director of development; Patrick J. Sheridan, development committee co-chair; and Jo Ann Durdan, education program assistant in the Center for Business Development and Community Outreach, as well as the 2019 Chancellor's Scholar and a summa cum laude graduate of the campus' corporate communication baccalaureate program.
Ostroski welcomed five new members into the society: local dentist Dr. Jason J. Hanyon; the Hawk Family Foundation; the Schwartz-Mack Foundation; Frank and Melissa Simpkins; and Wafa and his wife, Sahar Al Masri. They join 164 existing Ridge View Society members.
Meanwhile, nine new scholarships were established within the last year as part of the University's Open Doors initiative, which aims to address the financial, academic and personal challenges undergraduates face earning their degrees. All nine scholarships received a 2:1 match from the University as part of a recently concluded incentive.
The new scholarships are:
Greater Scranton Penn State Chapter Open Doors Scholarship
Penn State Scranton Alumni Society Open Doors Scholarship
Charles A. and Lola D. Sileo Memorial Open Doors Scholarship
Robert E. Quinnan Memorial Open Doors Scholarship
Simpkins Family Open Doors Scholarship
James W. and Noel M. Thomas Family Open Doors Scholarship
Suzanne Thomas Open Doors Scholarship
UGI Utilities, Inc. Open Doors Scholarship
Wafa Family Open Doors Scholarship
Last year, Ostroski said, 149 campus students received more than $470,000 in donor-funded scholarships. And, during the past five years, more than $1.8 million in scholarship money has benefited 718 Penn State Scranton students.
"Scholarships allow our students to achieve their dream of a college education. In addition, nearly all of our students receive some sort of financial assistance for their college education," Ostroski said. "Your generosity will enable even more students to work toward their goal of a Penn State education."
In his remarks, Wafa mentioned several campus initiatives that will allow Penn State Scranton to stay innovative and competitive in the coming years. They include the LaunchBox business pre-incubator in South Scranton, the renovation of the campus tennis courts into a four-court "flex court" system, the renovation of the Dawson Building's first floor, and the conversion of the former Grainger Building into the home of the new bachelor's program in mechanical engineering.
"We're not your father's Oldsmobile," Wafa joked, referencing an advertising campaign from years ago.
Wafa told the donors they were making a great investment in the campus through assisting its most valuable commodity — its students.
"We are truly grateful for all you do for this campus," he said. "You're helping to enable our students to complete their journey while minimizing their loans. … Thank you for all you have done and will continue to do."
Following dinner, Durdan, a past recipient of a scholarship given by Ridge View members Richard and Lois Ostroski, told an inspiring story of perseverance and the power of higher education.
For years, the Clarks Summit resident put her education on hold in order to raise her daughter, Elizabeth. However, five years ago, her husband, John, encouraged her to return to the college classroom.
As it happened, the first course Durdan took on campus had a roster that also included her daughter, now a University Park student. That helped some, but after years away from the classroom, Durdan felt daunted and was constantly questioning herself — and her professors, she said with a laugh.
In time, though, her self-confidence grew. Plus, it helped that she received tremendous guidance from the campus faculty, particularly her adviser, Eva Tettenborn, associate professor of English, and James Hart, lecturer in communication arts and sciences.
Looking for an apt — and colorful — metaphor to put her journey in perspective, Hart at one point asked Durdan, "How do you eat an elephant?"
The answer: "One bite at a time."
Indeed, that methodical approach paid off for Durdan, who at May's commencement ceremony was recognized as this year's Chancellor's Scholar.
"You have to realize that you don't know everything. But you learn something every day," said Durdan, noting the campus fully restored her "love of learning."
The Open Doors Scholarship Program aims to address the financial, academic and personal challenges undergraduates face earning their degrees. The University has created a range of programs that can help them to succeed. Alumni and friends can help to sustain these programs and meet the urgent needs of students through their endowed gifts.
Gifts to Open Doors Scholarships and other campus priorities will advance "A Greater Penn State for 21st Century Excellence," a focused campaign that seeks to elevate Penn State's position as a leading public university in a world defined by rapid change and global connections. With the support of alumni and friends, "A Greater Penn State" seeks to fulfill the three key imperatives of a 21st-century public university: keeping the doors to higher education open to hardworking students regardless of financial well-being; creating transformative experiences that go beyond the classroom; and impacting the world by fueling discovery, innovation and entrepreneurship. To learn more about "A Greater Penn State for 21st Century Excellence," visit greaterpennstate.psu.edu.