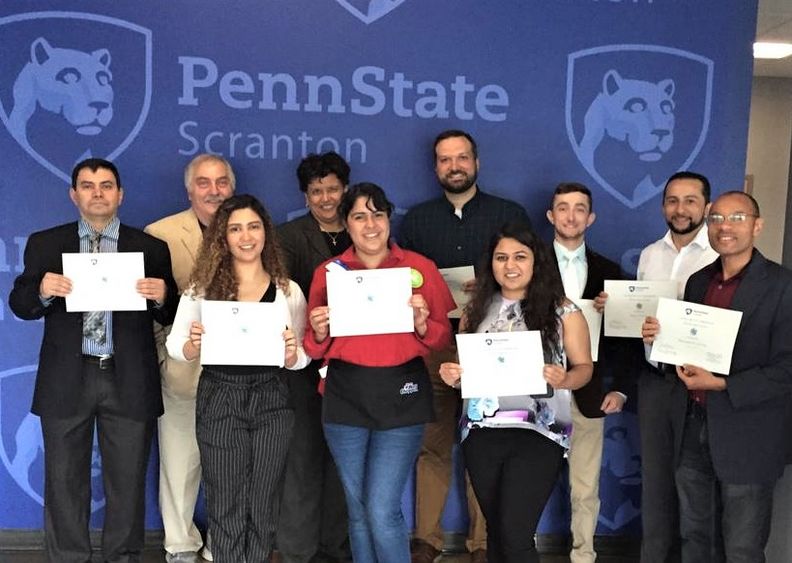 DUNMORE, Pa. — Penn State Scranton's commitment to diversity and inclusivity continues through its recurring Diversity Circles initiative.
The most recent round of Diversity Circles was held on campus over five consecutive Thursday evenings in May and June. There, campus students and staff, along with members of the community, worked with trained facilitators to share their experiences in hopes of gaining broader cultural and societal perspectives.
The participants were Scranton-area residents Giovanny Crespo and Wenceslao De La Cruz; Penn State Scranton students Alayiah Ashmore, Lucines Polanco, Matthew Palmer and Deymeliz Ruperto; and campus staff members Matthew Nied, assistant director of student services and engagement; Henry Matute Coello, coordinator of co-curricular programs; Dharti Ray, coordinator of diversity and inclusion; and Katherine J. Stefanelli, campus counselor.
Cathy Ann Hardaway, Phil Yevics and Sahar Al Masri, wife of Penn Scranton Scranton Chancellor Marwan A. Wafa, served as facilitators.
This was the first Diversity Circles experience for Ray, a campus alumna and 2019 Penn State graduate who, in her new role, will be in charge of coordinating the sessions. It was an illuminating experience, she said.
"I was able to understand others' stories, background, views and, most importantly, their experiences," Ray said. "I understood why it is so critical to have these conversations in our community."
As always, the Diversity Circles' facilitators drove the conversation. Each session started with a topic and related case studies that then led to a group discussion. From there, participants engaged in various activities that allowed them to gain a better understanding of one another's backgrounds and views, Ray said.
"The interactions during the Diversity Circles were eye-opening," Ray said. "The participants were able to discuss issues and speak openly about them without any judgment. We also take an oath to not discuss the group conversations to anyone else outside of the Diversity Circle. At the end of the sessions, the participants brainstorm on how they can bring change in their community regarding diversity and inclusion."
Though she was only able to attend two of the five sessions, Stefanelli said she nonetheless gained valuable insights from the experience.
"I can tell you that a sense of community and an earnest desire to grow were the top takeaways I felt," she said. "Honest discussions about honoring differences are always an opportunity for growth and expanding our minds, and I was honored to be part of that."
De La Cruz heard about the Diversity Circles through Matute Coello, and was thrilled to have taken part.
"It was a great experience for me," De La Cruz said. "Wonderful people from so many different countries. Everything was surprising to me because it was more than what I was expecting."
De La Cruz would happily recommend the Diversity Circles to other members of the community, noting, "I've already been talking to someone about the marvelous experience I had there."
The fall Diversity Circles will take place at a yet-to-be-determined time in September or October. Anyone interested in taking part can contact Ray at [email protected] or 570-963-2685.