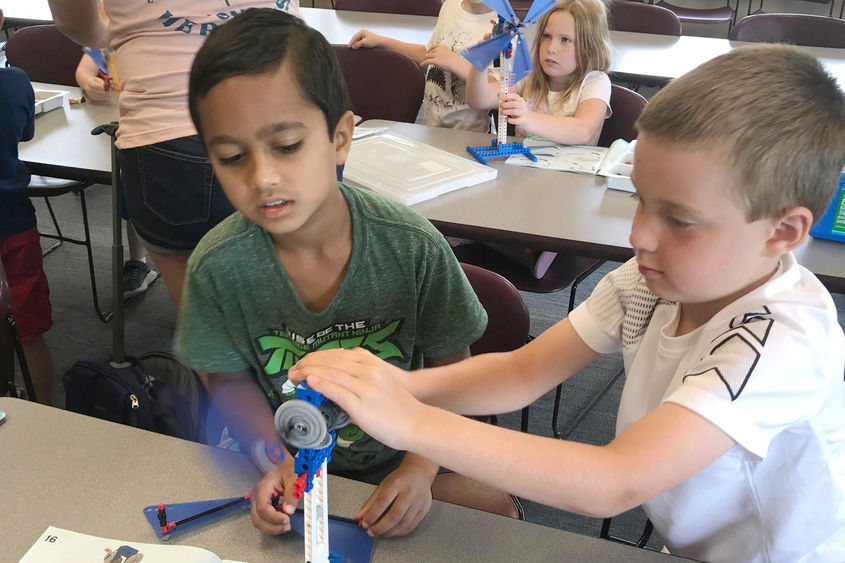 DUNMORE, Pa. — The summer months are obviously meant to be a time of leisurely pursuits for kids. Still, that doesn't mean they should completely shut off their brains.
Enter Penn State Scranton's annual Nittany Cub Summer Camps, which perfectly strike the balance between fun and education.
The camps began this past week with seven innovative programs designed for kids of different age groups. Three more weeks of camps are slated for July 15-19, July 22-26 and July 29-Aug. 2.
See the full list of camps for the coming weeks. To register, or for more information, call 570-963-2600.
Months in the making, the camps are coordinated by the campus' Center for Business Development and Community Outreach staff — Director John Drake, Outreach and Training Specialist Sue Fitch-Proctor, and Education Program Assistant Jo Ann Durdan.
According to Fitch-Proctor, the camps fit perfectly into Penn State's land-grant mission to serve all residents of Pennsylvania, regardless of background. And, they also align with Chancellor Marwan A. Wafa's "welcoming campus" philosophy.
"They're a gateway to Penn State Scranton — a great way to introduce our campus to the community," said Fitch-Proctor, noting many campers ultimately become campus students, and even sometimes come full circle and become camp counselors and instructors.
While the kids are having a blast at the camps, they're also putting their creativity and critical-thinking skills to good use. For some, the activities might even inspire their future career path, Durdan said.
"Even with play, it might open an area of interest for the kids down the road," Durdan said.
Wizards & Cauldrons Camp
At the perennially popular Wizards & Cauldrons Camp, kids ages 8-13 spent the first week immersed in the world of Harry Potter. Instructor Julie Tischler turned a Gallagher Conference Center classroom into a miniature Hogwarts and came up with a host of Potter-themed art projects and games that included Quidditch wand duels.
Some of the kids wore wizard robes, while Tischler came as a different character every day.
"I think this is my sixth year doing the camp. I love it. I have more fun than the kids," said Tischler, who's teaching another section of the camp July 15-19. Meanwhile, she did double duty the first week, also teaching the afternoon Arts Around the World Camp for kids ages 6-12.
Creative Lego Engineering Camp
Across the hall from Wizards & Cauldrons was the Creative Lego Engineering Camp for kids ages 6-8. There, instructor Julie Cardillo used the classic children's toy to teach kids about motors, pulleys, levers, axles and other things that make modern machines go. For one of their projects, the kids teamed up to build functioning Lego windmills.
"The kids are really enjoying it. A lot of them mentioned that they want to be engineers when they grow up," said Cardillo, a campus alumna and 2018 Penn State graduate who will teach the camp again July 22-26.
Science of Superheroes Camp 
Fellow Penn State alumnus Doug Mallas instructed the Science of Superheroes Camp for kids ages 8-12. The STEM-based camp employs superheroes and supervillains to explain complex concepts like super strength and the ability to fly.
For the fourth day of the camp, Mallas took the kids on a campus-wide scavenger hunt where they tracked down clues given by an evil supervillain.
"The key is to make them engage in the sciences without them even knowing it," Mallas said. "They end up doing a lot of critical thinking."
Coding Camp
Open to kids ages 9-12, the popular Coding Camp taught by campus Information Sciences and Technology (IST) lecturer and program co-coordinator Fred Aebli was filled to capacity this year. Students learned how to create their own animated shorts that they were able to present to family members at week's end.
On the third day of the camp, Aebli patiently took the kids through the steps of creating a super-quick video of a guy being chased by a bear at, of all places, the beach.
"It facilitates logical thinking and problem-solving skills. And, hopefully, it's giving them the broader picture of coding and getting them interested in it," Aebli said. "We've had alumni from our IST program who've been in this camp. It works, no doubt about it."
Business & Entrepreneurship Academy
One of the newer camps is the Business & Entrepreneurship Academy for kids ages 12-16. Instructor Brad Foley took students through a range of business-world concepts, including management, marketing, finance and economics.
For one of the projects, the kids had to come up with an advertising campaign for a video game.
"It introduces students to the business world, and then they can see if they have any true interest in taking business classes once they get to college," Foley said.
Motorsports Forensics Camp
One camp even included an off-campus component. The Motorsports Forensics Camp, taught by Michelle Swarts, revolved around automobile aerodynamics, engineering and chemistry. In addition, students used forensic techniques to solve a missing car mystery that took them on a field trip to Pocono Raceway.
If those sound intriguing, there's plenty more to come during the next few weeks. Upcoming camps include Space Camp, Lego Mindstorm Robotics, Yoga for Teens, Rocketry Camp and Zoo Camp.
No doubt, the camps are a great form of outreach. But there's another facet to them that Durdan especially loves.
"They bring a lot of life to the campus during the summer months," she said.
Learn more about all of the Nittany Cub Summer Camps at Penn State Scranton.