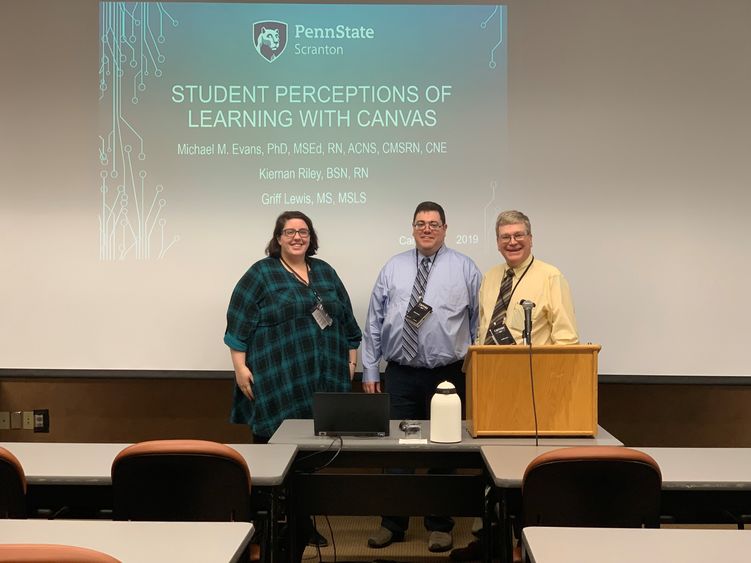 DUNMORE, Pa. — As Penn State Scranton's instructional designer, Griff Lewis is the guy faculty members seek out when they want to make a few technological upgrades to their curriculum.
Recently, Lewis took that role to a bigger stage when he gave presentations at both Canvas Day and the Teaching and Learning with Technology Symposium.
Held the same weekend at University Park's Penn Stater Conference Center Hotel, the annual events provide faculty and staff with a terrific opportunity to share new and innovative ways to merge technology and pedagogy.
"It's a great way for faculty members to grow in their teaching and have more effective student interactions," Lewis said. "For instance, a subject like statistics doesn't really change, but maybe the way you present it to students does."
Lewis was among 47 faculty and staff presenters and 270 overall attendees at Canvas Day, which centers around the innumerable ways to optimize Penn State's online learning management system. There, Lewis assisted Dr. Michael Evans, associate teaching professor of nursing and assistant chief academic officer at Penn State Scranton, and Kiernan Riley, campus alumna and BSN-Ph.D. student in University Park's College of Nursing, in presenting the study, "Student Perceptions of Learning with Canvas."
Evans came up with the idea for the study, for which he and Riley gathered qualitative data from student-comprised focus groups using semi-structured interviews guided by the "Strengths, Weaknesses, Opportunities, Threats" (SWOT) framework.
Using student feedback, professors can gain a better understanding of how to enhance learning and outcomes, said Lewis, who edited the presentation's slides and answered any technical and pedagogical questions related to Canvas.
"This information can then be shared with instructional designers across the University to enhance and focus faculty training sessions, and be shared with Canvas support as they work to continually enhance the product," Lewis said.
The next day, Lewis was among more than 500 people in attendance at the Teaching and Learning with Technology Symposium, or TLT for short.
At the symposium, Lewis presented "Teaching with Kaltura" with Penn State faculty and IT professionals Amanda Jones, Mary Ann Mengel, Red Yuan and Edward Glantz.
The group gave an interactive demonstration of Kaltura, the media management system that allows faculty and students to create, stream and share video content — instructions, lectures, quizzes, projects, etc. — directly within Canvas.
Kaltura is a great tool for faculty members who want to integrate more web-based learning into their instruction, or get around roadblocks like canceled classes. Plus, it tracks whether students are actually watching the videos, Lewis said.
"And I appreciate that faculty here are willing to try it," Lewis said. "I think that as more faculty use video in their courses, they'll realize the utility of it."
A regular Canvas Day and TLT attendee, Lewis said both events consistently provide a "smorgasbord" of great learning and networking opportunities. Inevitably, he always comes away from the experience with at least one or two new ideas that might be worth introducing to the Penn State Scranton community.
"Plus," he said with a laugh, "the bacon there is to die for."