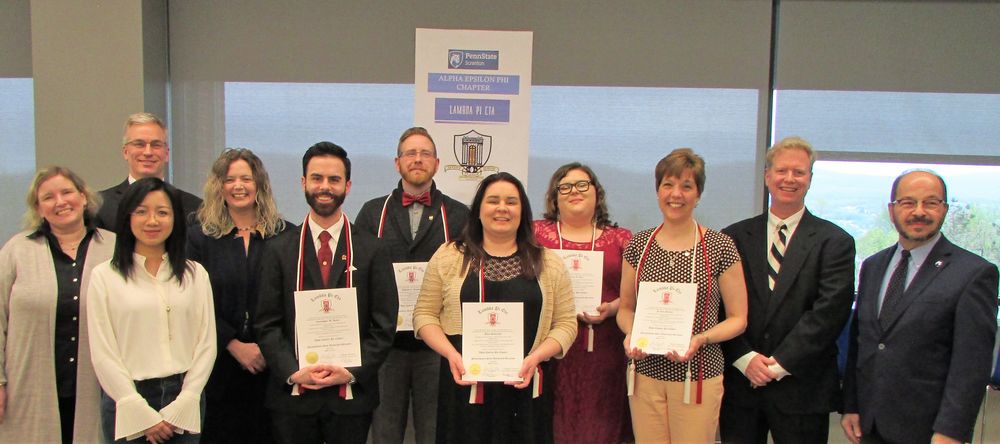 SCRANTON, Pa. — On Wednesday, five students from the campus' Corporate Communication program were inducted into the Penn State Scranton chapter of Lambda Pi Eta, the official honor society of the National Communication Association.
Before a crowd of friends, family members and campus faculty and staff, Christopher Davis, president; Matthew Giombetti, vice president; Sabrina Gray, public relations; Julia Sklareski, secretary; and Jo Ann Durdan, treasurer, were inducted into the newly formed Alpha Epsilon Phi Chapter of Lambda Pi Eta.
Racing against time after being approached just last month by her senior students wanting to get a chapter of the honor society on campus, Corporate Communication Program Coordinator and Assistant Teaching Professor Kimberly Flanders, said she found out on Tuesday that the campus had been approved for a chapter of its own.
The national chapter overnighted the campus' paperwork and certification so that the induction ceremony could be held on Wednesday — before the semester ended and the newly inducted officers graduated.
Chapter President Christopher Davis presented members with special Lambda Pi Eta cords and a pin that they will wear at graduation on Saturday, along with their official membership certificate. Giombetti presented Davis with his cord, pin and certificate.
The close-knit group of soon-to-be corporate communication graduates shared some of their memories and experiences at Penn State Scranton and of the corporate communication faculty.
All of the members said they would not have been able to accomplish what they did while at Penn State Scranton without the help, caring and encouragement they got from their instructors: Flanders, Jim Hart, Xialing Lin and Eva Tettenborn.
To learn more about the Corporate Communication degree program at Penn State Scranton, go to https://scranton.psu.edu/corporate-communication.
To qualify for Lambda Pi Eta membership, undergraduate students must have declared an interest in the field of communication while also having achieved a high level of academic excellence. Eligible members must have completed 60 semester hours in undergraduate credit courses with an overall GPA of 3.0 or higher. Furthermore, members must have completed the equivalent of 12 semester hours in communication courses, maintaining at least a 3.25 GPA in those courses. Lastly, prospective members and inductees must be in the upper 35 percent of their graduating class and be enrolled as a full-time student in good standing.
Lambda Pi Eta was initiated by the students of the Department of Communication at the University of Arkansas and was then endorsed by the faculty and founder Stephen A. Smith in 1985. The Speech Communication Association established Lambda Pi Eta as an affiliate organization and as the official national communication honor society for undergraduates in 1994.
In February 1996, Lambda Pi Eta was inducted in the Association of College Honor Societies. There are currently 344 active chapters worldwide.