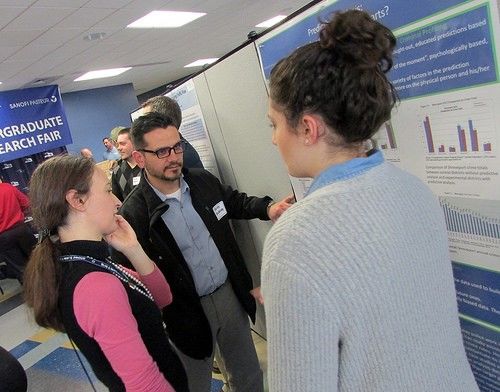 DUNMORE, Pa. — Each year, Penn State Scranton hosts an annual research fair to celebrate student and student-faculty research and accomplishments. This year, however, this annual event takes on a new dimension with the addition of an Art and Creative Exhibition, and a new name: The Undergraduate Research Fair and Exhibition.
The event, to be held 4-8 p.m. on April 4, is a campus-wide celebration of undergraduate research, scholarship, and creative achievements. Students in all areas of study are invited to present their scholarly research and creative work through oral presentations, poster displays, gallery exhibits or artistic performances.
Entries in this unique exhibition may be from a class project or assignment, a senior thesis or research project, an independent study, an internship project or a creative project in studio art, creative writing, music, photography or theater.
The work featured can be an individual or group project. The poster fair session is a judged portion of the event, and prizes are awarded for top presentations in each category.
The campus community is encouraged to attend to show support for the presenting students and learn what types of research and projects they are working on.
Research Fair and Exhibition schedule of events
Art and Creative Exhibition: 4 to 5 p.m. (not judged) in the Study Learning Center — Sherbine Lounge.
Oral Presentations: 5 to 6 p.m. in the Study Learning Center, Rooms 31 and 36.
Poster Presentation Fair: 6 to 8 p.m. (judged) in the Study Learning Center, The View Cafe.
P. Douglas Sellers II, assistant professor of psychology at Penn State Scranton, is the organizer of this year's event.
Sanofi Pasteur, an international maker of vaccines with a location in northeast Pennsylvania, is a sponsor of Penn State Scranton's annual research fair.