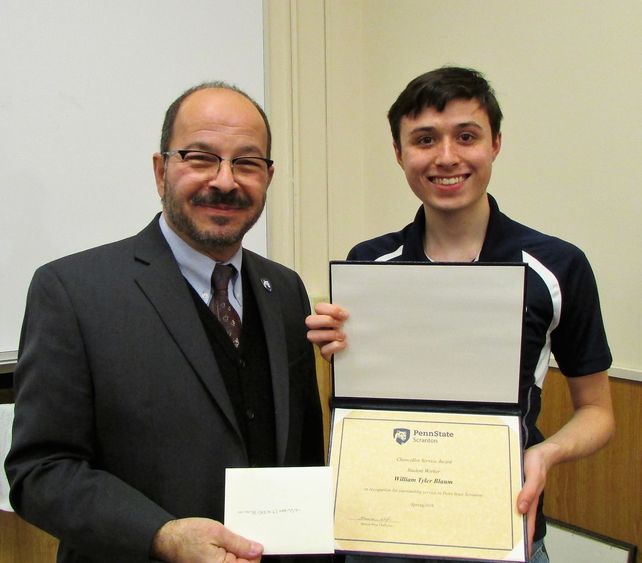 DUNMORE, Pa. — William Tyler Blaum, known to the faculty, staff and students at Penn State Scranton as Tyler, was honored during the campus' Spring Assembly with the Chancellor's Service Award for Student Workers.
The award is given to students who go above and beyond in their efforts as student workers at the campus.
Blaum, a student worker in the campus' Information Technology (IT) department, is responsible for manning the IT Help Desk and assisting the IT staff with both daily activities and projects. In that role, he responds to trouble tickets and helps users resolve technical issues both in person and over the phone, and is expected to be knowledgeable with a wide range of technology, including computers, mobile devices, and classroom technologies.
"Tyler consistently exceeds expectations, both in his willingness to contribute to department projects and learn new skills, and in his unflaggingly positive and upbeat support of the Help Desk," said IT Director Marilee Mulvey. "He always does his best to resolve user trouble tickets, and just as important, he is unfailingly personable, emphatic and kind. We frequently hear from other departments across campus how much they enjoy working with Tyler and how much they appreciate his positive attitude."
Mary Runco, on behalf of the nursing faculty and staff, said, "Tyler brings a constant, contagious, positive energy to all assigned tasks. He is extremely courteous, polite and efficient. Each request is handled quickly, along with his ever-present smile."
A popular student on campus, he is known for greeting everyone he meets, whether they be faculty, staff or students — and he seems to know them all.
Blaum joined the IT department staff last year as an incoming freshman as part of the Pathway to Success: Summer Start program, and since then, according to his co-workers, has shown remarkable personal and professional growth and is an asset to the department. Blaum also is a recipient of the Unsung Hero Award, given out at last year's Student Recognition Dinner.
Because he exemplifies Penn State Scranton's commitment to be a "Welcoming Campus" even under sometimes challenging circumstances, remaining positive, polite and personable, Chancellor Marwan Wafa chose Blaum to receive this award.