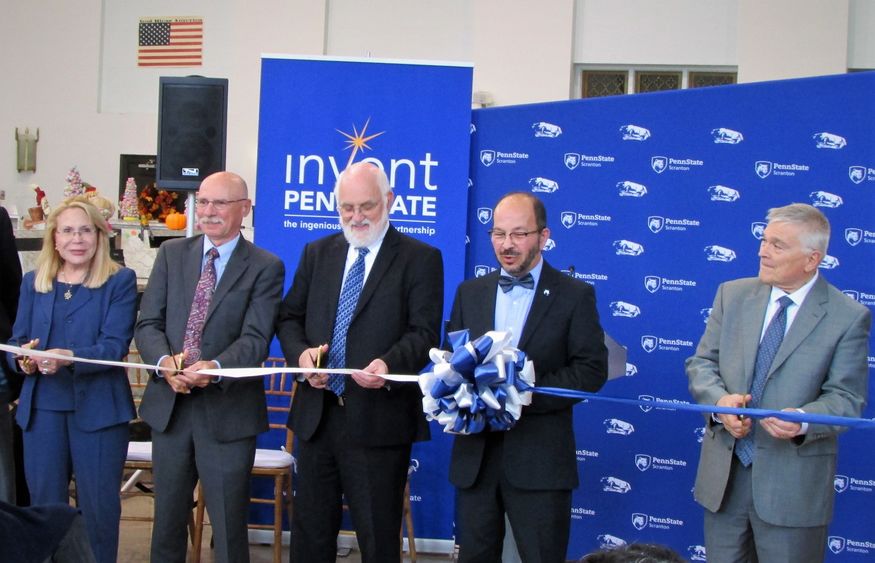 Penn State Scranton is expanding its efforts to promote innovation and economic development in northeast Pennsylvania by combining the resources of Penn State with local businesses, economic development organizations and entrepreneurs.
The Scranton LaunchBox was officially opened on Tuesday, Oct. 2, with a ribbon cutting ceremony attended by Penn State President Eric Barron and other Penn State administrators, as well as regional economic development and public officials.
It is a pre-incubator/accelerator that will help advance local entrepreneurial concepts to business plan development using the resources of Penn State. To date, and even before its official opening, the program has already helped several local entrepreneurs. One of those entrepreneurs, Asia Wallace, has opened a cupcake business with help from Penn State Scranton.
The new facility will be housed at 611 Cedar Avenue until design work is completed on its future permanent location inside the adjacent People's Security Bank.
The Scranton LaunchBox is a no-cost startup accelerator and co-working space designed to provide early-stage startup companies with the support and resources needed to build a sustainable business and a viable plan for growth. It is open to community members and those affiliated with Penn State.
The Scranton LaunchBox was planned in conjunction with United Neighborhood Centers (UNC), the Scranton Area Foundation, People's Security Bank, the Scranton Community Foundation, Women In Philanthropy, the Small Business Development Center at the University of Scranton, the Allan P. Kirby Center for Free Enterprise at Wilkes University, Ben Franklin Technology Partners, Family Business Alliance, the Greater Scranton Chamber of Commerce, S.C.O.R.E. Mentors of NEPA, the Small Business Development Center at the University of Scranton, TecBridge, and DX Dempsey.
University President Eric Barron spoke during the Scranton LaunchBox dedication, along with Penn State Scranton Chancellor Marwan Wafa; United Neighborhood Center Director Michael Hanley; Greater Scranton Chamber of Commerce President Bob Durkin; Craig Best, president of People's Security Bank; and Ellen Burkey and Katie Gilmartin, representing the Scranton Area Foundation and Women in Philanthropy; while several other local dignitaries also participated in the official ribbon-cutting ceremony.
"The LaunchBox will provide access to Penn State Resources, including but not limited to: labs and equipment at Penn State Scranton, faculty consultants, students as entrepreneurs, students as interns for product or market development support, research capacity, intellectual property guidance, technical assistance, and technology transfer support for commercializing and licensing," Wafa said "We will also provide access to comprehensive one-on-one business development and support services."
Last year, Penn State Scranton was awarded a $50,000 seed grant from the Invent Penn State Initiative to develop the Scranton LaunchBox. It is now one of 21 innovation hubs located in Penn State campus communities across Pennsylvania.
LaunchBox is a signature program of the Invent Penn State Initiative, a commonwealth-wide system to spur economic development, job creation, and student career success. It is a $30 million initiative to generate economic development, create jobs and drive student career success. The initiative, started in 2015 by Penn State President Eric J. Barron, redefines the University's land-grant mission to include entrepreneurship and innovation programs, including the development of "Innovation Hubs" in campus communities across the Commonwealth.
Invent Penn State blends entrepreneurship-focused academic programs, business startup training and incubation, funding for commercialization, and University-community collaborations to facilitate the process of turning ideas into viable products and services.