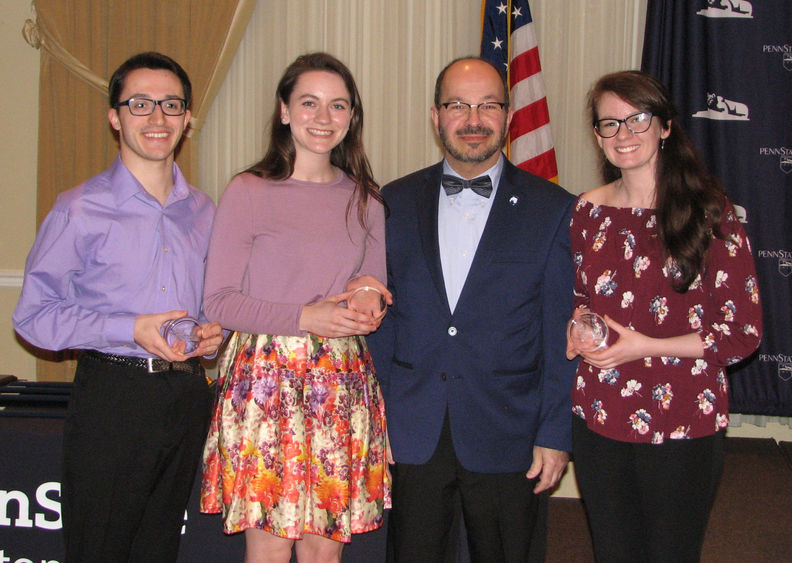 SCRANTON, Pa. — Each year, Penn State Scranton honors those individuals from its staff, faculty and student body who have enriched the academic fabric of the campus, with special awards that recognize their accomplishments in select disciplines and/or student leadership and service. The awards are presented each spring at a special dinner honoring the recipients.
The 2018 student awards and recipients are:
President's Freshman Awards — reserved for University students carrying a 4.0 grade point average for the first semester of their freshman year: Kara Bourque, Casey Genett, Amanda Giblin, Thomas Gonzales, Paulina Henzel Kedzior, Jacob Karnick, Liliana Kettenburg, Adriana Modesto, Heather Rice, Lauren Sciabbarrasi and Aron Tregaskis.
President Sparks Award — reserved for students carrying a 4.0 grade point average through the first semester of their sophomore year: Paul Doyle
Walter Weber Memorial Award in Theatre and Speech Communications — honors and recognizes an outstanding student with an overall grade point average of 3.0 or higher who has excelled in theatre or speech communications courses: Elizabeth Simmons
Patrick J. and Mary Jane Sheridan Award for Excellence in Business — recognizes outstanding achievement by a student enrolled in the bachelor of science degree in business who obtains the highest grade point average at the end of his/her junior year: Kyle Wind
Michael and Stephanie Evans Nursing Grant — Assistant Chief Academic Officer and Instructor of Nursing Michael Evans and his wife, Stephanie, are funding annual grants to assist nursing students with a GPA of 3.0 or higher who have a demonstrated financial need. These funds are directed to costs associated with the Assessment Technology Institute (ATI) testing requirement for nursing students: Lex Harvey
Morgan and Ann Marie Evans Award in Nursing — is presented to a nursing student who has completed between 70 and 100 credits, is enrolled for a minimum of six credits, has a GPA of 3.0 or higher, and has a proven financial need: Oksana Mazur
Richard and Lois Ostroski Family Award for Adult Learners — honors and recognizes outstanding achievement by an adult learner who has obtained the highest grade point average upon completion of his/her freshman year: Kara Bourque
Richard F. Dempsey Award in Information Sciences & Technology — Ed Lucy Jr., a 1976 graduate in computer science, established this award in honor of Richard F. Dempsey, who was an assistant professor of computer science and department head at the campus until his retirement in 2006. Lucy, who has decades of experience at such companies as IBM, Comaq Computer and Microsoft, credits Dempsey's approach to teaching and students' involvement with helping Lucy succeed in both his college and professional careers: Dorian Anderson and Jeffrey Panetti
Mary-Beth Krogh-Jespersen Science Award — honors and recognizes outstanding achievement by an undergraduate student of junior academic standing who is enrolled at Penn State Scranton and majoring in science: Kyle Franceski
Academic Excellence Awards — Awarded to students who have demonstrated outstanding academic achievement in the individual disciplines and were nominated by faculty members of the discipline:
Art — Maggie Podunajec
Biological Sciences — Kyle Franceski
Business — Brandon Collins
Communication Arts & Sciences — Gabi Osegueda
Corporate Communication — Christopher Davis
Creative Writing — Jeffrey Panetti
Engineering — Paul Trzcinski
English — Mella Smith
Human Development & Family Studies — Jillian Kochmer
Humanities — Taryn Pronko
Information Sciences & Technology — Jeffrey Panetti
Mathematics — Tyler Walter
Music — Aaron Panfini
Nursing — Lex Harvey
Physical Sciences — Taylor Bronson
Psychology — Katelyn Lake
Honors Program Certificates — The campus Honors Program was established to broaden and enrich the education of outstanding students at Penn State Scranton. Both baccalaureate and associate degree students are eligible for the program. The campus honors students participate in a wide range of academic, social, and cultural activities:
First Year — Morgan Boonyam; Leah Byman; Ryan Casterline; Stephanie Earle; Matthew Giombetti; Matthew Hayner; Victoria Hegedty; Timothy Hopkins; Paulina Henzel Kedzio; Jack Meyer; Shanie Mohamed; Luke Montana; Robert Murphy; Nicole Paolicelli; Monique Robinson; Luzkarla Rodriguez; Lauren Sciabbarrasi; Matthew Valvano; Joshua Winslow and Thomas Yocum.
Second Year — Taylor Bronson; Laura Buzzinski; Ashli Daley; Taylir Evans; Kyle Franceski; Kailey Gearhart; Chandler Hoyt; Kalei Kowalchik; Cheyenne Tussel and Hannah Woody.
Third Year — Kelly Arnold; Jillian Bosley; Nicholas Kremp; Aaron Panfini; Emma Pizzolanti; Kiernan Riley and Jenifer Walters.
Outstanding Scholar Awards — presented to students achieving the highest grade-point average in the associate and baccalaureate curricula. This award is sponsored by the Penn State Scranton Alumni Society:
Second year — Kimberly Stout-Kramer
Third year — Dorian Anderson
Fourth year — Jillian Kochmer, Aaron Panfini and Hannah Woody
To view an album containing photos of this year's awards for students, faculty and staff, visit the Penn State Scranton Flickr page at https://www.flickr.com/photos/pennstateworthingtonscranton/albums/72157697087701845.