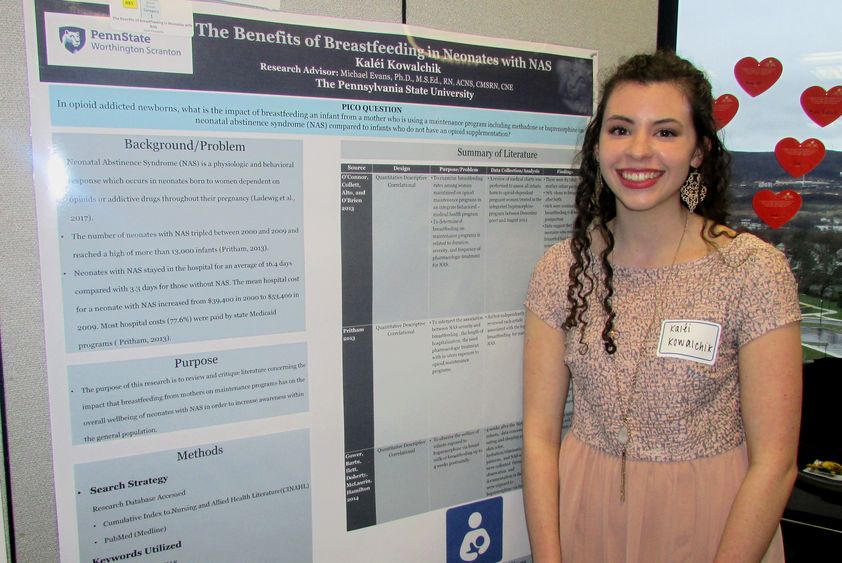 DUNMORE, Pa. — Kalei Kowalchik, a sophomore honor's nursing major at Penn State Worthington Scranton, has been awarded a Penn State Student Engagement Network grant to pursue an engaged learning experience with the Visiting Nurses Association (VNA) Home Health and Hospice of Lackawanna County.
Kowalchik's involvement with the VNA will expand her student experience by helping to facilitate her clinical skills, critical thinking, and professional development within the nursing field.
Michael Evans, assistant clinical professor of nursing and assistant chief academic officer at the Worthington Scranton campus, will serve as her mentor.
Kowalchik will shadow Evans every other weekend throughout the summer with the VNA in order to gain a better understanding of the needs within the home health and hospice population, learning how to apply the concepts and knowledge she learned in the classroom to a clinical setting.
The experience also will provide her with a better conceptualization of the role of a nurse and his/her impact on patients. "Having this funding will allow me to increase the amount of time I am able to shadow Dr. Evans through VNA Home Health and Hospice of Lackawanna County, and gain a better insight into the field I wish to work in," Kowalchik said.
"In addition, I'm hoping to work with Dr. Evans on his research, which involves studying end-of-life care with advanced heart failure patients. This experience will provide me with a strong clinical foundation as I move through my academic career and work with Dr. Evans on his research."
Kowalchik will shadow Evans for 40 hours per month for four months, and plans to also attend the Sigma Theta Tau International, Xi Gamma Chapter annual summer meeting where a research presentation will be given.
"This will expose me to current research being conducted in nursing science as well as allow me to network with nursing professionals," she said. "With both the engagement experience as well as the Sigma Theta Tau International, Xi Gamma Chapter summer annual meeting, I will be able to enhance my academics holistically over this summer period."
At the completion of her engagement experience, Kowalchik will share the information she gleaned from the experience regarding the importance of faculty/student mentoring for academic success in the nursing field.
This will be presented at one of the campus' Lunch and Learn seminars, which is a series of educational presentations attended by students, staff and faculty from Penn State Worthington Scranton, as well as interested community members.
"By presenting at this venue, I will be able to present to a large diverse audience which will also help me hone my public speaking skills," Kowalchik explained. "During the presentation, I will reflect on the civic responsibility of faculty/student mentoring by expressing the impact it creates within a student's academic and professional development, as well as the inspiration it ignites to provide better care to the community and improve the health and well-being of the community."
Kowalchik resides in Jessup. Evans is a resident of Archbald.
The Penn State Student Engagement Network offers grant funding for students interested in expanding their undergraduate experience beyond the classroom.
Grants of up to $3,000 are available to students who are interested in pursuing experiential learning endeavors. Students may apply for financial support for unpaid internships or research opportunities, living expenses, travel costs, conference fees and more. The number and amount of grants will vary based on the number of applications received; however, there is a maximum allotted amount of $3,000 per applicant.
The Student Engagement Network is a joint initiative of Undergraduate Education, Student Affairs, and Outreach and Online Education and connects Penn State students with opportunities that empower them to grow beyond the classroom and achieve their highest potential. Students can explore, plan and execute successful experiential learning opportunities that empower them to have a positive impact on our community and world.