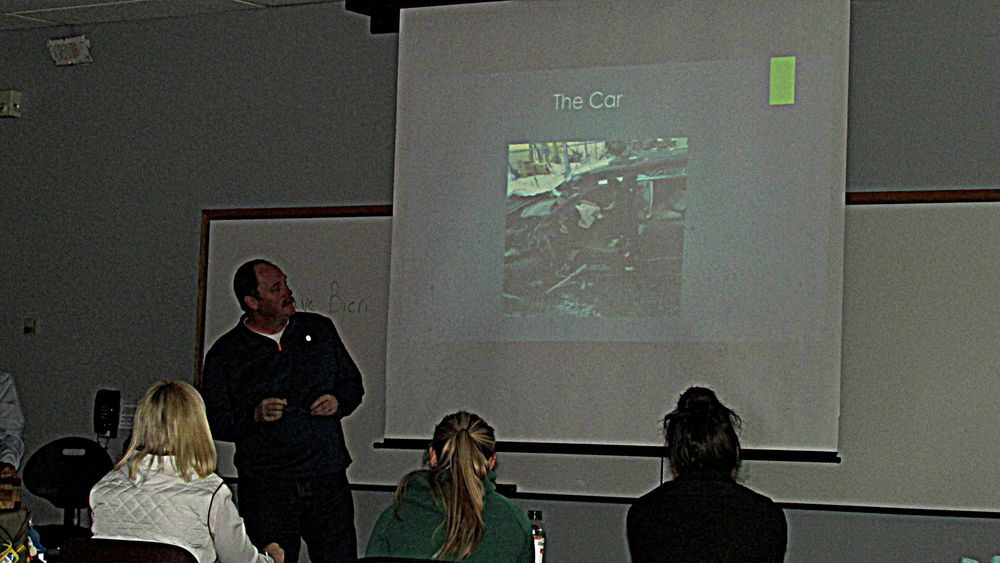 For Dave Bieri, an elementary school principal in the Scranton School District, Feb. 25, 2015, started out just like any other ordinary day, until a casual decision to reach for a dropped cellphone on the floor of his car turned that day into one that would alter his life forever.
After reaching over to retrieve the cell phone, his car smashed into a garbage truck. The impact decimated the car and trapped him inside. It would take emergency responders several hours to get him out.
And, after they did get him out and to the hospital, his extensive injuries would put him in a coma; keep him hospitalized for months; and require numerous surgeries and regular physical therapy before he could begin to enjoy any semblance of a normal life.
Bieri had suffered a broken femur, shattered pelvis, broken tibia, seven broken ribs, a torn ACL and PCL, a torn meniscus in his knee, a serious gash in his head, a concussion, stretched nerves in his lower back and a dropped foot.
He spent 35 days in Geisinger Community Medical Center -- 21 of which he was in the intensive care unit (ICU); 60 days in the Mountain View Care center; and 18 days in Allied Services Rehabilitation hospital.
During his presentation to the students in Nursing Instructor Annette Blasi-Strubeck's Nursing 464 Class, which included nursing, science and human development and family studies majors, Bieri shared slides with photos of his car; X-rays of his fractures, and statistics about distracted driving.
"Doctors and nurses in the trauma ER told me I was lucky to be alive."

-- Dave Bieri, an elementary school principal who suffered life-threatening injuries in a car accident
Bieri spared no details, sharing his personal experiences, emotions and the impact his accident had on his family, particularly his wife, who had to take over all of the responsibilities of running their household while also being there for him in the hospital and helping to oversee his medical care.
He praised all of his caregivers, doctors, nurses and physical and occupational therapists for the roles they played in his recovery, but attributed a lion's share of the credit for his survival and recovery to the nurses that took care of him, many of whom he's become friends with since the accident.
"You guys are the ones who spend the time with the patient, giving care, teaching, interacting with the families," he told the students, all future nurses or medical professionals.
He also reminded them that what they say around patients can have a great impact, recalling how when he was unconscious in the ICU, he could hear the nurses speaking. He cautioned the students that when they are nurses, they should speak to the patient, because they can still hear you.
While reliving the accident is a little painful for him, Bieri said that if it helps him to spread the message about distracted driving, it is worth it.
Today, Bieri is able to walk with the use of a cane, and has a limp. He also underwent a knee replacement surgery four days after his presentation to the class, but he realizes how lucky he truly is.
"I'm not here to lecture you, and I'm not going to tell you not to use your cellphone when driving, because I know that is not going to work. Most people do it. I did it, adding that his hope is that after hearing the statistics about the negative impact of distracted driving and seeing a personal example of what could happen, they will be more careful and make responsible choices."

-- Bieri
"I can tell the students about the impact that nurses and other healthcare workers have on a critically ill patient," Blasi-Strubeck said, "but to hear Dave's story first-hand is a lesson I cannot teach from a book. His presentation brought forth positive comments from the students and many of them vowed not to text and drive. I think his message was heard loud and clear."
Some statistics on distracted driving that Bieri shared with the Nursing 464 class:
27 -- the percentage of drivers in their 20's that account for distracted drivers involved in fatal car crashes
660,000 – approximate number of drivers using cellphones or manipulating electronic devices while driving at any given time during daylight hours in the U.S.
3 – the number of times the risk of an accident increases if the driver is reaching for a phone, dialing or texting