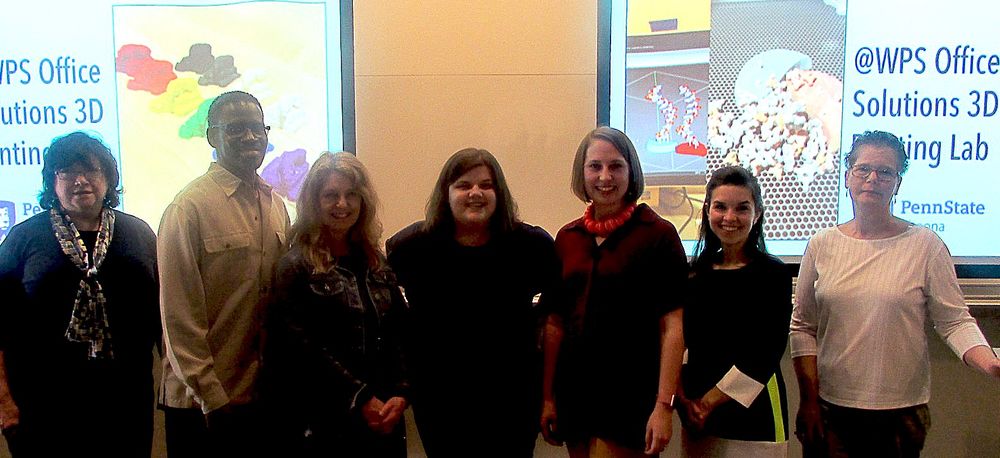 DUNMORE, Pa. — Penn State Laureate Rebecca Strzelec, professor of visual arts and head of the degree program in visual art studies at Penn State Altoona, visited Penn State Worthington Scranton on Tuesday, April 11. Strzelec presented on the topic "Art + Engineering = Creative Problem Solving."
Strzelec has worked as a co-principal investigator on a four-year, $2 million National Science Foundation grant focusing on multi-field responsive origami structures. These structures, developed with a team of engineering students and faculty at Penn State, will lead to new innovative technologies in the medical field.
"3D structures can be made with any material that goes from liquid to solid allowing us to make strategic works of art that would otherwise be impossible to make," Strzelec said.
The process of these projects will soon lead to advancements in surgical equipment that will lead to smaller incisions and faster healing times for people undergoing surgery.
Strzelec uses her art to inspire the engineering team to see the creative process differently, preventing them from looking past something that they may have missed before.
These inspirations have earned the team a renewal to allow for the continuation of the project for one more year.
3D printing processes have matured quickly, she explained, resulting in greater accessibility and attention, bringing about significant and meaningful advances in many fields, including health care, safety, architecture, and art and design. It also has raised questions about ownership, ethics and responsibility.
In addition to this project, Strzelec's work focuses on investigating the way wearable objects interact with the surfaces of the body and includes the creation of these wearable objects through computer aided design (CAD) and rapid prototyping or 3D printing. She has been using 3D printing to create her art since 1999 and her presentation outlined 3D printing's trajectory, as well as showcasing some of the art work she has created using the method.
During the presentations, Strzelec shared parts of her life story, in order to allow the audience to see where she gets her inspiration, which has led to her many art pieces succeeding in shows and exhibitions.
Her work has appeared in more than 65 exhibitions, including "Out of Hand: Materializing the Post Digital" at the Museum of Arts and Design in New York City; and "SCHMUCK 2008" in Munich, Germany.
Her work can also be found in the permanent collections at such institutions as the Museum of Arts and Design, Racine Art Museum, and the Fuller Craft Museum in Brockton, Massachusetts, as well as in private collections, such as that held by former Secretary of State Madeleine Albright, who wore one of Strzelec's creations when she was a guest speaker at Penn State Altoona.
Strzelec received both her bachelor and master of fine arts degrees in metals, jewelry and CAD/CAM (computer aided manufacturing) from the Tyler School of Art at Temple University.
The Penn State Laureate program successfully involves the University's campuses in activities aimed at students, alumni and local communities across Pennsylvania.