Adding to the program's advantages is its proximity to campus and flexible scheduling that fit business majors' busy class schedules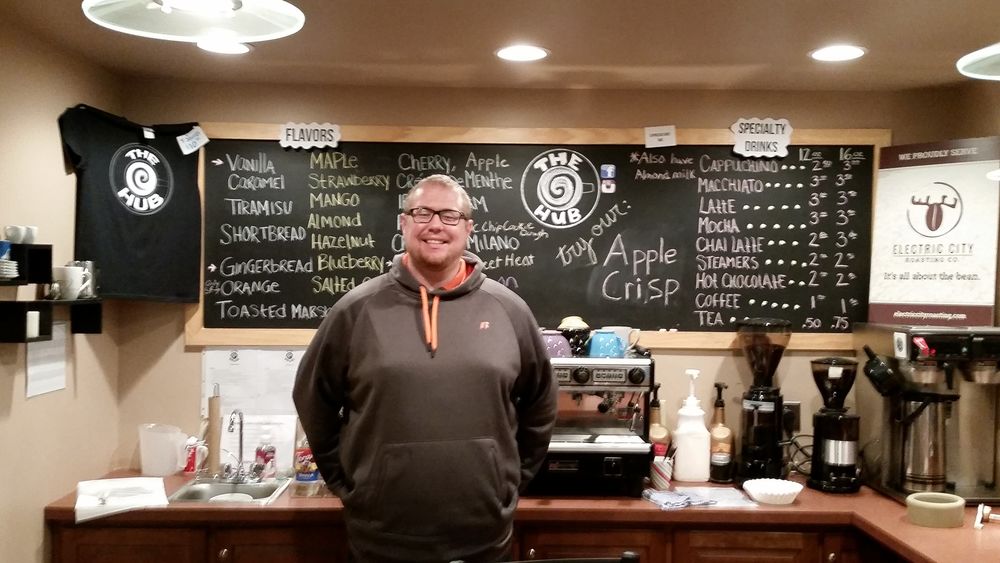 Although there is no formal partnership between Penn State Worthington Scranton and The Hub, the coffee shop located inside Grace Bible Church at the top of University Drive, a quality relationship does exist, according to The Hub's manager, Nick Forrester.
Forrester described it as a "great friendship" that has now evolved to include the development of an internship program through The Hub.
Designed by Forrester, the internship program gives Worthington Scranton business majors easy access to an internship that is not only convenient to get to, but also offers a flexible schedule to mold around their busy class schedules.
"I really pride myself on freedom [for the interns]. Most internships are 'you must be this tall to ride the ride,' but for me I really pride myself on freedom," Forrester said. "I think of an internship as like a puzzle with no box. They [the interns] have the pieces and they're trying to figure out what piece is going to fit where. So, by the end of their time with me, I want those students to have a general idea of what the picture is on that box."
In addition to the convenience factor, the internship program strives to give student interns a wide array of skills that are beneficial to anyone looking to enter the business world.
"We learned how he ran his business, which was a non-profit. So it was different than a normal business, which actually helped me out in the long run because now I do marketing for a non-profit organization," said Elizabeth Heller a senior majoring in business marketing and management at Worthington Scranton, who interned with Forrester last spring. "So, Nick's internship helped me out a lot more than he knows."
The internship program officially started in the spring semester of 2015. While trying to get a program of this sort off the ground might seem like a daunting task that would require a lot of extra work, Forrester said his passion for student development and student leadership development made it an easy decision.
The program gives students an opportunity to think and act on a multitude of branches of the business all at once. In addition, it gives them the chance to figure out what their strengths and weaknesses are before going on to the next chapter of their lives.
"The main focus of the internship is 'how can we grow The Hub? It's a double-sided coin of business finances and marketing and advertising," Forrester said.
Forrester tries to keep the whole internship as broad as possible, not only to allow students the opportunity to find their niche, but to appeal to students from different majors, including business, finance, marketing, corporate communication and advertising.
Besides the different skills that students can learn, perhaps one of the most beneficial aspects of the internship is the attitude that Forrester provides.
Instead of telling new interns what they need to do, he wants them to figure out what they can do. "I try to use phrases like 'goals' instead of 'expectations,'" he said. And, stemming from his passion for developing leaders, he encourages his interns to try new things and not worry about the outcome.
"Failure is not even a question when it comes to an internship," he said, "because it's all about figuring out where the pieces fit."
For more information on The Hub and/or its internship program, call 570-342-5651 or email Nick Forrester at [email protected].