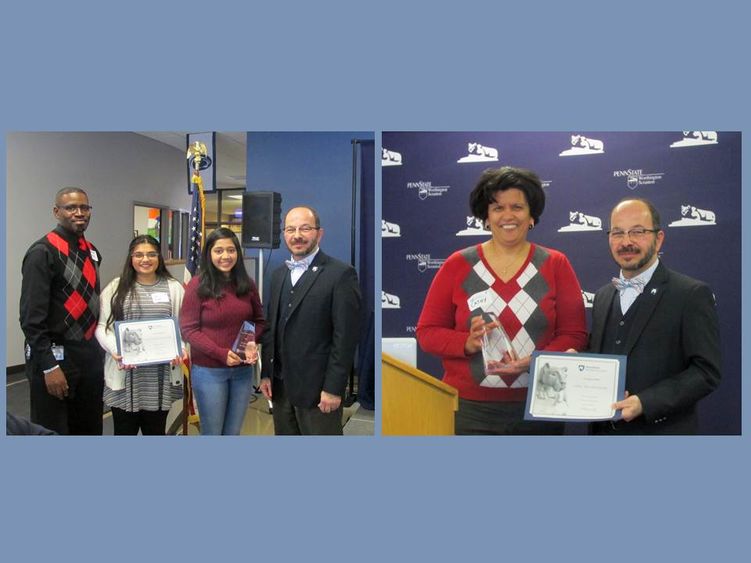 DUNMORE, Pa. — There may not have been classes on Monday, Jan. 16, due to Martin Luther King Jr. Day, but at Penn State Worthington Scranton, a lot of learning was taking place at the campus' annual MLK Day Celebration and Excellence in Diversity Awards program.
This year's event was themed "Peaceful Tomorrows."
Attendees watched a University video vignette on diversity; heard remarks by Chancellor Marwan Wafa on the campus' efforts to foster and increase diversity both on campus and in the community through its new Diversity Circles workshops that began last fall; and heard from guest speaker Lia Richards-Palmiter, director of diversity at Marywood University in Scranton.
Richards-Palmiter, who has a biracial background and family, spoke about the need for increased diversity and acceptance in our community, along with the personal challenges and overt racism she has faced as a result of her race and background.
The day ended with participants randomly assigned to breakout groups to discuss current diversity issues, problems and solutions.
Penn State Worthington Scranton will use the input from the groups to formally identify the issues and problems that currently exist on campus and in the local community, and seek out ways to address them.
The day also marked the second annual Excellence in Diversity Awards, established last year by Wafa and the campus' Diversity Advisory Council.
This year's recipients were the Indian Student Association and Cathy Hardaway.
The Indian Student Association is a newly formed student group that helped organize several events on campus in the fall promoting cultural awareness and diversity.
Hardaway, director of domestic relations services for Lackawanna County, is a Penn State alumna who also serves as president of the Greater Scranton Martin Luther King Commission. She is also a past member of Penn State Worthington Scranton's Advisory Board and current president of the Abington Heights School Board.