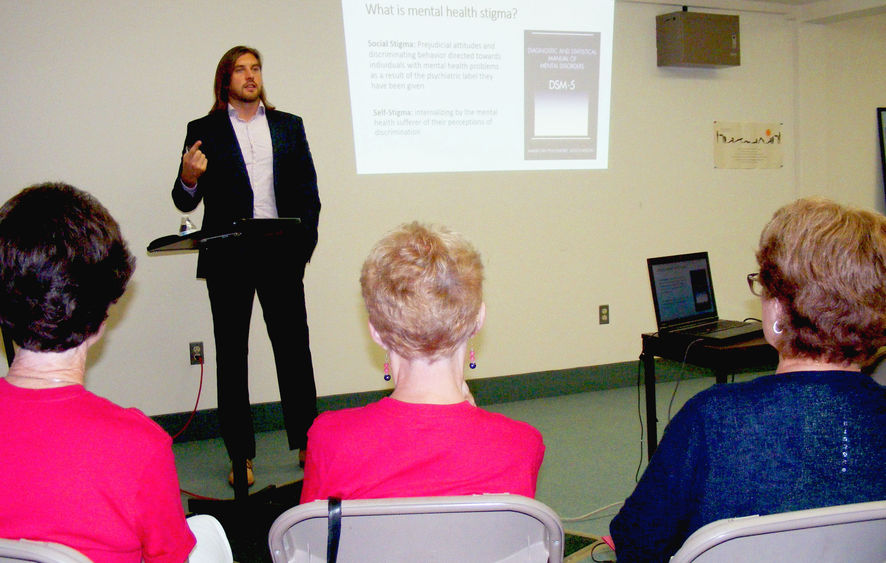 Dr. P. Douglas Sellers II, assistant professor of psychology at Penn State Worthington Scranton, gave a presentation to the Visiting Nurse Association in Olyphant as part of their ongoing Lunch and Learn series.
His topic was Brain Health and Mental Wellness and looked at dementia and Alzheimer's disease prevention, with a focus on reducing the stigma of these illnesses, reviewing their causes and addressing the treatment of common health issues.
The educational program also highlighted the body and mind benefits of ballroom dancing, with a live demonstration for those attending, and a Feed Your Mind segment, which focused on nutrition and brain function.
Dr. Sellers teaches and studies cognition from an evolutionary perspective. This new and exciting combination of two academic subfields is paving the way for advances in research and our understanding of cognitive evolution as psychology continues to hybridize with genetics, evolutionary biology, and neuroscience.
Specifically, he studies the animacy memory effect in adults and children in an attempt to understand how the brain processes evolutionarily relevant information more efficiently than non-survival relevant info.
His work on cognitive development, specifically attention and memory, also offers modern insights into the nature of the developing brain and mind.
VNA Hospice & Home Health of Lackawanna County is a not-for-profit agency, with its history rooted in the original Visiting Nurse Association that has served our communities since 1895 and started as the District Nurses. Since then, VNA has positioned itself as a leader in the region for the provision of home health and hospice services, annually reaching thousands of patients, families and friends in Northeastern Pennsylvania.
They are accredited by the Joint Commission and are Medicare certified and also has certifications in wound care and palliative care.