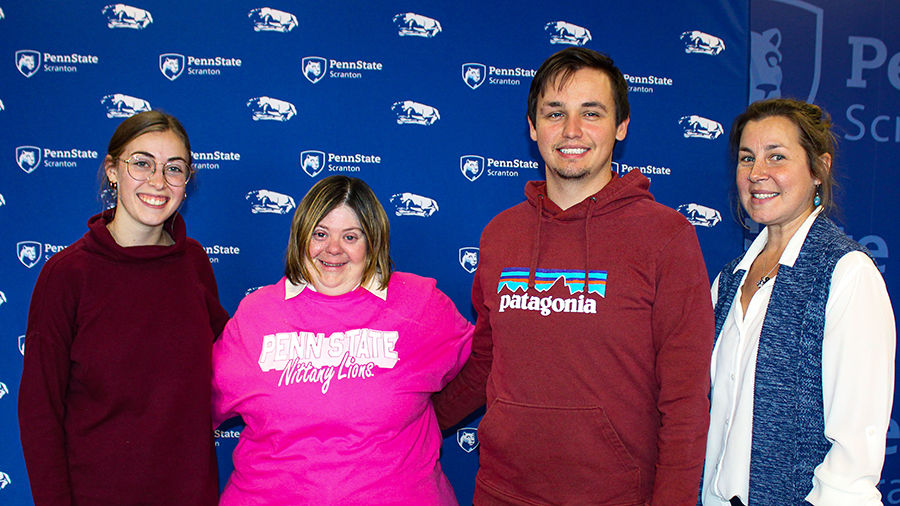 DUNMORE, Pa. — In honor of Down Syndrome Awareness Month, Penn State Scranton's Disability Rights, Education Advocacy and Mentoring (DREAMers) Club hosted Sara Wolff, a native of northeast Pennsylvania, as a guest speaker on Oct. 19.
Wolff, who was born with Down Syndrome, is a dedicated advocate for disability rights and mental health awareness with a mission to promote acceptance and awareness.
Her substantial advocacy work played a pivotal role in passing The Pennsylvania Achieving a Better Life Experience (ABLE) Act, which empowers individuals with qualifying disabilities and their families to save for disability-related expenses. This federal tax-free savings and investment option encourages independence and an improved quality of life for those with disabilities.
She has also worked at the Scranton law firm O'Malley and Langan as a law clerk for over 13 years, where her advocacy awareness efforts are featured on their website. In addition, Wolff implemented the National Down Syndrome's Society 'Buddy Walk' event in the Scranton community more than 20 years ago as part of her senior project at North Pocono High School. She has also educated elementary students in many area school districts about the importance of respect, acceptance and diversity.
The DREAMers Club, a student organization at Penn State Scranton, organized Wolff's appearance as part of its commitment to raising awareness and breaking the stigma surrounding disabilities. The club is a collaborative ally club, consisting of students both with and without disabilities working together to make a positive impact.
"Life can be tricky sometimes, so it's important to get yourself a support system," Wolff said during her presentation to the campus community. "Everyone is a special individual who can make a powerful impact on everyone you meet. Be proud of who you are and reach for the moon."
She also expressed her love for Penn State and the significance of being back to speak for Down Syndrome Awareness Month. 
"I think it's empowering for students not only to hear my story, but to hear stories from everyone else too," Wolff said. "All the things that DREAMers stand for are what I stand for. I think it's really awesome to have a club to help empower other students. I hope they use my story and paint their own stories to be empowered, keep moving and be Penn State proud."
Abby Gaebel, vice president of DREAMers Club, emphasized the importance of Wolff's local ties.
"I think it's really awesome that she's a local member of the community," Gaebel said. "Sara is a direct example of how someone with a disability or who has any sort of challenge can overcome those difficulties and ultimately accomplish incredible things. I think a lot of the issues Sara discusses are universal among people of all abilities. So having that awareness is super important to make everyone realize that a lot of the things we face in our everyday lives are universal to everyone."
Ryan Weitz, president of the DREAMers Club, echoed Gaebel's sentiments. 
"I grew up with a speech impediment, so having a different person come in with a disability was great," Weitz said. "Physical or invisible disabilities are all out there. With mine, you wouldn't know I had it if you met me now, compared to when I was younger. It's great to have people share their stories. Whether it's a physical or invisible disability, it's just great to learn and listen to people come to campus with all different types of disabilities out there."
Wolff's visit to Penn State Scranton served to remind students and the campus community of the importance of embracing diversity and working together to create a more inclusive and accepting world for everyone, according to Gaebel and Weitz.