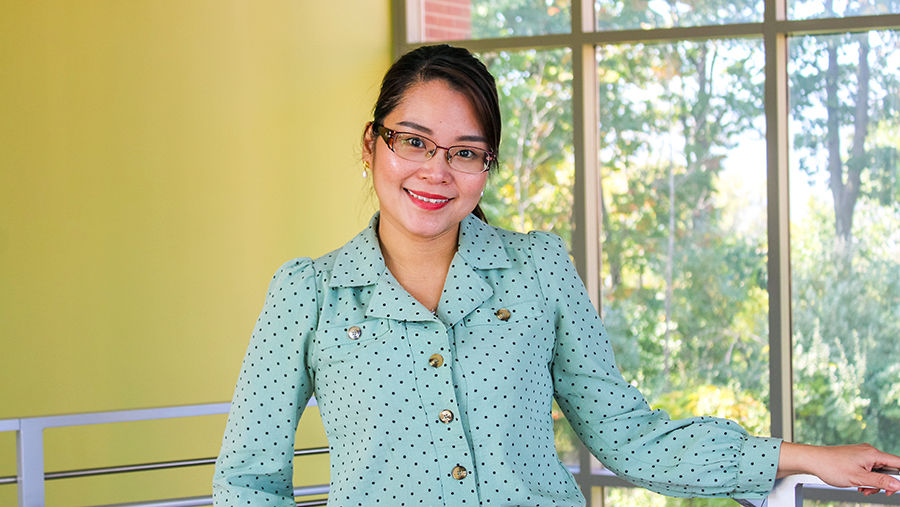 DUNMORE, Pa. — Assistant Professor of Business Loan "Emily" Pham, recently presented her research during this semester's first Brown Bag Lunch Seminar series at Penn State Scranton. Her talk, titled "Faculty's Turnover Intention in Vietnamese Public Universities: The Impact of Leader-Member Exchange, Psychological Safety, and Job Embeddedness," explores the critical issue of employee turnover in Vietnamese public universities.
Unraveling the turnover crisis
Vietnam has grappled with a concerning turnover crisis, according to Pham, particularly within state-owned organizations, including the higher education sector. Pham's research delves into the heart of this challenge, investigating whether Leader-Member Exchange (LMX) plays a pivotal role in mitigating employees' intentions to leave and the underlying mechanisms at play. LMX refers to the relationship between leaders and subordinates and how the quality of that relationship impacts work.
"It's no secret that retaining top talent is key to promoting organizational growth," Pham said. "Employee retention promotes the health and success of an organization. The time, stress and cost of hiring and training new employees are significant, and turnover can have a negative impact on organizational outcomes."
Key findings with far-reaching implications
Pham's research, conducted with two colleagues in Vietnam, spanned one-and-a-half years, culminating in its acceptance for publication in the Public Organization Review in August, a leading journal in public administration. This publication offers timely insights into the ongoing turnover crisis in Vietnamese public universities, Pham said.
The study details how a high-quality LMX relationship has been found to significantly reduce uncertainty at work, thereby allowing employees to spend less time on self-protective behaviors and more time on productive problem resolutions. Additionally, employees who perceive high levels of LMX are less likely to explore alternative job opportunities.
Pham's research also revealed that the more connections employees establish within their community and the organization, the greater their job embeddedness will be, leading to a lower intention to leave the organization.
Importance of knowledge exchange
Pham emphasized the importance of platforms like the campus' Brown Bag Lunch Seminar and the role it plays in fostering a productive exchange of ideas and knowledge.
"[The] Brown Bag Lunch Seminar is a great platform for a productive exchange of ideas," she said. "I got a chance to share my research and engage in insightful discussions with my colleagues on our campus. Knowledge-sharing when attending this conference is an invaluable opportunity to gain new perspectives and broaden my horizons."
The Brown Bag Lunch Series began several years ago at Penn State Scranton as a collaborative effort between Mike Evans, assistant dean for undergraduate nursing education at Penn State's Commonwealth Campuses and a teaching professor in nursing, and two former psychology faculty members, Doug Sellers and Karin Machluf,  to provide a forum where faculty, students and alumni could share their research, quality improvement projects and creative works in a non-intimidating format before presenting at larger conferences.
"Doing research can be fun," Pham said. "The work is hard, and the standards are rigorous, but I enjoy what I do, and hopefully, I will find a way to express that through my work. Research allows me to try out new ideas, meet interesting people and participate in engaging discussions."