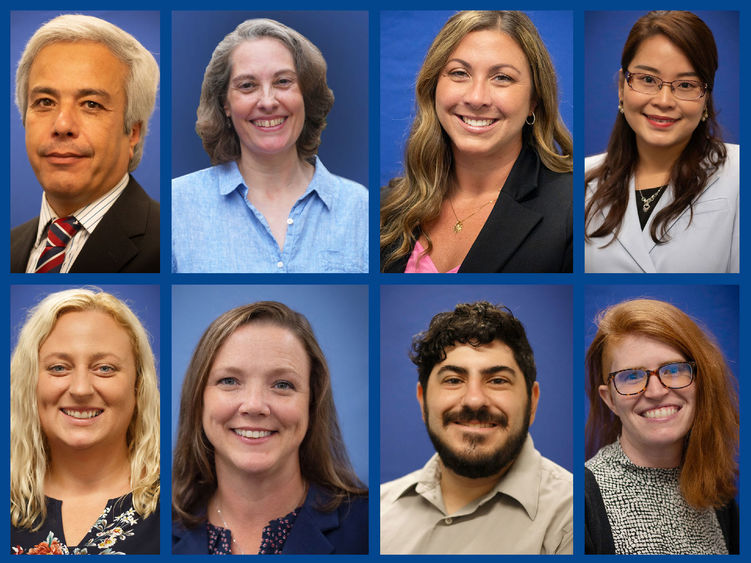 DUNMORE, Pa. — This fall, eight new arrivals joined the Penn State Scranton campus community, each bringing their unique skills and expertise to bolster various departments on campus.
Farhang Daneshmand joins the campus as assistant professor of mechanical engineering
Daneshmand joined the campus' mechanical engineering program after several years of teaching and research experiences at McGill University in Canada and King's College in Wilkes-Barre. He had served as an adjunct professor at Penn State Scranton in 2022, teaching a course on machine design. During that time, he had the chance to get familiar with colleagues and work closely with undergraduate students.
"The opportunity to work with world-class faculty members at Penn State University, the warm welcome I received from my colleagues, and the excellent feedback I received from my students, were the primary reasons I applied for this position," he said. Now, as an assistant professor of mechanical engineering, his responsibilities include teaching undergraduate courses, conducting research and contributing to the department's academic and research programs.
"Based on my academic expertise in Fluid-Structure Interaction (FSI) problems, Dynamics and Vibrations, Computational Mechanics, and my own experience in working with the energy and water sectors, including the oil and gas industry, I aim to provide students with a strong foundation in engineering principles and contribute significantly towards our research endeavors," he said.
Daneshmand said he is most excited about the opportunity to work closely with students and help them develop the skills and knowledge they need to excel in the field of mechanical engineering. "My new position offers a close-knit and collaborative environment, which I really enjoy. The commitment to mentor and inspire the next generation of engineers is truly fulfilling," he said. "I am also eager to collaborate with my colleagues on research projects that can address real-world engineering challenges.
He also wants the campus community to know that he is here to support others in their academic and professional growth. "I am available for discussions, guidance, and to foster a learning and innovative environment," he added. "The supportive atmosphere on campus and the warm welcome from my colleagues made my transition seamless. I look forward to being a valuable member of the academic community at Penn State Scranton."
He holds a doctorate in mechanical engineering from Shiraz University, Iran and is a member of the American Society of Mechanical Engineers (ASME) and the Professional Engineers Ontario (Canada), and has also been involved in outreach programs aimed at promoting STEM education in several schools. "I strongly believe in the importance of giving back to the community and inspiring the next generation of engineers," he said.
Daneshmand currently resides in Wilkes-Barre but plans to move to Scranton "to become a part of this wonderful community as I start a new chapter in my career," he said.
Valarie Lynn takes over head librarian at Penn State Scranton
Lynn has been the head librarian for Penn State Hazleton and Penn State Wilkes-Barre, and will now serve in that capacity at Penn State Scranton as well.
A librarian for 30 years, she has worked in health sciences and academic institutions, starting at Penn State in 2006 as the Hershey College of Medicine's instruction librarian before transitioning to the Hazleton campus as head librarian in 2010. At Penn State Hazleton, she has led the library through an extensive renovation, was instrumental in supporting the library's makerspace, and has also created a successful speaker series.
At Wilkes-Barre, she secured funding to reimagine the library instruction space that includes flexible furniture and equipment for a growing makerspace. Now, at Penn State Scranton, Lynn will be playing an instrumental role overseeing the current multi-million dollar library renovation project, as well as working closely with the campus' library staff, faculty and students.
She said she is "very much looking forward to working with the Penn State Scranton academic community" and will be on-campus weekly, and will be available virtually at other times. "The Penn State community is so kind and it's a pleasure helping students discover their academic interests. I look forward to working with the wonderful people at Penn State Scranton."
A Pittsburgh native, Lynn holds a master of library science from the University of Pittsburgh as well as a master of instructional technology from Bloomsburg University. She resides with her husband, an assistant district attorney for Columbia County, in Mifflinville, Pennsylvania, where she enjoys amateur astronomy, hiking and kayaking.
Kelly Conlon-Mazzucca hired as lecturer of corporate communication
Conlon-Mazzucca has been an adjunct instructor at Penn State Scranton in the communications department for over 10 years, only dreaming of full-time employment. When she saw that a position for a full-time corporate communication professor became available, she said she immediately applied. While technically not a new employee, she said, "it feels great to be a part of this amazing community. I absolutely love this campus, and everything about it!" she exclaimed. "I'm so excited to be able to immerse myself in the corporate communication department and really get involved with everything it has to offer. I'm also looking forward to getting to know my students and being able to help them in any way possible."
Conlon-Mazzucca will teach four courses — Introduction to Corporate Communication, Communication Research Methods, Mass Media, and External Communication. She is looking forward to being involved with different clubs and organizations on campus and being available to help students with anything that comes their way. "I can't express enough how much I want to be able to help and guide students."
She wants the students and campus community to know that she is an open book, and that they can go to her for absolutely anything. "Aside from this position, I also love shopping, relaxing around a campfire, being a mommy to my boys, and never taking life too seriously," she said. "I am a giant nerd on the inside, and if I could be a student forever, I totally would be!"
Conlon-Mazzucca received her bachelor of arts degree in communication studies, with concentrations in rhetoric and public relations in 2006 from Wilkes University and her master of arts degree in rhetoric and mass media in 2008 from Marywood University, where she is currently in the process of completing her doctor of philosophy and has an All But Dissertation (ABD) in Human Development and Instructional Leadership.
She currently resides in Throop with her husband, Christopher, and three children, Angelo, Nicholas and Gianni.
Loan Pham joins campus as tenure-track assistant professor of business
Loan Pham recently joined Penn State Scranton as a tenure-track assistant professor of business.
A Penn State alumna, Pham said it's a "dream come true to be a part of this big family. It's my honor to be a Penn State faculty member because it means becoming a part of an institution recognized worldwide for its contributions to both academics and community," she said. "After meeting with administrators, faculty, students and staff who are so friendly and kind at Penn State Scranton, I was overwhelmed with a sense of welcoming and immediately knew it was the place for me."
Pham is committed to fostering a strong sense of community with students, reinforcing the 'welcoming campus' atmosphere.
"Smaller class sizes and a more individualized learning environment really excite me as an educator since I have the opportunity to customize my instruction, and students have more chances to interact in their classes," Pham said.
With more than 10 years of teaching experience, both at the undergraduate and graduate level, Pham will teach business-related courses such as management, marketing and human resources at the campus.
"I am fortunate to have had the opportunity to work with a diverse student population and community in several countries," she said. "Having lived and worked in many countries — including Australia, Vietnam and the United States — has helped me gain multicultural experiences and develop my diversity management skills. I hope this, together with my work experience, adds significant value to my teaching here at Penn State Scranton," she said.
Pham is looking forward to making business-related courses more interesting for students and helping students gain the needed competency and discipline to work effectively with others in business settings. "I'm looking forward to contributing to the University's success and learning from my new colleagues along the way," she said.
In addition to teaching, Pham is highly engaged in scholarly and professional development activities. "I have a keen interest in talent management and cross-cultural management and my research has been published in high-quality refereed journals such as Asia Pacific Business Review and Leadership and Organization Development Journal."
Outside of campus, Pham enjoys cooking 'Pho,' Vietnamese traditional noodles, in her free time. "I love traveling to broaden my horizons, try different international cuisines, and learn new things about other cultures. I have traveled to nine countries and would love to make the list longer," she said.
Pham earned her doctorate in workforce education and development with a concentration in human resource development/organization development from Penn State. She also holds a master's degree in business (honors) degree from the University of Economics Ho Chi Minh City in Vietnam, and a bachelor of business in marketing from Swinburne University of Technology in Australia. She is a SHRM Certified Professional (SHRM-CP) and a member of the Society for Human Resource Management (SHRM) and the Academy of Management (AOM).
She currently resides in Bloomsburg with her husband and two sons.
Sarah Shigo joins the business services office as an administrative support assistant
Shigo was recently hired as an administrative support assistant in the business services office.
No stranger to higher ed, she worked for 16 years in a similar role at another local college, working directly with maintenance, construction, capital projects, public safety, IT, human resources, grants, the business office, insurance and contracts. Since her arrival at Penn State Scranton, she said she has been been warmly received by the campus community. "Everyone at Penn State Scranton has been so wonderful, extremely helpful, and very welcoming," she said.
One aspect of her new position that she finds most enjoyable is "learning how the University runs behind the scenes." Her new role involves problem-solving and collaborating with various departments on campus to tackle daily challenges, making her an essential asset to the institution. Shigo's primary goal is to learn more "about the University and getting to know all of the staff and faculty," she said. Shigo also expressed that she would like everyone to know that her "door is always open."
Shigo received her bachelor's degree in business administration from Misericordia University in 2015 and her associate's degree in business from Lackawanna College in 2012. Outside of her professional life, she is involved with various activities, including spending time on Montage Mountain and supporting her son's varsity high school sporting events.
She resides in Dunmore with her son, Brayden.
Sarah Smith joins campus as coordinator of psychological and counseling services
Smith has joined Penn State Scranton as the coordinator of Psychological and Counseling Services.
As a Penn State alumna, Smith said she feels like "I have come full circle with my career."
Smith obtained both undergraduate and graduate degrees from Penn State University Park and has worked for the university on various research for program development in the Human Development and Family Studies Department and the Child Study Center.
For over 20 years, she has worked as a school counselor and a licensed professional counselor, providing mental health services in northeastern Pennsylvania. "I feel that the stepping stones of my personal career path have prepared me for this role of coordinator of psychological and counseling services at Penn State Scranton," she said. "I am honored to have this opportunity to be in the role of mental health therapist for others in the Penn State community."
Being a new employee at the campus feels like the right fit, said Smith. "I felt welcomed immediately, even before being hired. I have truly experienced the welcoming nature of the Penn State Scranton campus in these first weeks of the semester," she said.
As coordinator of psychological and counseling services at Penn State Scranton, Smith said she is looking forward to "providing prevention services by ways of small group connectedness activities and opportunities for the students, staff, and faculty to learn more ways to cope with common life stressors. As the mental health therapist on campus, she is also available for individual counseling and to serve as a resource to connect students with more comprehensive services in the surrounding community.
"I enjoy helping others," she said. "I am blessed to be able to share my knowledge of mental health and wellness with others. Working in the student services and engagement department is also full of positive energy and very fun. It is evident that students' connectedness and belonging are at the forefront of our outreach. I am also grateful to give back to the Penn State community that helped me become the mental health therapist that I am today. I am honored to be serving this community."
Smith's previous roles of working in school settings have given her a wide range of experience working with young children, adolescents, young adults, parents, graduate level counselors-in-training and public educators.
"I've served on multidisciplinary teams working towards the common goal of student success," she said. "My role as a licensed professional counselor gave me the wonderful opportunity to have worked with many clients transitioning through many life events relevant to the population at Penn State Scranton. My private practice work focused on work with adolescents and young adults adjusting to many life events such as beginning college, identity development, independent living skills, understanding emotions, decision making, improving mental health, and coping with other major life changes in healthy ways."
"I am very grateful to be serving the Penn State Community. I see this role as an opportunity to connect with the community on a daily basis by providing help and support to those who will be leading our society in the future," Smith said. "In every interaction there is the chance to connect with people and listen for ways to help."
One thing Smith wants the campus community to know about her is that she is a Penn Stater through and through. "I met my best friend and now husband at Penn State. We enjoy keeping our Penn State enthusiasm alive through our continued friendships with other alumni and going to events at Penn State. When we are not cheering on Penn State, we are on the sidelines or in the audience supporting our four wonderful children who also bleed blue and white," she said. "As a family, we look forward to Sunday dinners with our extended family and giving the nine cousins time to reconnect before our busy weeks. I enjoy being outside as much as possible and hitting the golf course weekly with family members or my ladies' golf league."
Smith is an active member of East End Primitive Methodist Church in Wilkes-Barre and currently resides in Mountain Top with her husband and four children.
Zachary Troy joins the Information Technology department as an IT support specialist
Joining the Penn State family holds a special significance for Troy, who grew up in northeast Pennsylvania. "I had a Penn State sweater as a child that I loved before I even knew about the institution it represented," he said.
Since joining the campus' IT department as an IT support specialist, one thing that has made a big impression on him, is the collaborative spirit at Penn State Scranton. "Every student, staff and faculty member that I have interacted with has greeted me with a smile, shaken my hand when introducing themselves and offered to be of any help that they can," Troy said.
In his new role, Troy's duties are diverse and dynamic. He is responsible for ensuring the smooth operation of electronic equipment during on-campus events, classrooms, and campus buildings and said he is proud to be part of the effort to enhance education through technology. This includes troubleshooting technical issues, running diagnostics, and assisting faculty and students with their technology needs.
His educational background, which includes a bachelor of science in computer and information science and minor in graphic design from Mansfield University, has equipped him with the technical skills and knowledge required for his role. He has also gained valuable experience through his previous positions at other organizations, which ranged from technical maintenance to customer service.
"Educating and spreading knowledge are some of the noblest goals one can aspire to in my opinion, and technology has made this achievable with an ease and efficiency never seen before in human history." 
Troy wants the students and campus community to know that they can always approach him with any technology-related problem, no matter how big or small. "The world of technology is daunting for someone who doesn't follow closely and rigorously, because of just how much there is to know, and how much is constantly being added. Everyone is at their own level of learning, and none of them are anything to be ashamed about," he said. "You don't have to know how your car works under the hood to drive it, but when everything is running smoothly, you can go farther than would ever be possible otherwise."
Outside of work, Troy is involved with the Society for Creative Anachronism, an organization dedicated to preserving and recreating culture from the middle ages to the 17th century.
He currently resides in Pittston.
Nicole Watkins joins campus as a tenure-track assistant professor in psychology
Nicole Watkins was recently hired as a tenure-track assistant professor in psychology, and will be teaching psychology courses to undergraduate students, as well as continuing her research that examines romantic relationships during emerging adulthood.
Watkins said that one of the things that drew her to this position was the small class sizes for students. "It creates an environment where it is easy to get to know the students. I also really enjoy including undergraduate students as research assistants in my research," she said.
Watkins said that being a new employee at Penn State Scranton feels "really exciting! Everyone I have met has been so welcoming and kind. It has made me feel very welcome and supported. I've enjoyed getting to know the students and getting involved in activities right away. I have joined the choir group, and some new faculty support groups," Watkins said. "I can't wait to get my research lab up and running and start recruiting students as research assistants to work on research with me."
Watkins would like the campus community to know about her love for outdoor activities, like hiking and canoeing, and also her love for animals. "I have five cats and one dog," she said.
Watkins obtained her master's degree and doctorate in learning and developmental sciences, human development from Indiana University. She also earned a bachelor of science degree in psychology from Wright State University in Ohio.
She currently resides in Newfoundland, Pennsylvania.