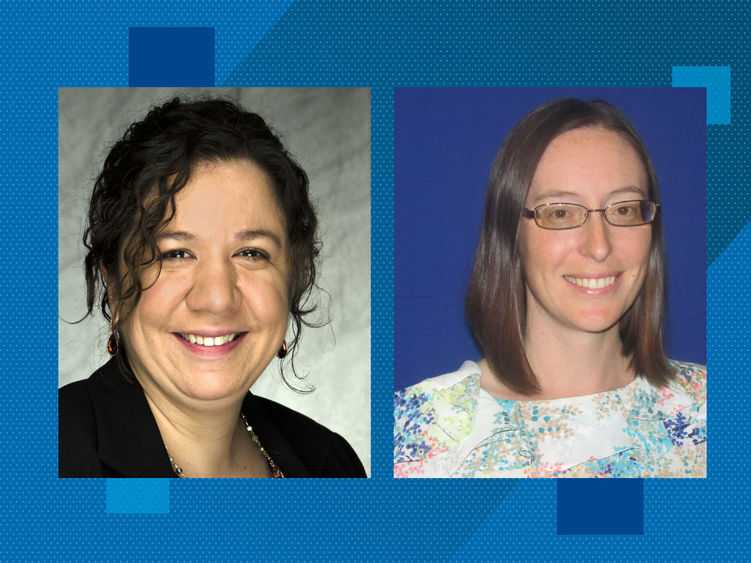 DUNMORE, Pa. — The University has announced the promotion of two Penn State Scranton faculty members.
Kristin Green promoted to associate librarian
Kristin Green joined the Penn State Scranton community in January 2016 as a reference and instruction librarian.
"I'm really proud of what I've accomplished in my career so far to earn tenure and am equally excited about continuing to contribute to the larger scholarship of my profession as a senior faculty member," Green said.
Green received a bachelor of arts degree in social science with a concentration in cultural studies, as well as a minor in anthropology, from Ramapo College of New Jersey in 2005.  
Wanting to be an academic librarian, she went on to graduate school, earning her master of science degree in information and library science from the State University of New York at Buffalo in 2015. Shortly after receiving her master's degree, Green was offered the position of reference and instruction librarian at Penn State Scranton.
"I was very excited to get offered the position of reference and instruction librarian at Penn State Scranton, which would allow me to apply my experience and background working with students in secondary education to students in higher education," she said.
Green said her first goal was to learn about the curriculum of the general education program and the baccalaureate programs to determine how best to build an effective information literacy instruction program for students. "What stood out to me in initially joining the campus community is how friendly and inviting the faculty, staff, administrators and students were," she said.
During her time at the campus, Green has worked on many projects, including the creation of the campus' Graphic Novel and Nonfiction Collection; establishment of a scaffolded information literacy instruction program; a history of recreational reading advocacy through programming and collection development; a "Lunch with Your Librarian" professional development workshop series for faculty related to information literacy education; scholarly communications; and the academic library.
Additionally, as part of her role of librarian faculty member, Green also is a librarian scholar who has published articles and book chapters contributing to the larger scholarship within library science specifically related to information literacy education.
"I really enjoy the relationships I have developed with colleagues and students at Penn State Scranton. Working at a smaller campus allows me to get to know students better and to hopefully make a positive impact on their journey through higher education," said Green. "As a first-generation college graduate, it is so gratifying to work with the first-generation students in our campus community and provide guidance related to similar circumstances I experienced as a first-generation student."
Aside from her role as a librarian, Green has released many publications related to information literacy pedagogy and has been involved in service work for state and national professional organizations.
She is a singer in Penn State Scranton's chorale and a member of Beta Phi Mu, the International Library and Information Studies Honor Society, the American Library Association, and the Pennsylvania Library Association, as well as the vice chair/chair elect of the College and Research Division Executive Board of the Pennsylvania Library Association.  
Green will be moving into a highly competitive elected position as a member at large of the Association of College and Research Libraries' Instruction Section's Executive Committee and was appointed a member of the Association of College and Research Libraries' Value of Academic Libraries Committee.
"I love being an academic librarian and giving back for the betterment of our profession as a whole," she said. 
Green currently resides in the Clarks Summit area with her family.
Associate Professor Megan Van Etten earns tenure
Megan Van Etten, associate professor of biology and program coordinator of the campus' biology program, has earned tenure, accomplishing her long-term goal of securing a tenure-line faculty position at Penn State Scranton.
Since receiving her doctorate in plant biology in 2009 from the University of Georgia, it has been Van Etten's goal to secure a tenured faculty position, a goal which required a lot of time, dedication and hard work.
"Tenure requires substantial research and teaching skills, which I have been honing during that time," she said. "I have had a lot of help along the way — amazing support from my family, extensive guidance from my Ph.D. adviser, mentoring from my postdoctoral research collaborators, tons of advice from my colleagues here (at Penn State Scranton), and helpful feedback from all of my students."
Van Etten said she was both surprised and relieved when she received the news about securing the tenure position and celebrated this accomplishment with her parents and a unicorn cake.
"As for the campus, I loved the small campus, where students and faculty can frequently interact," she said.
But what really made earning tenure special for Van Etten is being able to continue her professional journey at Penn State Scranton, which began in fall 2017.
"I love that our campus is small enough that I get to know so many of our students and faculty on campus by name. I love it when students update me with their success after graduation because they know that I care about them. I love that I can email an English faculty member if I have a random writing question," Van Etten said. "Only at a small campus can you have these types of meaningful relationships."
She said she also loves the prevalence of nature in northeast Pennsylvania, which she said is also important for her well-being.
Tenure isn't all that Van Etten achieved this year. In fact, she also received a promotion to program coordinator back in March 2023.
Many new plans are underway since Van Etten has been serving in this role.
"We will be adding a new 400-level course this fall that will provide more flexibility for our biology students to complete their program requirements. We also have a new course in the works that will help students practice science skills that will help their success in all their science courses," she said. "We are also in the process of establishing a chapter of a nationwide biology honor society — the Beta Beta Beta Honor Society."
One of Van Etten's bigger, longer-term, goals is to increase support of students' post-graduation goals, whether that is applying to jobs immediately or continuing with postgraduate education.
"Toward this end, I hope to better integrate local businesses into the program," Van Etten said. "This would help us better understand what employers are looking for, help students see the real-world value of the skills and content they are learning in class, and to provide students opportunities to network with future employers."
She resides in Peckville with her husband.