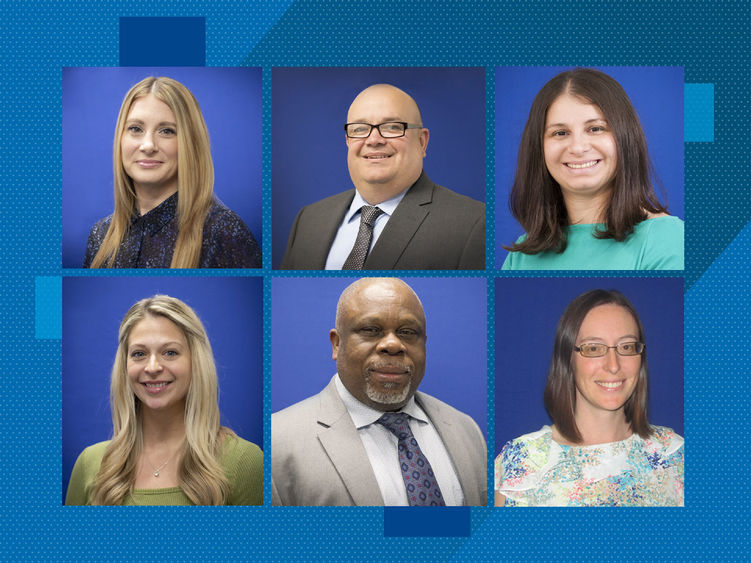 DUNMORE, Pa. — Penn State Scranton Chancellor Marwan Wafa is pleased to announce newly hired employees, as well as staff/faculty promotions.
Academic adviser hired
Christina Brundage was recently hired as an academic adviser at Penn State Scranton.
Brundage has worked in higher education for over 11 years, and for the past seven she has been assisting students with not only their career development, but also helping them overcome barriers that can hinder academic success.
"As a first-generation student, I personally experienced some of those barriers and know how important it is to have someone willing to be 'that' person for you," Brundage said.  "Someone who believes in you, can guide you through tough decisions, serve as a supportive resource and sometimes, just be there to listen."
Brundage believes this position will allow her to positively impact the students at Penn State Scranton and to utilize her passion for helping students successfully achieve their personal, academic and professional goals. 
Although she may be a new employee, Brundage is no stranger to the campus.
An alumna of Penn State Scranton, she graduated in 2002 with an associate's degree in business administration with an MIS/IST option. Brundage also worked with the campus' PAWS Pre-College Academy, assisting high school seniors with special needs who plan to attend college, helping to make their transition from high school to college successful.
Brundage received a bachelor's degree in business administration with computer information technology specialization from Southern New Hampshire University, a master's degree in higher education administration from Marywood University, and her doctorate in human development, also from Marywood University.
Now that she is an official campus employee, and not just a visiting instructor, Brundage said the welcoming atmosphere and friendly Penn State community has made her transition back to Penn State Scranton an "easy one," adding, "strangely enough, it feels like coming home."
As an academic adviser, Brundage will meet with students for advising sessions; guide students in course selection and scheduling; improve student knowledge of the University's many policies, procedures, and curriculum; and serve as an overall resource to help students be successful while attending Penn State. 
"I believe my many years of working in higher education has provided me with a better sense of how to effectively communicate with students and meet them where they are at, so that they feel welcome and are encouraged to utilize me as a valuable resource and supportive asset for successfully attaining their education," Brundage said.
One of Brundage's favorite parts of working in her new position is the students, faculty, and staff.
"The students' energy and comradery that you experience with the faculty and staff," she said. "I have never felt more welcome or felt such a great sense of belonging before. It is truly a campus that leaves a great impression on you."
Brundage is most looking forward to the opportunity to positively impact students in ways that improve their lives both academically and personally, today, and long after they transition from college.
One of the most important things Brundage would like the campus community to know about her is that she is truly excited to once again be a part of the Penn State community. "I look forward to serving as a valuable asset to Penn State Scranton's students while working alongside amazing peers and coworkers to support students' overall academic success," she said. 
Prior to coming to Penn State Scranton, Brundage served as the director of career development and as an academic adviser at Marywood University, where she still serves as an adjunct faculty member in the doctoral program in Strategic Leadership and Administrative Studies, the Master of Public Administration, and Master of Science program in Higher Education Administration. She also serves on doctoral students' dissertation committees. Outside of her profession, Brundage has been involved as a board member for the Educational Opportunity Centers of PA since August 2021.
She currently resides in Jefferson Township with her husband and two children.
New director of enrollment management named
James Garraway III has been named director of enrollment management in Penn State Scranton's admissions office. Garraway has over 24 years of higher education experience and was previously an assistant director of admissions and transfer student coordinator at Kutztown University. Prior to that, he served as a dean of student affairs and enrollment management at Harrisburg Area Community College for over five years.
"I gained a lot of knowledge and experience in enrollment management and financial aid leveraging along with some of the best practices in event planning and student/parent communication leading to student enrollment and retention," Garraway said.
"I knew Penn State had an excellent reputation as a great workplace," said Garraway. Looking for a new challenge, he enjoyed the idea of coming to Northeast PA to work on a campus with great growth potential. "It's exciting to be here and refreshing to take on a new challenge. The campus feels like home and the staff and faculty are very nice and willing to help in any way possible.  You can feel everyone takes a sense of pride in working here."
Garraway's duties include planning the campus enrollment strategy; working with staff to develop Penn State Scranton's campus enrollment marketing plan; oversight of financial aid strategies to better help to recruit and retain students; and leading the enrollment management team in developing new recruitment opportunities. "My time in this field provided me with opportunities to learn about enrollment management strategies, along with how to leverage financial aid to help recruit and retain students," he explained.
"I hope to be able to lead our team in stabilizing and growing our overall enrollment, along with being able to support our students with the best available options in financial aid awarding to them. Also, to be a part of the overall team here to support our students and grow the campus."
Garraway earned his bachelor of arts in mass communications from Lock Haven University and his master's in student affairs administration from Kutztown University. His past professional involvement includes being a member of the Pennsylvania Association for College Admissions Counseling and a member of the National Association of Colleges and Employers.  He also served two terms on the Minersville Area School Board and is currently an active member of Railway Restoration Project 113 in Minersville.
He lives in Pottsville with his wife Danette, and two grown daughters, Amelia and Elizabeth.
Nursing professor promoted to program coordinator
Justina Malinak has been promoted to nursing program coordinator, where she will oversee the campus' nursing program and faculty.
Malinak first served Penn State Scranton as an instructor of nursing, and then as an assistant teaching professor, prior to being promoted to program coordinator.  
"Healthcare is an evolving profession," said Malinak. "I am grateful to be part of the evolving process of rigorously preparing future nurses to care for patients and families during trying times in their lives."
As the nursing program coordinator, Malinak's role involves oversight of daily operations, fostering essential partnerships with clinical agencies and collaborating with the departmental team to educate future nurses in the surrounding community.
"With my doctoral preparation as a doctor of nursing practice (DNP) prepared nurse, I strive for integrating quality improvement initiatives within the department, and methodologies to prepare our future nurses to meet and exceed expectations entering the profession," Malinak said.
"The Penn State Scranton community fosters interdisciplinary collaboration between departmental units," said Malinak. "We work as one campus team to facilitate the educational growth of students."
Malinak's trajectory in nursing began in critical care, where she worked as a staff nurse for a local trauma and medical/surgical intensive care unit. Within a local healthcare facility, her career path was fostered within that organization ranging from roles in nursing recruitment, retention and as a house nursing supervisor for the facility.
"I am grateful to the administrators at the acute care facility for seeing my leadership potential and fostering those abilities," said Malinak. "Throughout my capacity as a nursing supervisor, my leadership, management, and problem solving with solution-based skills were developed. I worked hand in hand with administrators, staff, other disciplines and, most importantly, patients and their families to provide quality care. The springboard of leadership in an acute care setting assisted with professional development in the academic setting."
Malinak received her bachelor's degree in nursing and a master's degree nursing administration from Marywood University, while working as a staff intensive care unit (ICU) nurse. She received her doctor of nursing practice degree from Penn State's Ross and Carol Nese College of Nursing. "I am grateful for the education received throughout the DNP program to prepare me for growth as a nursing professional," Malinak said.
Throughout Malinak's beginning role as an instructor of nursing to assistant teaching professor and now, campus nursing coordinator, she has been involved with a range of community service activities.
"During doctoral preparation my primary community service was with stroke patients, survivors and caregivers. I serve as the faculty advisor to the student nurses association where we have collected supplies for local homeless centers, toiletry supplies for a local veterans group, and activities/craft supplies for residents of a long-term care facility during the pandemic," said Malinak. "In addition, my goal is assisting the officers and club members of the campus' Student Nurses Association (SNA) with developing their leadership abilities and partnerships with outside agencies. I stress to our future nurses that community service is a facet of being a professional nurse throughout one's lifetime.
"I would like to extend gratitude to my family, friends, co-workers, and nurse leaders in the professions who have assisted with unwavering support, mentorship and growth," she said.
Malinak resides in Dunmore. She enjoys boating with her family and attending concerts with friends, especially the Dave Matthews Band. As a hobby, she enjoys the outdoors, nature, landscape and macrophotography, and believes there is great possibility with instilling the arts into science, especially healthcare, to provide patients and families comfort during difficult times.
New nursing instructor hired
Courtney Shingler has been hired as an instructor of nursing, and also serves as a nurse practitioner for Geisinger Medical Group. She believes her experience working in this field, including 11 years working in direct patient care, has helped prime her for her new position at Penn State Scranton.
"I feel my RN (registered nurse) and CRNP (certified registered nurse practitioner) career has helped me prepare for an instructor role because of the huge part education plays in healthcare in general," said Shingler. "I feel I am at a point where I can share my knowledge with aspiring nurses based on hands-on experience in a clinical setting.
"I must say, it is a bit intimidating being the new instructor at Penn State!" exclaimed Shingler, adding that, "I am surrounded by so many brilliant people, and I hope to live up to their expectations. The great thing about nursing is that there is always something new to learn, no matter what setting you work in. I am grateful to be a part of the College of Nursing and surrounded by so many wonderful, intelligent, and most importantly, kind individuals who want me to succeed. The staff have made this transition a very pleasant experience."
Shingler's new role consists of teaching Penn State Scranton students in a clinical (hospital) environment. "I am very comfortable with direct patient care as it has been the focus of my career in nursing, so I hope I can add value to the student's career in this aspect," said Shingler.
"So far, I am enjoying the students and staff the most. Everyone has welcomed me with open arms and have offered much advice to help me succeed in this role," she said, adding, "I hope I can bring some great learning experience to the program with my clinical knowledge."
Shingler graduated from Marywood University with a bachelor's degree in nursing (BSN), and received her master's degree in nursing from the University of Scranton. She plans to pursue her doctor of nurse practitioner (DNP) in the near future.
Shingler currently lives in Meshoppen with her husband Jay, and stepdaughter Kylie. She enjoys hiking and exploring the outdoors, where she and her family frequently travel to the mountains of Colorado, Vermont and New Hampshire. She also has a small farm where they raise vegetables, chickens, ducks and goats.
"I am looking forward to my career with Penn State and all the University has to offer," she said.
Mechanical engineering program adds new faculty member
Abraham Tchako has joined Penn State Scranton as an assistant professor of mechanical engineering.
Tchako earned a bachelor's degree in science from Beuth University of Applied Sciences in Berlin, Germany, and later obtained both a master's of science and doctoral degree from the City University of New York (CUNY).
As a new faculty member of the campus' engineering program, Tchako feels "positively impressed and welcome," he said, while adding that he enjoys working with students and colleagues, adding that he is also intrigued by Penn State's Commonwealth Campus system.
In his new role, Tchako hopes to significantly contribute to the growth and expansion of the engineering program at Penn State Scranton and wants students to know that he is very knowledgeable, outgoing and easy to find.
He currently resides in the New York Capital Region.
New program coordinator named for biology program
Megan Van Etten, assistant professor of biology, was recently named program coordinator for the Biology Program.
Van Etten began her career at Penn State Scranton in Fall, 2017. Now, with her recent promotion to program coordinator, she is "very excited to become more actively involved in helping students be successful in our program and beyond."
Van Etten is most looking forward to being more actively involved in the success of the program. "While all of us are involved in the success of the program, I am excited to take a more active role in steering change in the program," she said.
There are three aspects of growth that Van Etten will be focusing on within this new role.
"First, we are focusing on growing our enrollment by highlighting the amazingness of our biology degree program to prospective students. Second, we are working to increase our retention by increasing course flexibility and skill development. Third, we are working on ensuring students are prepared to meet their future goals," she explained. "Our biology students have a diverse range of future plans, and we want every one of them to be prepared to be successful."
Many new plans are underway since Van Etten has been serving in this new role.
"We will be adding a new 400-level course for FA23 that will provide more flexibility for our biology students to complete their program requirements. We also have a new course in the works that will help students practice science skills that will help their success in all their science courses," she said. "We are also in the process of establishing a chapter of a nationwide Biology Honor's Society – the Beta Beta Beta Honor Society."
One of Van Etten's bigger, longer-term, goals are to increase their support of students' post-graduation goals, whether that is applying to jobs immediately or continuing with post-graduate education.
"Towards this end, I hope to better integrate local businesses into the program," Van Etten said. "This would help us better understand what employers are looking for, help students see the real-world value of the skills and content they are learning in class, and to provide students opportunities to network with future employers."
Van Etten resides in Peckville with her husband.