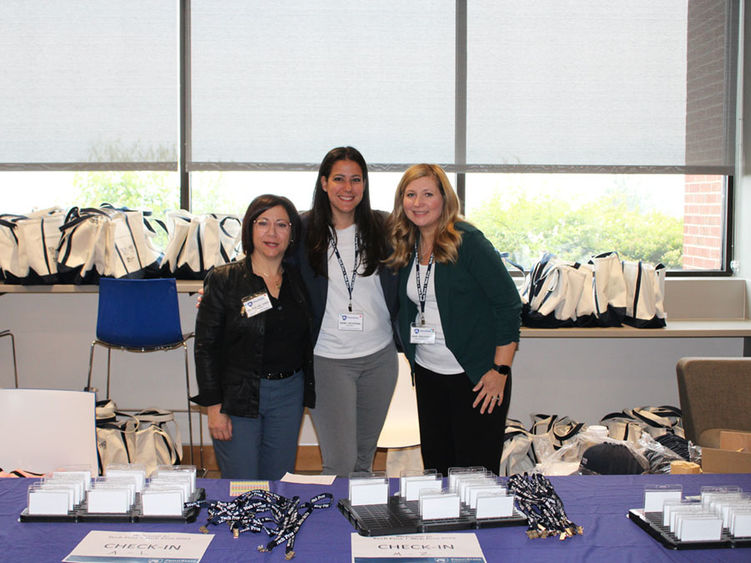 DUNMORE, Pa. — Earlier this month, Penn State Scranton hosted Penn State's annual Tech Pros + Web Pros professional development conference for over 200 University information technology and web professionals, and over 30 national vendors, including Dell, the conference's Diamond Sponsor, Lenovo, Epson and others.
The Tech Pros + Web Pros conference is dedicated to frontline and backroom technical employees at Penn State and provides a unique and valuable professional development opportunity for them to learn about developing technologies, new delivery systems and best practices, while also creating development and networking opportunities for the University's IT and web professionals.
Hosted by a different Commonwealth Campus each year, the conference typically takes place over a three-day span and consists of informational breakout sessions and networking with sponsors and colleagues.
It is organized by Kari Williamson, director of IT in the Office of the Vice President for Commonwealth Campuses, along with a steering committee made up of IT staff members from several campuses, colleges and administrative areas at Penn State.
Steering committee members were: Cathy Benscoter, Penn State Beaver; Loren Brewster, Penn State York; Kevin Churik, University Park; Danelle Del Corso, University Park; Karen Hackett, University Libraries; Brian Hart, Penn State DuBois; Matt Harter, University Park; Scott Irvin, University Park; Eric Marts, Penn State Beaver; Seth McGeorge, Dickinson School of Law; Marilee Mulvey, Penn State Scranton; Rob Notari, Penn State Scranton; Jonathan O'Harrow, Penn State Altoona; Nick Pentz, Penn State Beaver; Stephen Sherwin, Penn State Greater Allegheny; and Erika Shoffner, University Park.
"One of my favorite things about Tech Pros + Web Pros is giving our colleagues from across the state an opportunity to see our beautiful Commonwealth Campuses," Williamson said. "It reminds us that Penn State is more than one campus in Centre County, and I think this conference's strength is that it showcases our many locations."
Tech Pros + Web Pros has always been about empowering our employees to share their knowledge and expertise, she explained, adding: "It's about connecting people to share ideas, learn from each other, and help one another with challenges."
This year, two pre-conferences were added to the agenda, and approximately half of the conference attendees came to Scranton early to participate.
"We had a technical track for the SysMan User Group that was dedicated to our employees that manage systems. We had a Leadership Track that included the '6 Working Geniuses' as well as topics such as building trust and emotional intelligence," Williamson explained.
A great experience for the campuses and sponsors
Penn State Scranton Director of IT Marilee Mulvey said the campus was thrilled to host this year's conference. "This conference brings together technology professionals from across the commonwealth with an opportunity to share interesting projects and ongoing initiatives from across the University," Mulvey said. "With over 30 sponsored exhibits, there was something here for everyone. It was a terrific networking experience too."
John McCabe, an account manager at Epson, which was one of the sponsored exhibits at the conference, said the experience was very positive. "The value of these shows is to meet people from many different locations from a wide geography in one place," he said. "It's good for the folks who are here and good for the vendors as well."
With conferences like these, McCabe said getting details about the layout of the campus up front is important for vendors to keep these types of shows running smoothly. "The campus did a great job!" he exclaimed. "I enjoyed getting to show our technology and work with Penn State faculty and staff across the campuses that cater to their specialties."
Although Epson has been sponsoring this event for years, this was McCabe's first event in the Scranton area.
"We support Penn State because it's important to us," McCabe said, adding that he looks forward to attending this event in the future. "The brand of Penn State is so important, as it gives students the ability to get a Penn State degree locally."  
McCabe said he enjoyed spending time at Penn State Scranton, as well as exploring the surrounding areas. "This campus is lovely – it has beautiful views of the mountains – and the services and people were very friendly and helpful as well," he said.
Tech Pros + Web Pros has been taking place annually for the Penn State IT community since 2010 and is now a much-anticipated event that has seen increasing attendance and interest.
For photos from this year's Tech Pros + Web Pros conference, check out the album on Flickr.