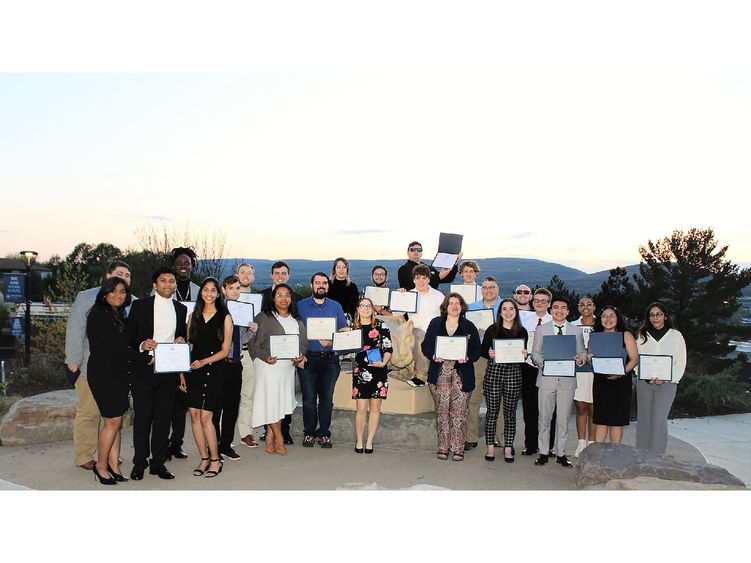 DUNMORE, Pa. — More than 50 students and 20 student-run clubs and organizations at Penn State Scranton were honored for their involvement, leadership and positive influence of campus life at this year's annual Student Recognition Dinner.
The event was hosted by Student Leadership and Involvement in the campus' View Café. Assistant Director of Student Services and Engagement Dharti Ray presented opening remarks and thanked everyone who attended for their well-deserving achievements.
"You should all be very proud of yourselves, as we couldn't be any prouder of you," she said.  
Dave Lucas, president of Penn State Scranton's Alumni Society, also congratulated students for their involvement and contributions to the prestige and well-being of Penn State Scranton.
"When I started classes at Penn State Scranton in the fall of 1991, I never could have imagined that in the spring of 2023 I would be addressing  a group of students at my alma mater and celebrating such notable accomplishments," said Lucas.
Lucas, an engineering alumnus, spent two years at Penn State Scranton before going on to the University Park campus to complete his degree.
"Back then, this campus was a stepping stone, but today you can complete your degree here. Touring the engineering building for the first time with a group of fellow alumni, I thought of how far we have come and all the possibilities the campus now has to offer. It gives me a great sense of pride," he said. "Looking out at this group, I am sure many of you will feel the same way in the near future."
Lucas added that he hopes the students stay in touch and return to campus after they graduate, or get involved with the campus Alumni Society.
"This academic year has definitely been my favorite," he said. "I've interacted with so many wonderful students here on campus, many whom are here tonight, some who are graduating, some who are going to University Park, and some of you will be here next semester. All of you have had an impact on me and I am thankful for that."   
Director of Student Services and Engagement Matthew Nied then took the stage to present the student awards.
This year's award recipients were announced as follows:
David Stoshick was the recipient of the Eric A. and Josephine S. Walker Award, which is given to the student who has most improved the reputation of the University through extracurricular activities.
Amanda Rzucidlo received the Patrick J. Rose Award for Excellence in Student Leadership and Service, which recognizes students who have excelled in leadership and service to the campus community.
Raj Gandhi was the recipient of the Penn State Alumni Association Greater Scranton Chapter's Pride of the Lions Award, which recognizes a student whose qualities of leadership, scholarship, citizenship and character have positively influenced fellow students.
Lion Ambassadors: Tanner Begin, Deymeliz Desarden, Raj Gandhi, Frank Genell, Lynette Guaba, Matthew Howard, Gina Krehel, Amanda Moody, Parkston Myers, Alina Nadir, Enrique Olmedo, Grant Olsen, Tyler Olver, Jaden Peacock, Avianna Pugliese, Amanda Rzucidlo, Robert Salvestrini, Krutik Solanki.
2022–23 campus THON team: 
Olivia Maikranz, chair
Joe Krishanda, co-chair
Amanda Rzucidlo, dancer
Raj Gandhi. dancer
Raymond Ondrako, dancer
Unsung Hero Award: Rhiannon Depew, Mahek Gandhi, Aarya Godghate, Maria Keifer, Kylie Lynch, Robert Salvestrini, Jenna Scarfo
Above and Beyond Award: Matthew Howard, Charles McAvoy, Madison Tricarico, Temo Uvera, Francesca Villano
Rising Star Award: Jermin Gilbert, Celeste Juarez, Thomas Neifert, Rushi Patel, Joshua Safuto
Good Samaritan Award: Justin Griffiths, Francesca Orellana, Carlos Salazar-Paz
Student Activity Fee Committee Appreciation Award: Raj Gandhi, Matthew Howard, Vidhi Patel, Avianna Pugliese, Amanda Rzucidlo
Student Facility Fee Committee Appreciation Award: Maria Keifer, Paul Krzan, Connor Tone, Morgan Truskoloski
Peer Mentors Appreciation Award: Jordan Coles, Raphael Carvalho, David Stoshick, Julian Giglio, Amanda Rzucidlo, Raj Gandhi, Francesca Orellana, Rebecca Tone, Connor Tone, Delaney Kaeb, Om Patel, Tanner Begin, Amanda Moody, Robert Salvestrini, Kylie Lynch, Jenna Scarfo, Jaden Peacock, Rylie Nealon, Matthew Howard
Peer Tutors Appreciation Award
Level 3 – Completed at least 30 hours of training and 75 hours of tutoring
Level 2 – Completed at least 20 hours of training and 50 hours of tutoring
Joseph Dougherty
Matthew Howard
Kaylee Salony
Level 1 – Completed 10 hours minimum of tutor training and 25 hours of tutoring
Angelica Berardi
Alexandria DeWolfe
Delaney Kaeb
Peter MacDonough
Mason Natalini
Raymond Ondrako
Jerimiah Pauler
Grace Ursich
Certificate Level – Completed initial tutor training and currently tutoring
Halle O'Neil
Kayla Kozloski
Connor McAndrew
Rushi Patel
Devin Peterson
Amanda Rzucidlo
Writing Center Tutors
Level 3
Daniel Grant
Madison Tricarico
Taylor Burdick
Level 2
Level 1
Club Recognition Awards: 
Anime Club
Billiards Club
Black Student Union (BSU)
Campus Activities Board (CAB)
Cheerleading
Corporate Communication Club
DREAMers
Engineering
Human Development and Family Studies
Indian Student Association
Intervarsity
Information Sciences and Technology
Lion Ambassadors
League of Extraordinary Gamers
Psychology Club
SAAC
Student Organization of Latinos (SOL)
Student Nurses Association (SNA)
Track and Field
Table Tennis Club
THON
Volleyball
Most Improved Award – is awarded to a club that has gone above and beyond. This club has worked so hard to express its culture within Penn State Scranton. It has even collaborated with other clubs, such as the Student Government Association, to spread awareness as well as advocating for a more inclusive campus: Student Organization of Latinos (SOL)
Outstanding Educational Program Award – is awarded to clubs who do a tremendous job with their educational events on campus. From topics that include different aspects of business, to showcasing our diverse group of students, as well as having guest speakers like Sara Wolff, these three clubs showcase excellence in educational events. This award goes to: Business Club, DREAMers Club, Indian Student Association (ISA)
Best Fundraising Event – is awarded to the Corporate Communication Club for putting forth remarkable effort in raising funds for the Valhalla Veterans Suicide Prevention Ball, which helped provide mental health services to military veterans and first responders.
Best Club THON Contribution – goes to a club or organization that has spread the awareness of THON community wide. Their commitment to THON within both their event and for Purse Bingo have exceeded the expectations of everyone on campus, especially the food! This award goes to the Billiard's Club for their Food & Fire event.
Community Impact Award – goes to an organization that has made a significant difference in our community and their contributions are truly deserving of recognition. Their dedication and hard work have made a positive impact on our community. This award goes to: Student Nurses Association (SNA)
Most Creative Club – goes to a club that hosted different interactive events, such as LEGO Master Builder Marathon, club speakers, snow games, and introduction to photoshop class. This award goes to: Information, Sciences and Technology (IST)
Best Collaboration Award – is awarded to the Table Tennis Club, Billiards Club, and League of Extraordinary Gamers (LEG), for their continuous tournament events throughout the academic year.
Club Event of the Year – goes to a club that showcased an event that was something new within our campus. The LEG Master Builder Marathon event has shown that we could still be kids. This award goes to: Information Sciences and Technology (IST) 
Excellence in Diversity – presented to a student who exemplifies that values of Diversity, Equity, and Inclusion that we upload at Penn State Scranton as we pride ourselves on providing an accepting and welcoming atmosphere to students: Celeste Juarez
The Excellence Service to Student Faculty Award – Angela Bassani, assistant professor of accounting
The Excellent Service to Students Staff – Michele Nicoteri, administrative support assistant, and Emily Glodzik, coordinator of diversity, equity, and inclusion.
The Best New Staff Award – Antonia Cerda-Bevan, academic advisor, and Matthew Smith, disability and learning services specialist
SGA Board for 2022-23
President – Enrique Olmedo
Vice President – Raymond Ondrako
Chief of Staff – Aayushi Patel
Chief Justice – Mahek Gandhi
Treasurer – Joseph Dougherty
Public Relations – Molly Morgan
SGA Board for 2023-24
President – Aayushi Patel
Vice President – Mahek Gandhi
Treasurer – Celeste Juarez
Public Relations – Justin Dorneman