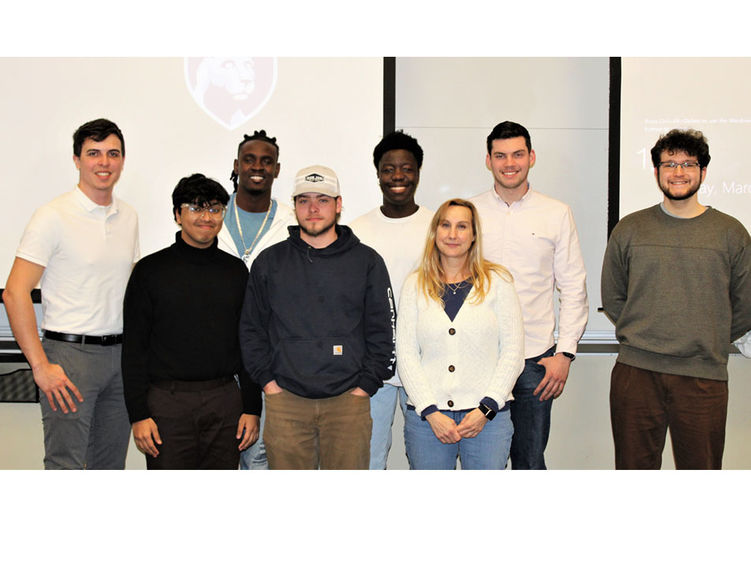 DUNMORE, Pa. – This year marked the eighth annual Big Idea Competition, an opportunity that encourages entrepreneurship among the student population at Penn State Scranton through creating enterprising business concepts.
The Big Idea competition began in the spring of 2018 and has continued every year since, taking place virtually during the coronavirus pandemic. The premise is for students with a business or product idea to create a new product or service idea for the consumer, either in teams or independently. They then prepare a presentation on that service or product to a panel of judges and an audience of fellow contestants and members of the campus community.
Teams must consider the benefit of their product to the consumer, their target market, and strategies they will use to engage the consumer. They then give a five-minute pitch to a panel of judges, who vote on the presentations, determining the first-, second- and third-place winners, along with honorable mentions. Winners receive gift cards, bragging rights, and the opportunity to take their project to the regional Business Plan Competition to compete for $10,000.
Lecturer of Business Kevin Feifer is one of the faculty members who looks forward to this event each year.
"Many of our classes embed entrepreneurial concepts and projects within the curriculum. The Big Idea event gives students the ability to apply the knowledge and skills they are learning in the classroom to this unique competition," Feifer said.
Some students who participate in the Big Idea Competition will take the next step and go on to create small businesses that will benefit local communities, Feifer said.
"Small business development is the backbone of local economies, and I am proud our students hope to achieve the dream of operating their own business," Feifer said.
He encourages all Penn State Scranton students to participate in the Big Idea Competition, as it gives an opportunity to enhance their creativity, critical thinking and presentation skills.
This year, there were seven presentations ranging from a unique charging station for electric vehicles to a virtual reality game to an application for couples in long-distance relationships.
2023 Winners:
First Place:  PawGo, presented by Anastasia Burgerhoff
Description: "What dog doesn't love car rides? PawGo presents pet owners with the opportunity to make sure their furry companions are well taken care of throughout the workday by providing their animals with a car ride, along with free food and toys. PawGo will lift your pet's spirits, so they do not have to spend time alone being bored at home."
Second Place: Munchies, presented by Evan Kerrigan
Description: "Munchies is a restaurant that provides consumers with a THC experience that can be infused into any food or beverage item. This joint isn't only meant for marijuana enthusiasts – it is open to all. Consumers can choose whether or not they would like to have THC infused in their meal. Popular menu items include baked mac and cheese and herbal teas."
Third Place: EVCO, presented by Victor Bulaya & Christian Dructor
Description: "Electric vehicle (EV) users currently face many obstacles, such as slow and inconsistent charging speeds, unstandardized charging equipment, insufficient space for charging stations in large cities and an overall inconvenience of waiting for one's vehicle to charge. EVCO aims to provide wireless charging stations to all EV users in large cities, parking garages and restaurants and hotels."
Honorable Mentions:
Cooper's Alley, presented by Christina Howell
Description: "Cooper's Alley is a non-profit organization that benefits the local humane society and animal rescue fund. Since many clothing and bedding items are discarded at Goodwill stores after a certain time due to storage imitations, Cooper's Alley would partner with Goodwill to request discarded items that can be used for resale or donation to local animal shelters. Cooper's Alley also plans to use certain items that can be recycled and used for bedding, cleaning purposes, or as needed by the shelter. Cooper's Alley will also present photos of animals that are up for adoption so consumers can take them into their loving homes if they choose."
Gamer Realities, presented by Parkston Myers
Description: "Gamer Realities presents Clay World, an online multiplayer virtual reality (VR) video game comprised of 12 minigames that will change the way players interact and play. Featuring a Claymation art style, players will play recognizable childhood games in a new virtual reality setting. There will also be many newly invented games that use the full capabilities of VR. The game is free to download and suitable for family, siblings and friend groups, as well as playing online to make new friends. The game also offers in-app purchases of cosmetic items such as avatars, items, accessories, and animations."
This Big Idea has been mentored by Penn State Scranton faculty and staff to be worked on as a potential business. It was entered into the Lackawanna County TechCelerator entrepreneurial competition, where Myers was a finalist, winning a $10,000 prize to help fund his start-up.
Loveify, presented by Mahathir Mahbub and Brandon Novak
Description: "A love companion app that provides relationship advice, along with date and gift ideas, as well as capturing special moments. Loveify is made for relationships of all types and does not discriminate towards race, age, religion, gender identity or sexual orientation. Loveify is described as a scrapbook of memories that is only shared between couples."
The Future of Neural Implants, presented by: Jermin Gilbert
Description: "The future of neural implants, called Kostik, allows individuals to gain knowledge within minutes. Kostik is proposed as a tool to enhance human potential, without replacing human labor. This technology offers a future where human potential is maximized and the workforce is skilled and adaptable. A balance between technological advancements and human ethics will lead to the best outcome for society as a whole. Will you put this thinking cap on?"
Penn State resources available to those with a business idea
Penn State Scranton offers a variety of resources to students and community members who hope to turn their big ideas into small businesses. 
"Our students are not only creative with the products and services they create, but many will look to use this as an opportunity to take that creativity and turn it into an actual business operation," Feifer said. "For some, the Big Idea Competition is the first step. These students will also be able to access the services associated with the Scranton LaunchBox to help further their entrepreneurial goals."
The Scranton LaunchBox is part of an overall Penn State entrepreneurship assistance initiative called INVENT Penn State. INVENT Penn State's Startup Week allows all of the Penn State LaunchBoxes to showcase events that help encourage people to think about starting new businesses.
"We are fortunate here at Penn State Scranton to have faculty and students that come together to put on, and participate in, the Big Idea Competition," said John Drake, director of the Center for Business Development and Community Outreach.
The mission of the Penn State Scranton LaunchBox is to be the hub that connects local entrepreneurs to the support, resources, and facilities they need to build a sustainable and scalable business with a feasible plan for growth. The LaunchBox offers free consulting services to those who are currently operating a business and could use assistance. It also aids anyone who has an idea and would like to turn that idea into a viable business.
"We encourage all Penn State Scranton students and community members to contact us if they would like to review their business ideas," Feifer said.
Looking for business advice or have an idea that you'd like to share? Contact [email protected]