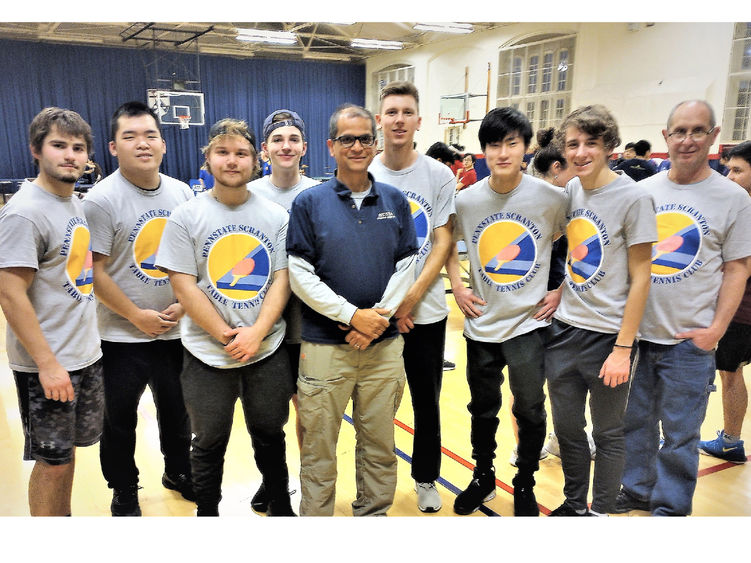 DUNMORE, Pa. – Penn State Scranton's Table Tennis Club recently participated in the Divisional Tournament of the National Collegiate Table Tennis Association (NCTTA) at the University of Pennsylvania, where members competed against several colleges, including:  Bryn Mawr College, Carnegie Mellon University, Drexel University, Lafayette College, Lehigh University, Rowan University, Shippensburg University, University of Pennsylvania and the University of Pittsburgh.
NCTTA is a national, non-profit organization that coordinates table tennis competitions between colleges and universities across the United States and Canada.
Associate Professor of Physics Asif ud-Doula serves as the faculty adviser and coach for Penn State Scranton's Table Tennis Club.
Involved with NCTTA since 2011, ud-Doula currently serves as director for the Pennsylvania Division. Most recently, he has been named an international umpire, certified by the International Table Tennis Federation — a relatively rare distinction and a hard-earned badge. Such level umpires are certified only once every two years across the globe, and ud-Doula was only one of four from the United States to achieve the feat in 2022.
"I arrived at Penn State Scranton in 2010 with all the enthusiasm of a new physics faculty who had an undying love for the game of table tennis," ud-Doula said. "I quickly found several students who also were interested in playing table tennis."
The club first began practicing in the gymnasium of Penn State Scranton's Multipurpose Building but, with rapid growth over the past decade, it had to seek out other local facilities to use, since that space was too tight for club members. Now, with the recent renovation of the Multipurpose Building, the club is back to practicing where it all began.
The club has also participated in multiple tournaments at various locations, including a competition at Princeton University in New Jersey and many others at University Park. 
Recruiting Players
Ud-Doula recruits players for the club based on personal interactions with his students in class. "Once they show their enthusiasm, I take it from there," he said. "Thus, the existence and participation of Penn State Scranton's team in these tournaments have varied from year to year."
Like ud-Doula, Table Tennis Club President George Legg hopes to continue growing and expanding the club. "We have all shown a lot of improvement and that is exactly the purpose," he said.
This year, the club has over 20 members, with seven who were able to travel to the tournament at University of Pennsylvania. "This suggests that a lot of students are interested in this sport, but are not aware of the competitive nature of the game, especially among colleges," ud-Doula said.
"It was awesome to get ourselves up there!" Legg exclaimed. "Up until then we have only had events on campus, so it was a refreshing change of pace," he said about the off-campus NCTTA tournament.
Second-year data science major and secretary of the club, Allen Gao, described the NCTTA tournament as a "rush."
"My favorite memory is when our newest member, Chris, who transferred to our campus recently, played against a student from Rowan University and hustled by diving for a ball, then recovered from the ground," Gao recalled.
Gao enjoys being involved in the club, as "we get to feel like we have our own place on campus when we get the chance to practice and improve."
Legg has been involved with the club since his first semester at Penn State Scranton and credits ud-Doula for his expertise about the game. "It's invaluable," Legg said, adding that, "He is there for all of us!"
"Dr. ud-Doula is a wealth of experience and he gives us a lot of information on how to conduct practices," Gao said.
Gao mentioned that the club intends to cooperate more with Penn State Scranton's League of Extraordinary Gamers (LEG) and Billiards clubs. "So, look forward to more social fun activities on campus," he said.
Ud-Doula hopes the club can continue to participate in NCTTA tournaments within the next academic year and to resume regular practices in the campus' Multi-Purpose Building (gymnasium).
All are welcome
Legg encourages all students to stop by and check out what the Table Tennis Club has to offer.
"Whether you want to drop by one practice to see what it is all about, or are looking to join the club long-term, all are welcome!" Legg exclaimed.
"I've seen quite a few people who don't join the club because we seem too competitive, or that it is not fun," Gao said. "I believe everyone who wants to play should still try because I've personally not been very good at the game, but I enjoy the social aspect more than the skill aspect."
The NCTTA has three levels of competition: divisional, regional and national.
This year, ud-Doula is setting his sights on being the International Umpire for the National competition that will take place over three days on the weekend of April 14 in Round Rock, Texas,  which is right outside of Austin. "The level of play is quite high on an international level, as only the best teams and players qualify, and they include a number of excellent foreign student players that might represent their own national teams," ud-Doula said.
Interested in joining the club? Students can learn more by sending a request on Engage.