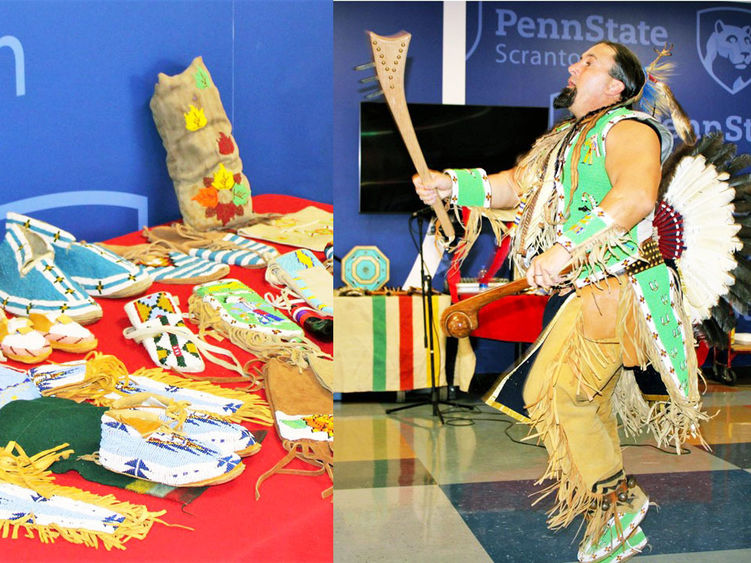 DUNMORE, Pa. — In honor of National Native American Heritage Month, renowned lecturer and historian of Native American Culture, Frank LittleBear, performed for students, faculty and staff at Penn State Scranton, shared elements of his culture using a unique and entertaining combination of artifacts, drumming, dancing, art and music.
LittleBear, of Cree Nation ancestry, has furthered his knowledge to include other Indigenous tribes and ancestral spirituality throughout the United States, Canada, Central and South America. Those who attended were able to experience a rich display of the history of the First Nation people, as well as a general overview of tribes and regions from the Plains, Eastern Woodlands and the Southwest. 
Throughout his presentation, LittleBear stressed the importance of education and learning about, and appreciating, each other's differences. After years of study and devoting his life's work to researching the histories and customs of First Nation people, LittleBear educates audiences on the diverse social, traditional and contemporary lifestyles of Indigenous people both past and present.
"It doesn't matter what you wear or what our differences may be, we are all human beings," LittleBear said. He also stressed the importance of getting actively involved, and made sure attendees of his presentation did just that — getting everyone in the room to partake in the Native American dances he performed, joining hands and dancing with him, including the Alligator and Snake dances. 
"I am very happy and honored to be here," LittleBear said. "I've been performing at Penn State for over 20 years, and I have so much appreciation and respect for the diversity, equity and inclusion that happens on these campuses."
Emily Glodzik, coordinator of diversity, equity, and inclusion at Penn State Scranton, organized the event. "Frank LittleBear was such an active, energetic and educational performer and person to have visited our campus. Everyone who attended the event was shown a wide variety of artifacts such as clothing, tools, instruments, shoes and accessories, all while giving detailed explanations of each item," she said. "In between, his dancing, singing and music, he was mesmerizing and interactive with the crowd and he shared a rich and sometimes sorrowful history of Native Americans in this country, which is an educational piece Americans don't often get."
LittleBear has been written about nationally and internationally, appeared on network television and radio, and has been recognized by universities, museums and historical societies. Among his many awards, he was invited to the 2001 U.S. presidential inauguration in recognition of his works.
LittleBear remains dedicated to the outreach, understanding and education of Native Americans' diverse culture and provides his audiences around the world with an entertaining experience and a fully interactive program on Native American's rich heritage that typically includes dancing, drumming, music, artifact displays, stories and more.