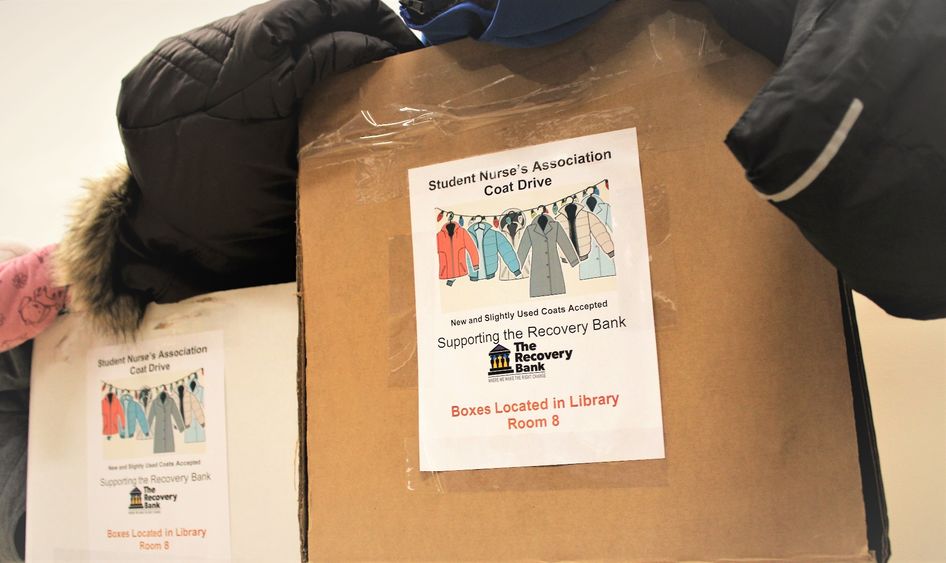 DUNMORE, Pa. – Penn State Scranton's Student Nursing Association (SNA) conducts one to three service events and donation drives each semester, providing service to those in need in our local community. Currently, they are in the midst of a coat drive – collecting new and gently used coats and cold weather gear for women, men and children that will be donated to those in need as the winter months approach.
"Knowing our community organizations, forming partnerships with them and assisting with their needs as nurses – that is key to outreach and community service," said Nursing Program Coordinator and SNA Advisor Justina Malinak.
Malinak has served as the SNA advisor for the past five years and tries to reenforce nursing service as a crucial element of the nursing profession and throughout a nursing student's role at Penn State Scranton.
For fourth year nursing students Marisa Milton and Nicole Zasada, serving the local community through SNA is second nature to them.
"It feels really good to promote and help with community service and activities as a nurse," said Zasada. "Helping the community is essentially going to be my job, but it feels extra special when it's not necessarily in a work environment, and it's about helping people in all other senses besides a medical one."
Recovery Bank Coat Drive
Throughout the month of October, Malinak and the SNA Club have been assisting with the local Recovery Bank Coat Drive initiative by collecting coats, scarves, and gloves.
The Recovery Bank focuses on supporting people who suffer from alcohol and drug addition and their loved ones through a positive peer-driven focus.
"We want to support our community organizations that are already doing tremendous work in the community – the Recovery Bank is one of them," Malinak said.
Milton noted that her early childhood of growing up in New York City and being exposed to vulnerable populations such as the homeless, drug or alcohol dependents is important to her, "to provide to communities that may be overlooked and not typically cared for," she said.
"My mother instilled in me to provide what little I can to make a difference whether it be to provide a dollar or purchasing a meal for someone who is hungry," said Milton. "Driving around certain parts of Scranton remind me that making a difference doesn't need to be grand and can start in your own backyard."
For those interested in donating to the Recovery Bank Coat Drive can do so by dropping off coats, gloves and/or scarfs by Thursday, Oct. 27, in the Library, Room L8.
While the coat drive is the most recent undertaking by the SNA, the campus' nursing staff and students regularly help other philanthropic and health care entities through a number of other volunteer efforts aimed at helping improve the health and well-being of the local community.
United Neighborhood Center Food Drive, Flu Vaccine Clinics, and more
This year, SNA assisted with the United Neighborhood Center Food Drive, particularly through Malinak's N415 community health course, which incorporates an element of service to those in need as part of the learning experience.
"Being in my community health nursing class really does give an insight to what some members of the community might be going through or dealing with on a more personal level, so having that in mind, I think it is really important to give back in whatever way we can," said Zasada.
The students who have already volunteered at the United Neighborhood Center noticed how heavily food items are dispensed every day to the members of the surrounding community.
Malinak credits Milton and Zasada for approaching her about their observation at United Neighborhood Center. "They wanted to do more in order to collect food for UNC and it was excellent that they assessed this need."
One of the most rewarding parts of serving United Neighborhood Center for Zasada and Milton were hearing people in the community express gratitude for what they were doing to help them.
"In those moments I know that our efforts as the Student Nurses Association were accomplished in continuing a mission of service," said Milton. "Simply providing what may seem as minor as a can of beans can make a difference in the life of someone who may be uncertain of where their next meal may come from. By giving back in some way, we have an opportunity to greatly help others with little effort from ourselves."
The nursing students also assisted with flu vaccine clinics for employees of Regional Hospital, the Trolley Museum and at DePietro's Pharmacy. Nursing students will also be continuing multiple community vaccination efforts with Hometown Healthcare, under the guidance of Assistant Teaching Professor of Nursing Theresa Baker for those vaccinations.
Additionally, in the past, the SNA club has put together hygiene kits for veterans at a transitional facility and the homeless, as well as crafting activity items for residents at the Carbondale Nursing Home during the COVID-19 pandemic.
Serving the community beyond SNA and Penn State Scranton
The involvement the SNA Club has in serving our local community has inspired both Zasada and Milton to continue to give back to others even after they graduate.
"Being in this club and being part of and helping organize many different community events definitely makes me want to continue some kind of community service after graduation," Zasada said. "A lot of these organizations are in the local community and very willing to take volunteers whenever they can, so it's very easy to help serve the community in some way or another."
Milton feels the same. "Being a part of this club has further propelled me to stay involved in whatever community I am a part of," she said said. "Post-graduation, I hope to continue to be of service to vulnerable communities in my free time because overall, it makes me feel content knowing that I was able to give someone a hot meal in the cold, or a free bag of fresh fruits and veggies."
All levels of nursing and pre-nursing students are invited to attend SNA's monthly meetings, which consist of recruiters, guest speakers, and a variety of service activities. For more information about how to join the club or donate to the Recovery Bank Coat Drive, please contact Malinak via email: [email protected]