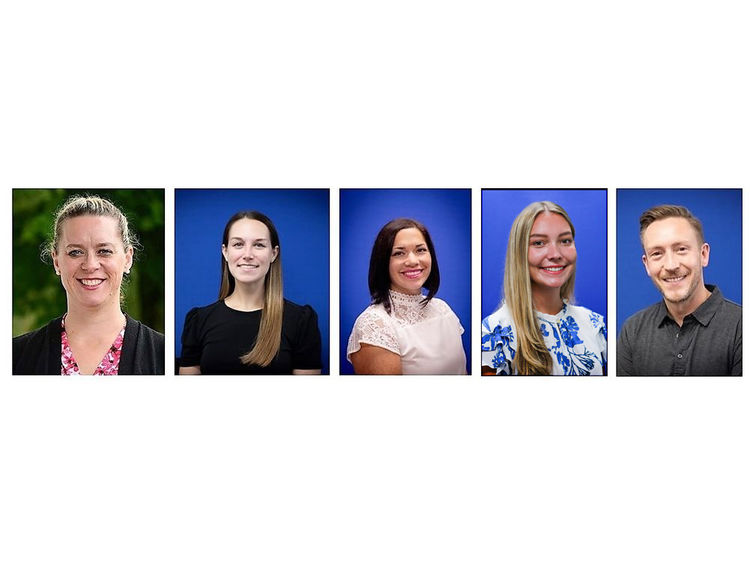 DUNMORE, Pa. — Penn State Scranton Chancellor Marwan Wafa has announced the following new hires at the campus:
Molly Abdalla — Student Engagement and Outreach Librarian
Abdalla has been hired as a student engagement and outreach librarian for both Penn State Scranton and Penn State Wilkes-Barre.
Although she is a new employee, she is no stranger to Penn State Scranton, having been introduced to the campus many years ago by her husband Pat, a campus alumnus, and her father-in-law, a former professor and basketball coach for Penn State Scranton for over 30 years. In fact, she recalled being given tours of the Penn State Scranton campus by her husband when they had first started dating and, in more recent years, attending events together with their children, including the campus Alumni Society's annual Breakfast with the Nittany Lion fundraiser.
"I am excited to work with the students at both campuses," Abdalla said. "I want students to feel connected to the library spaces at both campuses. One of my favorite things about working for this University is the small campus feel with one-on-one instruction, and the access to so many resources. Everything is top notch. I think the staff at both campuses are friendly and make everyone feel so welcome."
Abdalla previously worked as the Title I program manager for the Scranton School District for five years, where she oversaw federal grants that came into the district and also worked as a part-time reference librarian for the University of Scranton, where she helped students with instruction and customer service through research, citation, and finding textbooks. "A combination of my work and education has helped prepare me for my current role," she said. "This background has been an aid in my new current position."
She is a 2004 graduate of SUNY Geneseo, where she received her bachelor's degree in history and secondary education and received a master's degree in education from Mansfield University and a master of science degree in library sciences from Clarion University of Pennsylvania.
Abdalla volunteers with the Moosic Little League and Red Wings local softball team, serves as a Girl Scout leader in Scranton and is a member of the Pennsylvania Library Association, Association of College Research, and an active member of Divine Mercy Parish at St. Joseph's Church.
She resides in Moosic with her husband, Patrick, and their three children.
Brittany Baronski — Administrative Support Assistant
Baronski, a 2019 graduate of Saint Joseph's University in Philadelphia, has been hired as an administrative support assistant in the campus' Learning and Writing Center. "I applied for the position because I was looking for a job that meant something to me," she said.
A biology major with full intentions of going to medical school after college, she quickly realized that it was not a career path she would enjoy. When she changed her major to English, an administrative assistant in the English department helped her through the entire process. "She welcomed me into the department, helped me meet new people and professors that turned out to be lifelong friends and mentors, and  — most importantly  — she showed me that I could find my career path by doing something that I loved," Baronski said. "If I could do that for someone in my time here, it would bring me so much happiness."
Prior to joining Penn State Scranton, Baronski worked for an online yoga company, Yoga International, where she said she met a great group of people that gave her the space to learn and grow. "Leaving there, I wasn't sure if I would find that kind of support somewhere else, but I can already tell that I have. The best part of working at Penn State Scranton so far is the people — everyone has been so kind and welcoming, and I'm thrilled to work in an environment like this."
Baronski currently lives in Jessup with her fiancé, Jimmy, their dog, Butch, and cat, Ellie.
Antonia Cerda-Bevan — Academic Adviser
Cerda-Bevan has joined the campus as an academic adviser. In her new role, Cerda-Bevan will meet with students regularly to advise and provide academic assistance in the Division of Undergraduate Studies while partnering with faculty members for any advising needs. In addition, Cerda-Bevan will also be assisting with New Student Orientation implementation. "With my warm demeanor, I am able to easily build rapport with students, making lasting connections with them, even after they declare a major or graduate," said Cerda-Bevan. "As an adviser, I meet students where they are at, both academically and personally, to help them achieve their goals."
She was attracted to apply for the job because of the Penn State community and education. "I wanted to be a part of this energy and excitement, bringing my dedication and seasoned experience to all Penn State students as one of their new academic advisers." 
Describing her experience thus far as a "breath of fresh air," Cerda-Bevan said she is looking forward to building new relationships across the campus while creating connections with her new advisees in the fall semester and beyond. "The Penn State Scranton community has been outstanding," said Cerda-Bevan. "Everyone has truly been so welcoming and kind to me from day one. I am incredibly lucky to be working with such an amazing group of people in all departments across campus. I hope to bring forth my personality, energy, and positivity to everyone I encounter. In my new position, I want to create a welcoming environment where students feel confident and comfortable meeting with me, leading to their academic success."
Cerda-Bevan previously worked at Marywood University, and earning both her bachelor's degree in clinical psychology and master's degree in higher education there. With 15 years of experience in higher education, providing individualized guidance, advising, support and retention strategies for both undergraduate and graduate students, "that time period enhanced my skills to better serve all students here at Penn State to achieve academic success." 
She lives in Archbald with her husband and three children.
Brian Coleman — Maintenance Utility Worker
Coleman has joined the technical services staff at Penn State Scranton as a maintenance utility worker. Prior to working at Penn State Scranton, he spent many years working for the maintenance department of the Mid-Valley School District.
Coleman has also previously worked for the borough of Olyphant and for a local hardware store, Lexar Industrial.
Jeremy DeGroat — Maintenance Utility Worker
DeGroat also joined the technical services staff as a maintenance utility worker. A 2001 graduate of Finger Lakes Community College (FLCC) in Canandaigua, New York, DeGroat received an associate of science degree in audio engineering and worked in that field for seven years. During that time he also interned at Eastman School of Music and East End Recording Studios, where he was hired as a full-time employee.
DeGroat later started an e-commerce business, Black Diamond Audio, which he ran for the past 15 years. However, due to the Covid-19 pandemic, DeGroat struggled with supply chain issues, rising costs of goods, and increased shipping costs and delays. "I wasn't actively seeking a new position, but I just happened to come across a job listing for a maintenance position here on campus," he explained. "I knew someone who was working in the same position and reached out to him for more details."
Still running his e-commerce business, DeGroat has scaled back in order to make his role working in maintenance his new full-time position. "Everyone on campus has been incredible," said DeGroat, adding that "from the first day, everyone has been welcoming and extremely helpful. The thing I enjoy most about working on campus, besides the people, is that the work is hands-on. I have always enjoyed working with my hands, whether it is doing construction, landscaping, auto repair, etc.
"Overall, I am very happy that I decided to take a position here even though two years ago I had a completely different vision. Sometimes things don't always work out the way you see them going — they turn out better."
Morgan Sewack — Marketing Communications Specialist and Writer
Sewack, a recent Penn State Scranton alumna, has been hired as a marketing communications specialist in the Strategic Communications office at Penn State Scranton. Sewack received her bachelor's degree in corporate communication with a minor in business administration in May of 2022.
Throughout her past four years as a student, Sewack was involved as a student leader within the First-Year Seminar Program as a head peer mentor; vice president for the Lambda Pi Eta honor society; and president of the Corporate Communication Club, where she helped raise over $4,000 for the local non-profit, Valhalla Veterans. Most recently, Sewack served as a student intern in the Strategic Communications office, responsible for writing news stories for the campus' website, taking photos for Penn State Scranton's social media channels, and covering campus events.
Being able to share her personal experienced of the one-on-one support and personal interactions she received as a student has always brought her gratitude. "But, it is even more rewarding being able to share the stories of students, faculty, staff and alumni, and what it is that makes their experience at Penn State Scranton so worthwhile," said Sewack. "I am so happy to be back at Penn State Scranton, working in an area that I am so passionate about. Penn State Scranton is like a second home to me and being able to continue my career here is an absolute honor."  
She resides in Scranton with her family.
Matthew Smith – Disability and Learning Services Specialist
Smith joins Penn State Scranton as a disability and learning services specialist.
While a degree in marketing led him to a few years working in the corporate world, Smith changed careers and earned his master's in education, spending the last 10 years as a special education teacher in New York City. A Pennsylvania native, Smith and his partner, along with their two cats and 14-year-old goldfish, decided to move out of the city and now live in Cresco.
"I am excited for this new journey in higher education and to work with such a wonderful team and amazing students," said Smith. "I am most excited about working with our students in the Learning Center while hoping to raise awareness of disability services and provide meaningful support to students and staff," said Smith.