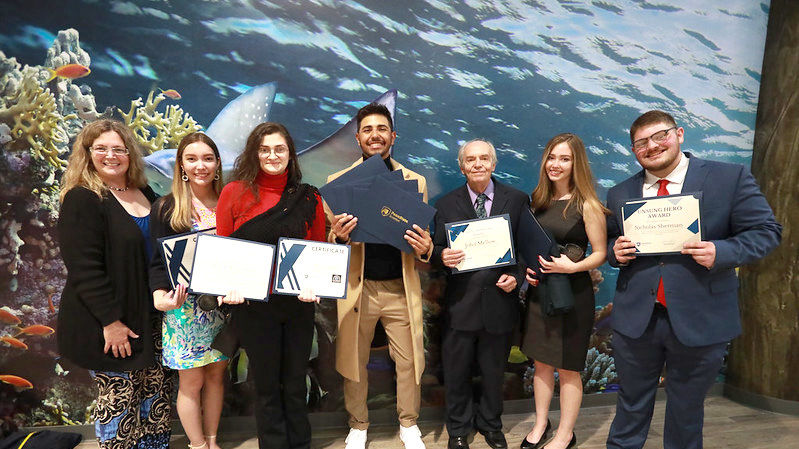 DUNMORE, Pa. — After two years of being held remotely due to COVID-19, Penn State Scranton's annual Student Recognition Dinner was able to be held in person. To help make the event extra special, and a bit unique, event planners decided to go off campus, and hosted the event at The Electric City Aquarium and Reptile Den, located in The Marketplace at Steamtown in downtown Scranton.
Held each spring, the much-anticipated Student Recognition Dinner honors students and student clubs that excel in academics, leadership and service to the campus community. Typically held on campus, with this year's change in venue, students, faculty and staff were able to tour the aquarium facility and interact with the fish and reptile exhibits in the beginning of the program while enjoying appetizers and hors d'oeuvres.
Director of Student Services and Engagement Matthew Nied then kicked off the formal, awards portion of the program, which also included guest remarks from Penn State Scranton alumnus and Director of Strategic Communications Amy Gruzesky.
This year's awards and recipients are as follows:
Eric A. & Josephine S. Walker Award, which is given to the student who has most improved the reputation of the University through extracurricular activities: Emily Scarfo.
Patrick J. Rose Award for Excellence in Student Leadership and Service, which recognizes outstanding achievement by an undergraduate who has completed at least two semesters at Penn State Scranton: Maria Veniamin.
Greater Scranton Penn State Chapter "Pride of the Lions" Award recipient, which is presented annually to a student whose qualities of leadership, scholarship, citizenship, and character have positively influenced others: Lucy Adams.
Excellence Service to Students Staff and Faculty Award: Matthew Nied, director of student services and engagement, and Margret Hatch, associate professor in biology.
Lion Ambassador Awards: Emily Scarfo and Sarah Robinson
THON Dancers: Deyniel Desarden and Natalie Schield
Unsung Hero Awards: Matthew Howard, Carlos Salazar, Nicholas Sherman and Parkston Myers
Above and Beyond Awards: Kylie Lynch, Amanda Rzucidlo and Olivia Maikranz
Rising Star Awards: David Stoshick, Morgan Sewack, Molly Morgan, Francesca Orellana and Raymond Ondrako
Good Samaritan Awards: Ayushi Patel, Patricia Ryan, Pujan Patel, Rachel Veniamin and Vidhiben Patel
Student Faculty Fee Committee: Molly Morgan, Christabel Silitonga, Jakob Mangold and Abhiram Prodduturi
Peer Mentor Awards: Maria Veniamin, Dhruvi Patel, Morgan Sewack, Sarah Marble, Nikhita Gurukula, Brooke Kloss, Jessica Kehl, Udit Patel, Huiting Chen, Alexandria DeWolfe, Ashleigh Earyes, Kimberlyn "Kim" Sanchez, Jordan Coles, Isabella Muncie, Christabel Silitonga, Rachel Veniamin and Rylie Nealon
Peer Tutor Awards:
Level 3 – Completed at least 30 hours of training and 75 hours of tutoring: Taylor Burdick, Daniel Grant and Rachel Veniamin
 
Level 2 – Completed at least 20 hours of training and 50 hours of tutoring: Lucy Adams and Logan DeSanto
 
Level 1- Completed 10 hours minimum of tutor training and 25 hours of tutoring: Jared Griffin, Alex Hamilton, Megan Lucey, Aryan Patel, Kaylee Salony, Christabel Silitonga, Madison Tricarico and Grace Ursich
 
Club Awards:
Anime Club
BSU – Black Student Union
Business
CAB
Cheerleading
Engineering
HDFS – Human Development and Family Services
ISA – Indian Student Association
Intervarsity
IST – Information Sciences and Technology
Lion Ambassadors
LEG – League of Extraordinary Gamers
Lending a Helping Paw
LGBTQA+
Young Republicans
Music Club
Psychology
SAAC – Student Athlete Advisory Committee
SOL – Student Organization of Latinos
SNA – Student Nurses Association
Track and Field
Tennis
THON
Volleyball
Most Improved Award:  Business Club
Outstanding Educational Program Award: SAAC, BSU, ISA, Engineering Club, S.O.L., and SGA for raising awareness and educating student body during Women's History Month.
Best Fundraising Event: THON's Purse Bingo event
Best THON Contribution: SGA's "Dancing 4 Diamonds" THON Prom
Community Impact Award: Cheerleading Squad
Best Club Event: Indian Student Association's Diwali event
Club Event of the Year: Student Services and CAB's Jesse McCartney Concert
Excellence in Diversity: Parth Patel
Student Government Awards:
Senators for Biology/Science: Sarah Sherpinskas
Senators for Business: Patricia Ryan
Senators for Corporate Communication: Molly Morgan and Nicholas Sherman
Senators for Human Development and Family Studies: Ralph Morris
Senators for Nursing: Rhiannon Berghauser
Senators for Psychology: Amanda Moody
2022-23 Student Government Association Board:
President: Enrique Olmedo
Vice President: Raymond Ondrako
Chief of Justice: Deyniel Desarden
Chief of Staff: Aayushi Patel
Treasurer: Carlos Salazar
Public Relations: Molly Morgan
To see a collection of photos from the Student Recognition Awards Dinner, chick here.