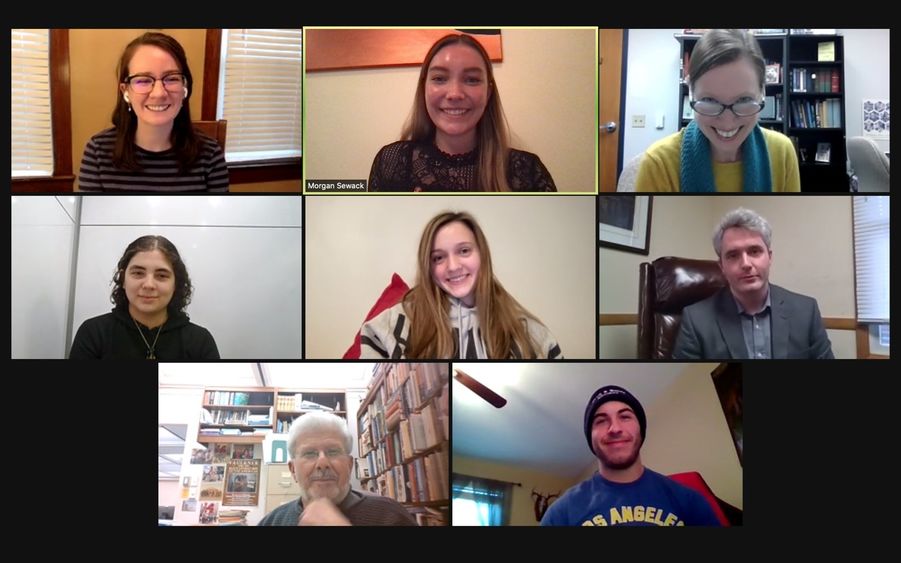 DUNMORE, Pa. — Penn State Scranton alumna and 2018 Chancellor Award recipient Hannah Woody was the third speaker in a Career Speaker Series this month organized by Associate Professor of English Kelley Wagers highlighting the career opportunities attainable with an English degree or background. Woody spoke to students about her position as digital coordinator at Condron Media, a full-service marketing, advertising and public relations agency located in Clarks Green, Pennsylvania. She completed a social media marketing internship at Condron Media as a student at Penn State Scranton and later joined the firm full-time after earning her bachelor's in marketing and minor in English in 2018. 
Woody credited her Penn State education, especially as an English minor, for making her a standout candidate, stating, "you need to know how to communicate and write to the audience." One of the influential experiences she had while at Penn State Scranton was in a class taught by Patrick Sheridan, adjunct lecturer in business. Sheridan had invited a guest speaker, Phil Condron, to one of Sheridan's classes, who inspired her. That guest speaker is now Woody's current boss. She said that particular class, with Condron as guest speaker, is the sole reason why she applied to Condron Media for an internship, and was able to find a passion within that specified realm of work, which later turned out to be her current career path.
Woody noted that she did not originally plan to minor in English, but it later developed after a few semesters. Looking back at her educational experience at Penn State Scranton, Woody said she is glad she chose the path of an English/humanities field, as it not only helped her gain an internship with this firm, but also positively impacted her professional career.
When Woody first began interning for Condron Media in 2017, she was given a range of responsibilities. As a consumer, Woody was familiar with the social media platforms' advertisements, but noted that there was a lot of on-the job training during her internship. She started off working with social media marketing, which included a mix of creating content, design work, and copywriting. Woody later started working with paid marketing campaigns, which consisted of writing ad copy, social media campaigns on all platforms, digital ads, and Google Search campaigns.
She also wrote an abundance of press releases for Condron Media, creating quotes, e-newsletters and blog posts for clients, as well as radio and television scripts. She now helps her current team by giving input about the digital end of how she sees things working. She then allows her clients to proof her work before sending it in for publication, and later monitors these digital campaigns. Woody also works with a wide variety of non-profits, regional health institutions, and legal and educational organizations. She said that the wide range of clients she works with helps spur more creativity.
Aside from her social media marketing internship, which helped her establish her career, Woody's role has grown and changed tremendously within the organization, as she now carries more responsibilities. Writing, research and communication skills play a large part in Woody's role as digital coordinator, where she works with clients across industries ranging from commercial to non-profit, education, tech, health, government and more, and is also responsible for researching different industries, especially in terms of formulating new clients and focus groups. In fact, she has just recently delved into political advertising work. Woody is also responsible for the reporting and analytics piece of her digital campaigns — measuring the amount of people being reached, including an advertisement's click through rate (CTR), as well as how to best target different demographics and translating that to her clients.
With social media so prevalent in today's society, Woody said it is often difficult to put down the phone or turn the laptop off, but she stressed that the most important aspect of her career is finding balance. Even though her job is a typical 9 to 5 position, she consciously focuses on finding that much-needed balance between work and her leisure time.